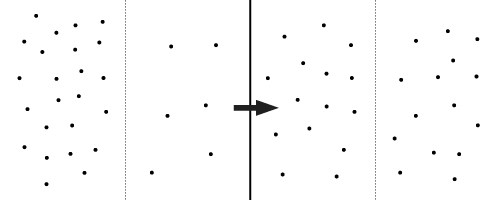 Diffusion is a passive spreading or averaging process. We think of it when we place a drop of dye in water or heat evens out in a room. More rigorously we can describe it as the motion en masse of particles moving randomly in a fluid. Here randomly means that the movement of a particle is independent of its previous state at any point in time, unlike Newtonian particles whose movement is dominated by forces and inertia. We are not concerned about the movement of an individual particle, but the aggregate motion of all the particles. It is generally difficult to think about or describe random motion, but statistical mechanics gives us a partial differential equation which describes the evolution of the concentration of particles in space.

This equation essentially says if the current position is more trough shaped, increase, if the current position is more crest shaped, decrease. In other words, the concentration goes towards the surrounding concentration. Over time in a closed system it averages out the concentration.
This process and equation is seen in many contexts. In engineering, it is most commonly seen at the heat equation, which looks at how heat moves through space. We can also think of it in the motion of chemicals in solution. These two examples are the most analogous to the physical description of diffusion, but it also comes up in other situations. It can be seen in finacial modeling. A type of smoothing called laplacian smoothing is used in 3D mesh modeling. It is also a component of many other phenomena such as fluid motion.