Up till this point, many of our simulations have been based on "first principles." By this I mean, we take a fundamental idea about how nature works, like conservation of momentum, encode it in an equation, and try to solve that equation numerically. For wind-blown sand, the fundamental principles involved are quite complex (fluids, particles transport, particles colliding).
Often, the biggest choice someone makes in developing a model is about their expectation of how much detail is required to recapitulate the dynamics they're interested.
For example: although we have a descriptions of the physical world which are incredibly accurate (e.g. quantum mechanics), it very rarely makes sense to start from there in developing a model. The questions of what a 'successful' model entails (is it qualitative similarity? Do you have some quantitative standard?) and what dynamics you expect you will need to explicitly encode to recreate that phenomena are central to understanding the various approaches people take.
In looking at windblown particles, one family of approaches assumes that we can largely ignore the detailed physics of what is going on, and that what's important is to understand the effects in aggregate. i.e. "Net, sand is moving away from this patch and into this other patch." At the other end of the spectrum, there are modes which try to simulate every aspect of the environment in detail. For example, these models might model the detailed flow and turbulence of wind, the interaction between the wind and the sand, etc.
Along similar lines, when simulating complex phenomena, there are often aspects which appear to be essentially random. Some approaches to modeling these phenomena embrace this randomness and simulate particle-level dynamics which incorporate a random component. These are known as stochastic models. An alternative is to look at the particles in aggregate and focus on the trends that persist independent of that randomness. For example, one approach to simulating diffusion is to make each particle take a random walk, "Brownian motion." But, you can also zoom out and think of diffusion as an aggregate process of many random walks that tends to move from regions of high concentration to regions of low concentration.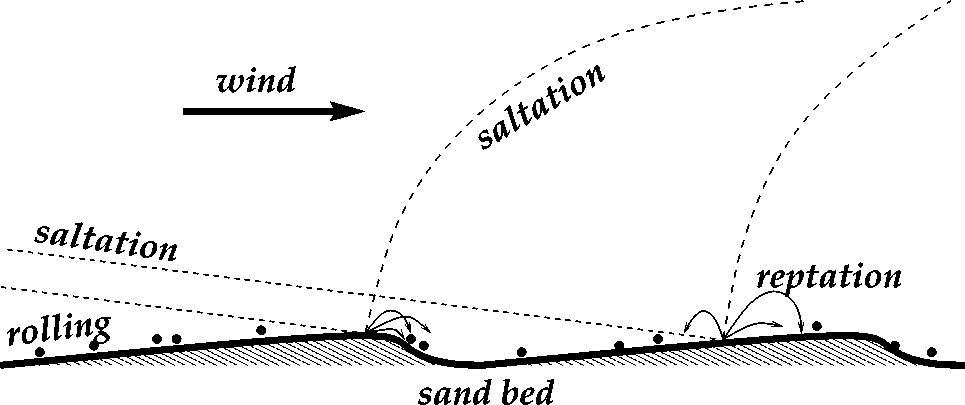 When describing dune formation (aka Aeolian processes1), people typically abstract out much of the complex behavior involved (fluid motion, wind carrying particles, collisions). Instead they refer to four different processes:
saltation :: or less jargonly: particles jumping (in the case of desert dunes,  ≈ 10\textrm{cm}) by getting kicked up by the wind. In other words, the wind blows by some sand, and occasionally, it picks up the sand and throws it some distance away.
creep :: particles rolling around, but never leaving the ground, due to wind and/or gravity. So for example, when the ground is flat and wind is blowing over it, particles move and slide around on top of one another, even if they aren't lifted into the air.

suspension :: particles which get carried into the air for a significant period of time (multiple timesteps).

reptation :: or less jargonly: when grains of sand which have been lifted into the air impact other grains of sand and cause them to kick up and splash small distances. These tend to travel a much shorter distance than particles which are "saltating."