Nervous System at Solid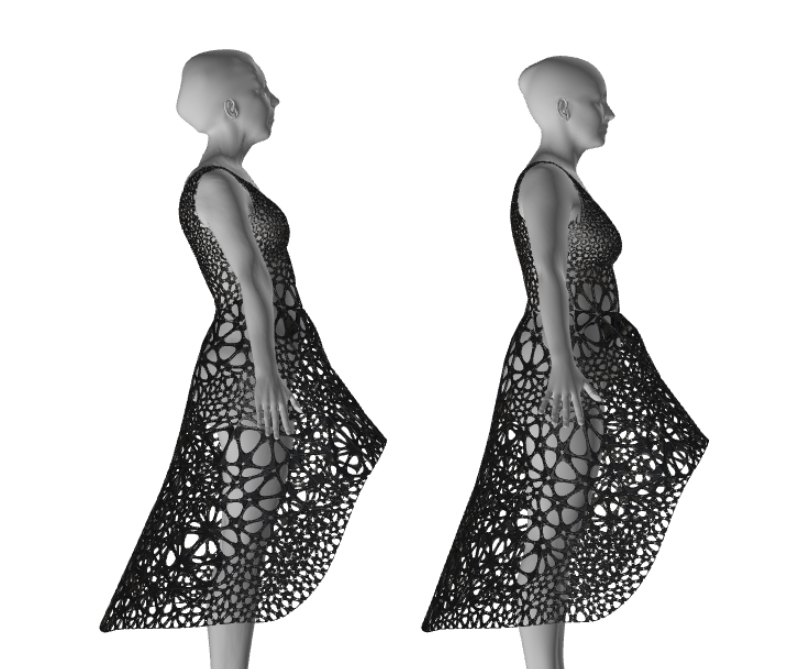 Nervous System is headed to San Francisco to exhibit at O'Reilly's Solid, a new conference focusing on innovation at the intersection of hardware and software. We're collaborating with Body Labs and Formlabs to create a special area in the Demo Hall where attendees will be able to design and create their own 3d-printable clothing and jewelry. This collaboration demonstrates how 3D scanners, printers and generative software can work together to produce unique products, custom-designed with algorithmic assistance that would defy conventional assembly.
We'll be demonstrating our latest web-based, generative design applications for 3D-printing. This will be the debut of our Kinematics app for clothing design, as well as a new version of Cell Cycle.
Kinematics Clothing App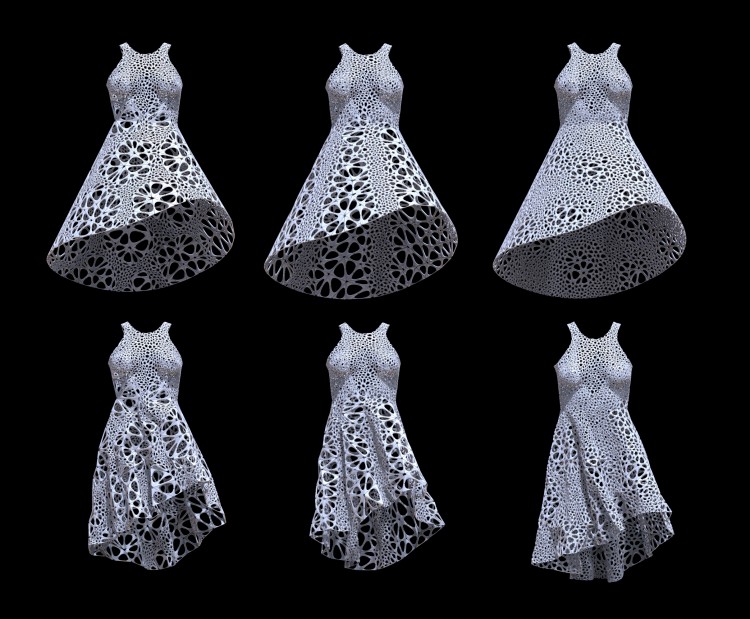 Our Kinematics design system pairs a constructional logic of hinged panels with a simulation strategy of folding and compression to produce customized, flexible designs that can be fabricated efficiently by 3D printing.
At Solid, we will debut Kinematics Cloth, a new app that allows people to design their own 3d-printable clothing from 3D scans of their body. The browser-based app supports the real-time design of shirts, skirts and dresses. Users sculpt the overall shape of their garment and paint patterns and textures onto its surface. By varying the size of panels, they can construct garments that drape, flow and move in ways unique to this one-of-a-kind "fabric".
We've partnered with Body Labs to create Kinematics pieces custom fit to your body. Body Labs creates accurate and clean body models from 3D scans or measurements. These models are fed directly to our Kinematics app, allowing any design adapt to your exact shape.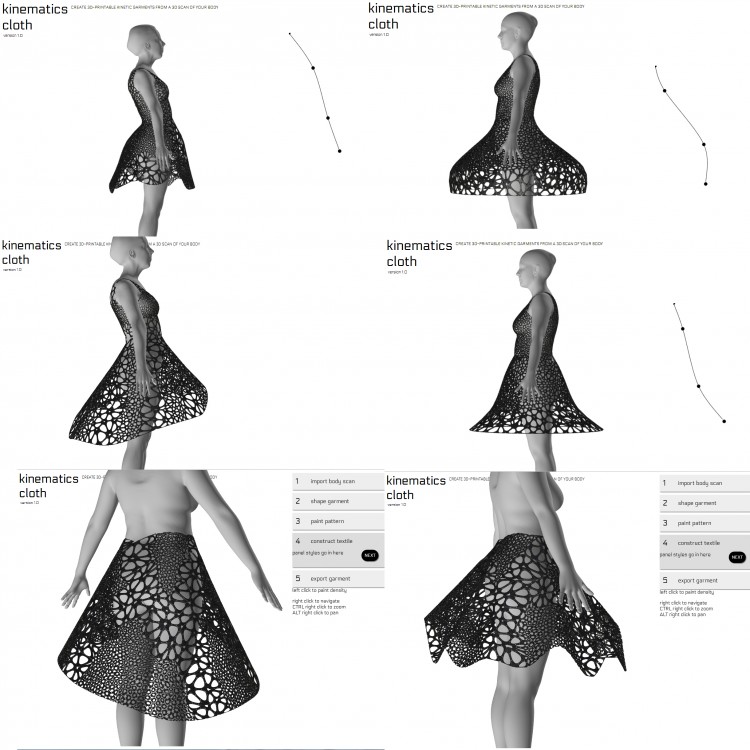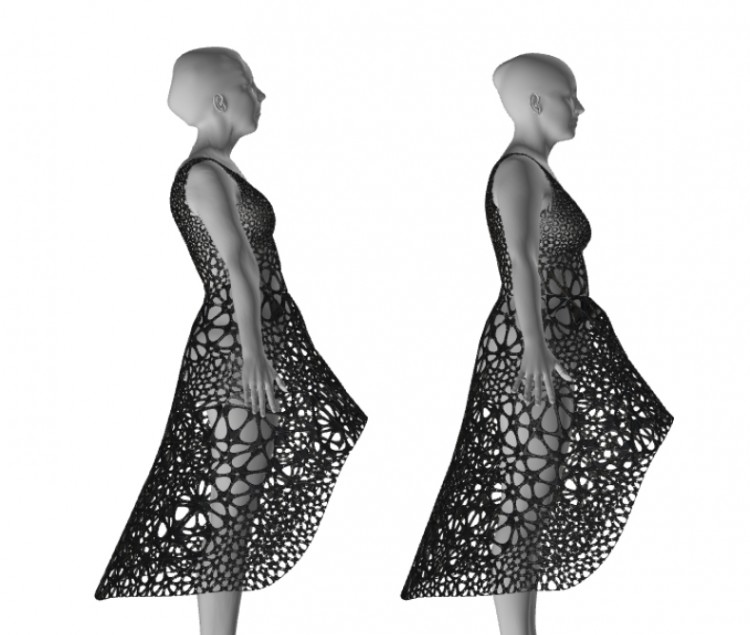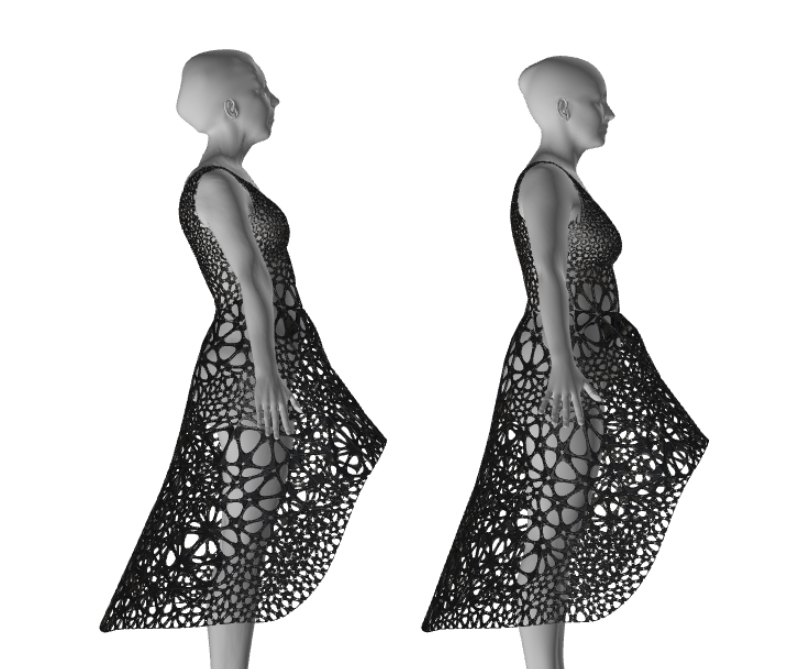 An array of Kinematics pieces, including the Kinematics bodice, will also be on display.
Cell Cycle v3.0
Solid conference attendees will get the first look at a completely new version of Cell Cycle, with lots of new features and capabilities that attendees can try out.  In collaboration with Formlabs, you'll be able to design your own cell cycle piece, and see it created on a Form 1 3D printer.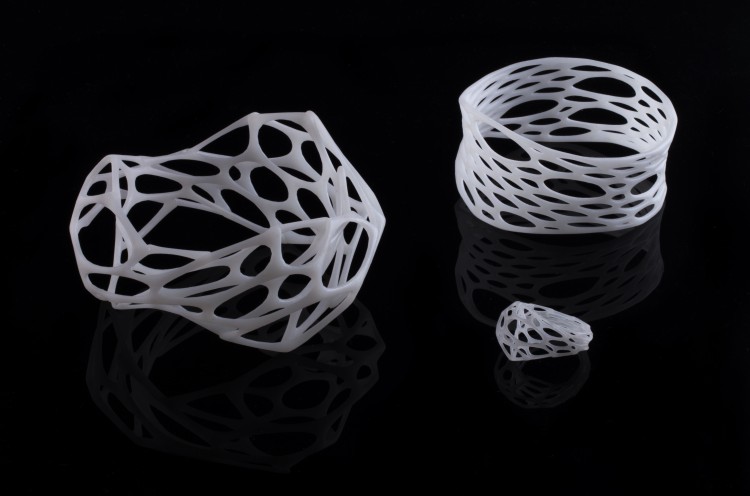 We'll also have a large selection of Cell Cycle bracelets, cuffs, and rings 3D-printed in plastic, steel, and silver to see and touch.
If you'd like an early look at these new technologies, and to try the new Cell Cycle and Kinematics apps yourself, come find Nervous System in the Demo Room at Fort Mason Center, 2 Marina Boulevard (at Buchanan Street), San Francisco, CA 94123 (map) on both days of the conference.  We'd love to see you!