microscopic art jigsaw puzzles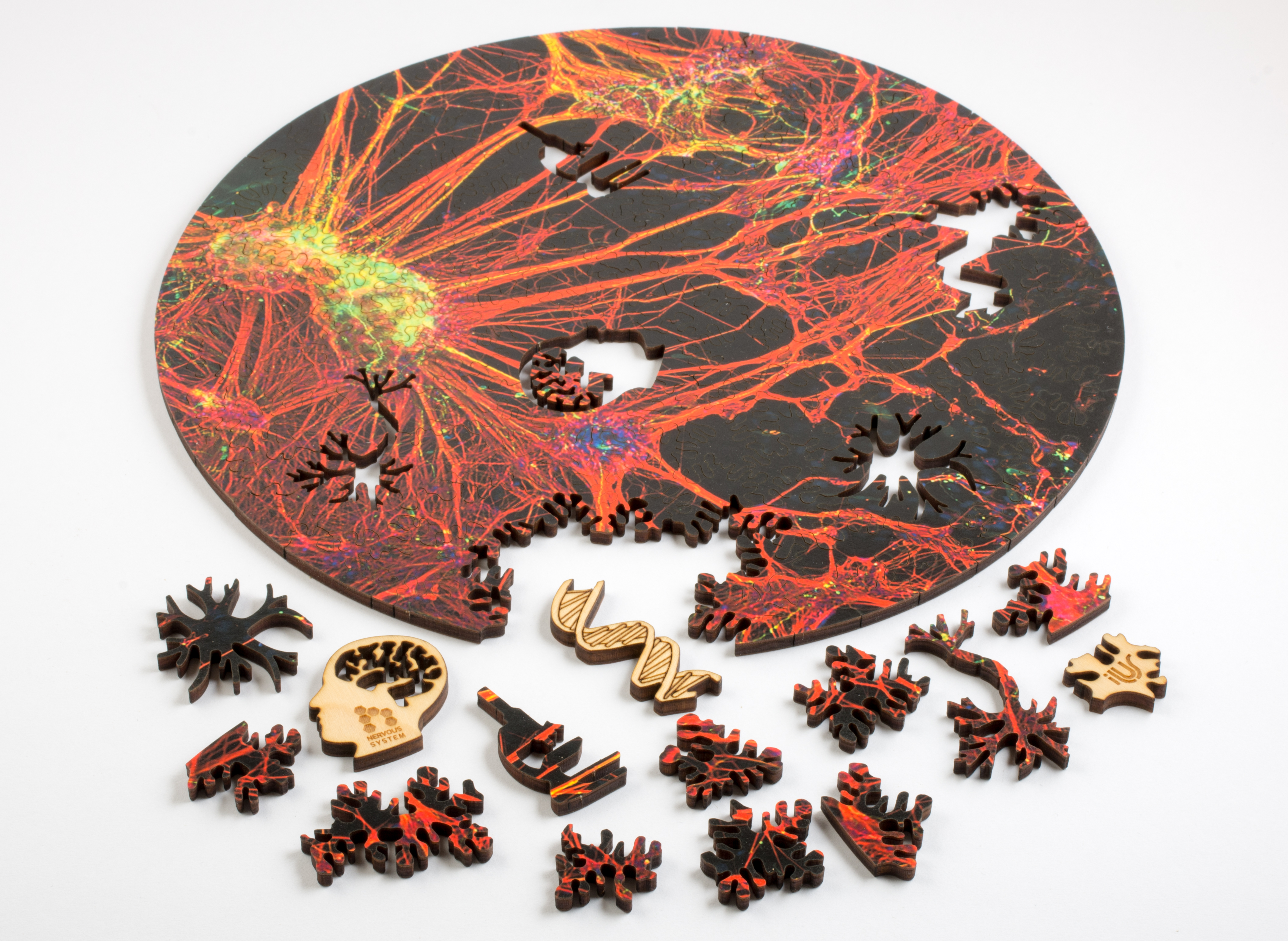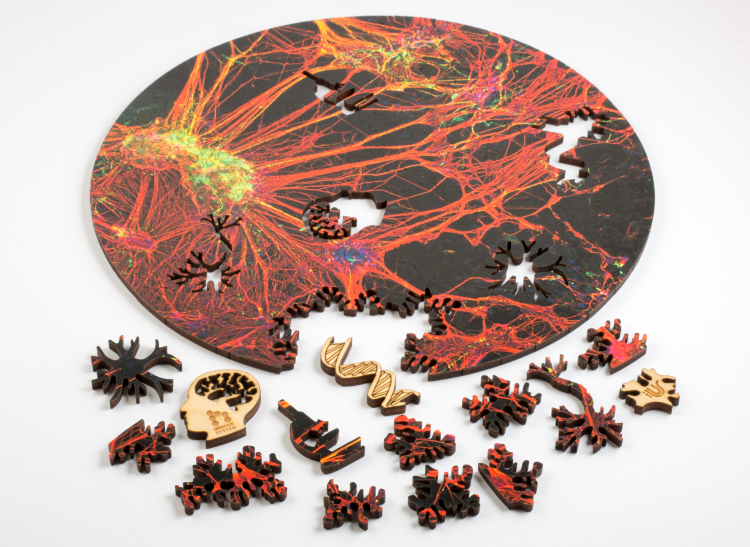 We are excited to announce a new series of generative jigsaw puzzles featuring microscopic art! These laser-cut, computer generated jigsaws feature microscopic photographs of cells created by scientists. Neural networks, skin cells, stem cells, and more are presented in colorful detail, exposing the inner workings and beauty of cellular structures. The puzzles are produced in collaboration with Ilus Art, a life science art & education company based in California. Each is available in three sizes: 5" square ($30), 6" x 9" ($65), and 10" round ($100). Shop now: microscopic art puzzles in the nervous system shop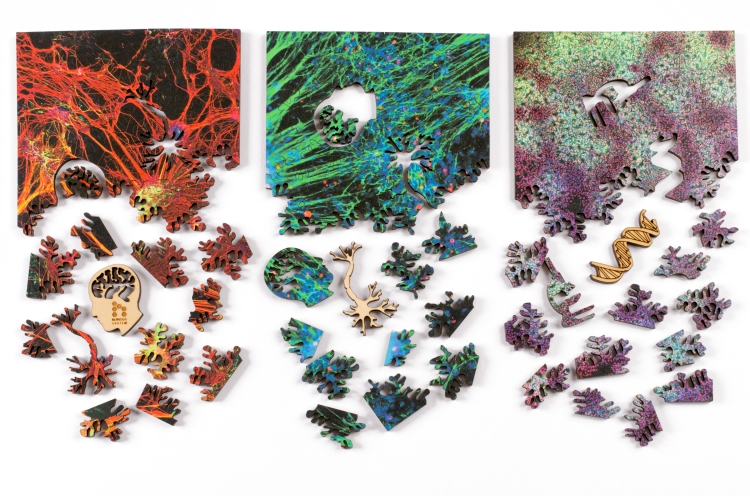 cell structures made visible
These photographs were produced by scientists in the course of their research. They illustrate the cells and tissues that make up our bodies at 20 times to 200 times their actual size. In addition to being striking images, these photographs tell stories about biology and bio-technology.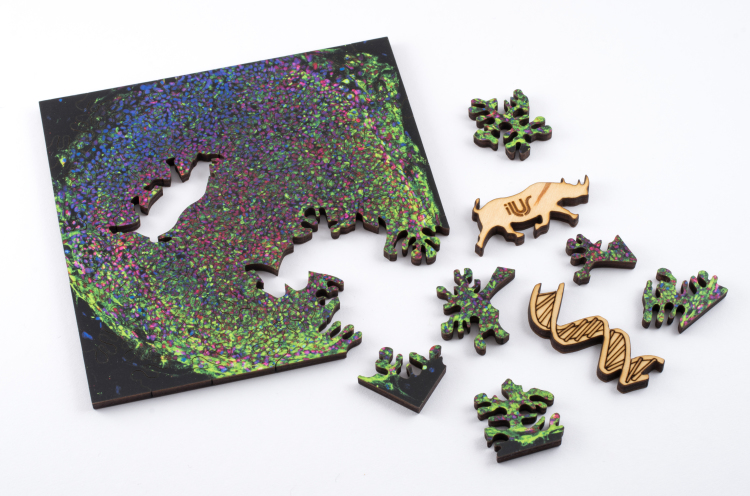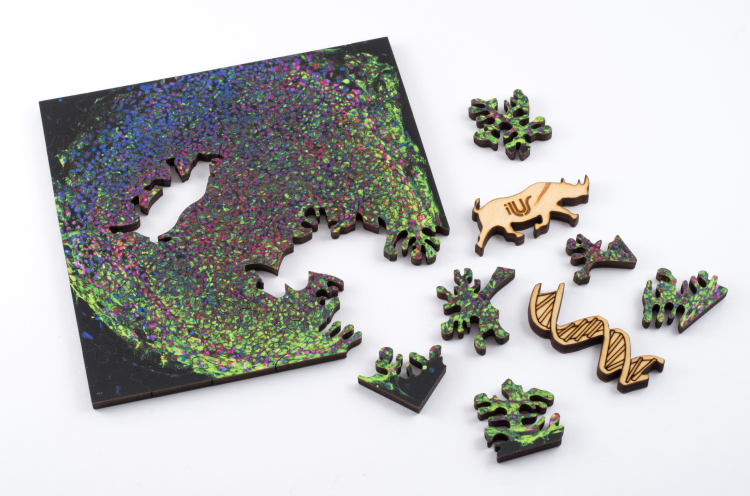 Our Northern White Rhino puzzle features a photograph of stem cells produced by scientists from the skin cells of Fatu, a Northern White Rhinoceros. She is one of only 4 of her species that remains. Researchers at the San Diego Zoo and the Loring Laboratory at The Scripps Research Institute, La Jolla, hope to one day rescue species from extinction by creating sperm and egg cells from induced pluripotent stem cells.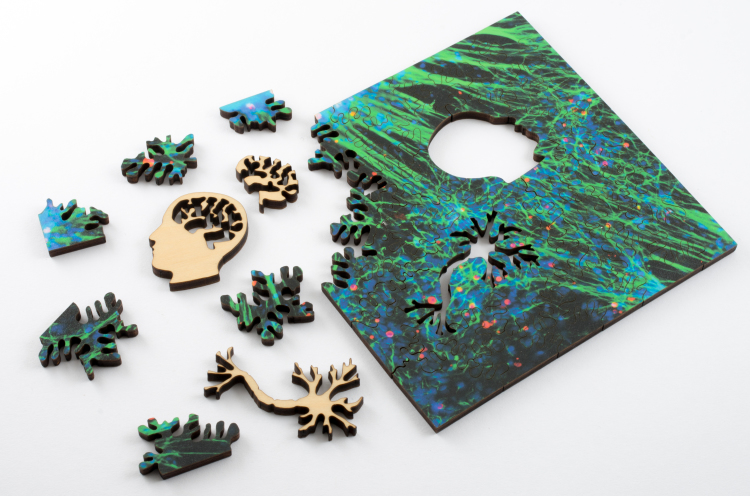 Our Green Neural Network puzzle displays an image of neurons grown by scientists in the Schaffer Lab at UC Berkeley who are studying how Alzheimer's Disease develops. The toxic beta amyloid plaques which characterize the disease are visualized in red.
These cells were visualized by tagging specific parts of the cells with fluorescent stains or antibodies. When viewed through an epifluorescence microscope the labeled structures light up as a specific color enabling the identification of cell structures.
puzzles made by lasers and algorithms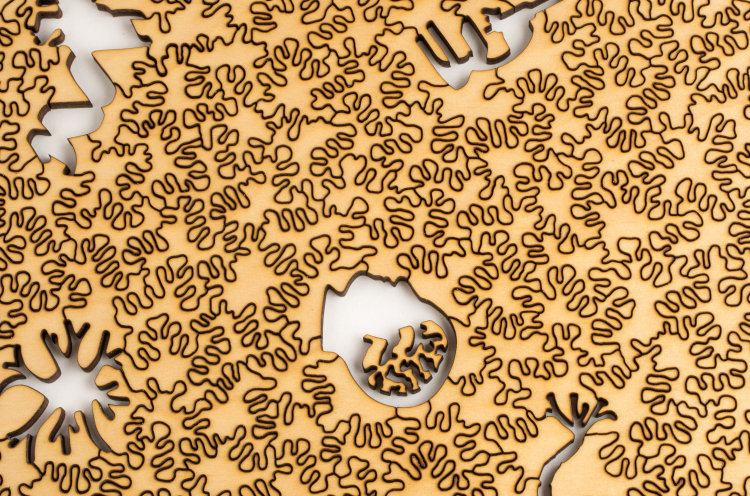 Our plywood jigsaw puzzles are produced by lasers and algorithms in Somerville, MA. The intricate branching shapes of our puzzle pieces emerge from an algorithm simulating crystal growth. The organic forms are cut from plywood by a laser, resulting in a uniquely challenging puzzle crafted from premium materials. The microscopic art series puzzles features a new puzzle cut style with smaller and more intricately branched shapes. We've also created a set of themed whimsy pieces to complement each photograph including: DNA, neuron, brain, head, body, microscope, and rhinoceros.
The 5×5" puzzles each have about 50 pieces. The 6×9" puzzles have about 105 pieces. And the 10" round puzzles have about 170 pieces.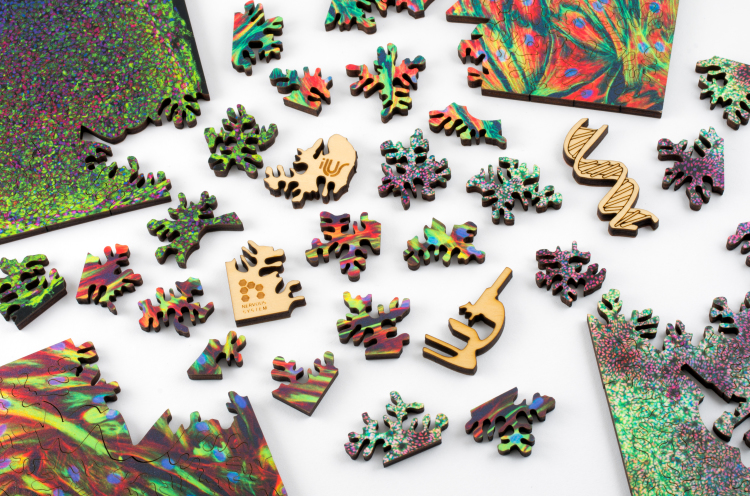 about Ilus Art
Based in California, ilus art was founded in 2012 by Janet Hubka. Ilus works with leading scientists across the nation to capture their images used in research. They vet the images for quality and aesthetic value and then create the art – infusing the images into metal – creating a luminescent piece of art. They also have a K-12 STEAM education program teaching students about the science-behind-the-art.
where to buy
Our microscopic art puzzles are currently for sale in the nervous system shop! If you have a store and are interested in retailing our puzzles, please contact us at wholesale@nervo.us