a tale of 7 kinematics dresses: a red dress, a museum acquisition, + 5 more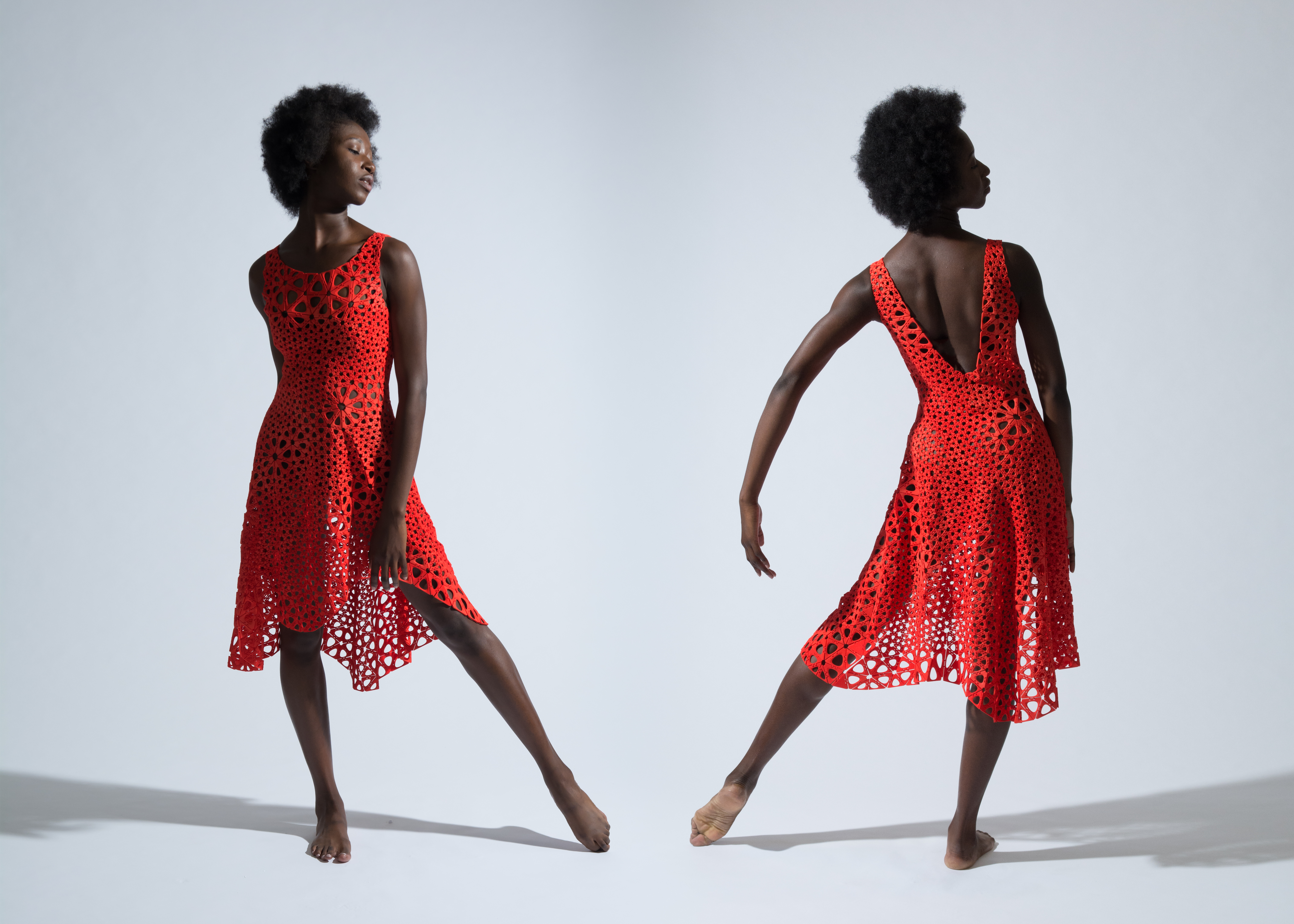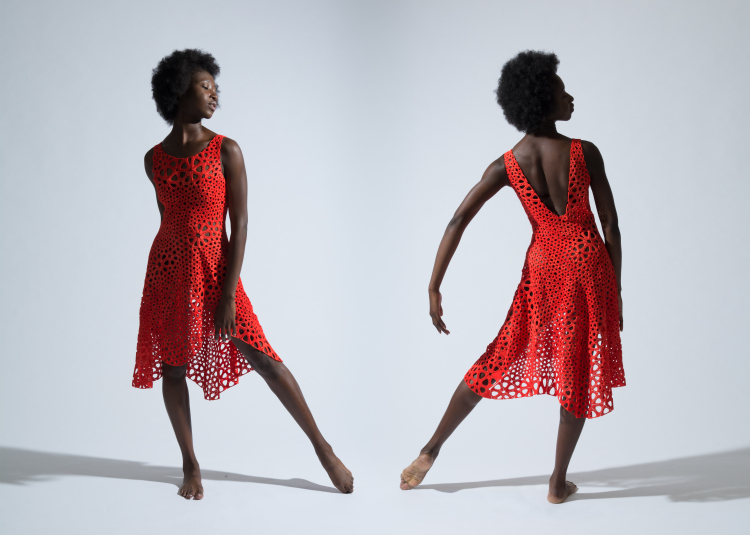 Our Kinematics project creates a new workflow that examines how technology can be used to make fashion in the future by combining body scans + data, customization, generative design, physics simulation, web apps, and 3D printing. Can fashion be democratic? Can it be more engaging? Can it be made to fit perfectly? Can it do all this and be made ethically?
At the end of 2014, we produced our first Kinematics Dress, a custom-fit 3D-printed gown fabricated as a single folded piece with no assembly required.  Since then, we have created six more 3D-printed gowns. Each dress has been accompanied by incremental improvements to our design app, folding simulation, hinge design, dress fit, and closure mechanisms.
Cooper Hewitt acquisition
We are proud to announce that Kinematics Dress 4 was recently acquired by the Cooper Hewitt, Smithsonian Design museum in New York City. Founded in 1897, the Cooper Hewitt is the only museum in the United States devoted exclusively to historic and contemporary design. We feel honored to join the museum's permanent collection, which includes more than 210,000 objects spanning 30 centuries. In addition to the physical dress, the museum has also acquired the 3D digital model used to print the garment.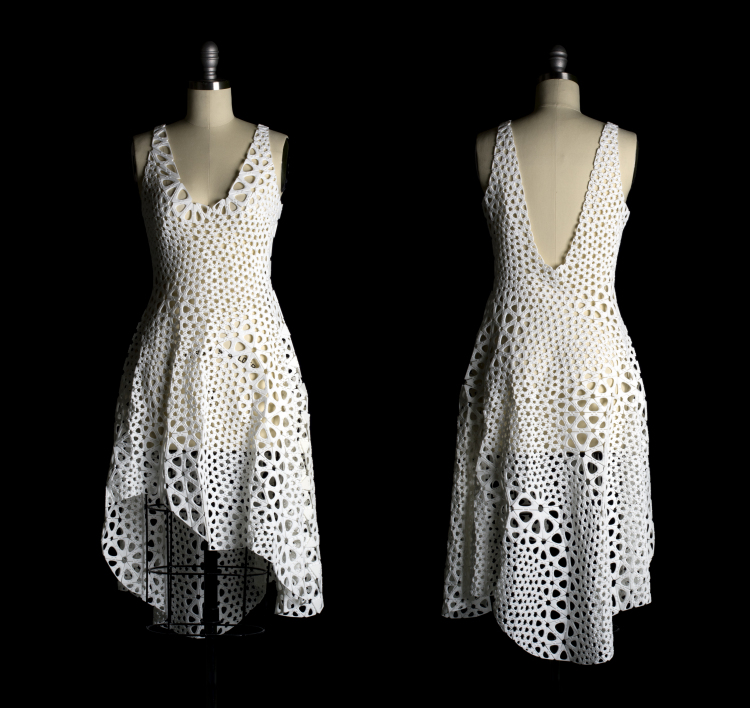 MoMA exhibition
Kinematics Dress 1 is currently on display at the Museum of Modern Art in New York for the exhibition "This Is for Everyone: Design Experiments for the Common Good" (the dress is part of the museum's permanent collection). Jesse and I will be at the museum for an event in October to discuss the project in the gallery. We will announce the date and time soon. In the meantime, you can attend a gallery talk about the dress. The next two are on Sunday, September 20, 2015, 1:30 p.m. and Monday, September 28, 2015, 1:30 p.m.
Out of Many, One: "Kinematics," or 4-D Printing in a 3-D World
Come join us to explore the fascinating way in which this visionary design/production system has generated a space-age dress, which is printed by robots and conforms to the custom shape of the wearer.
a very brief history of the kinematics dress
In the past year, we've been so busy creating dresses that we have neglected to publish any information on them. So, without further ado, here is data on the 7 Kinematics Dresses we have 3D-printed so far.
Dress 1 is on currently display at the MoMA. Dress 2 was debuted at CES and is now on display at the Autodesk Gallery in San Francisco. Dress 4 was worn live on the Today Show by news anchor Natalie Morales. Dress 3 was exhibited at the Bozar Centre for Fine Arts (it was 3D-printed in Belgium and we've never seen it in person). Dress 5 is traveling to tradeshows and popups around the world with Autodesk. Dress 6 will be on display at the Museum of Design Atlanta.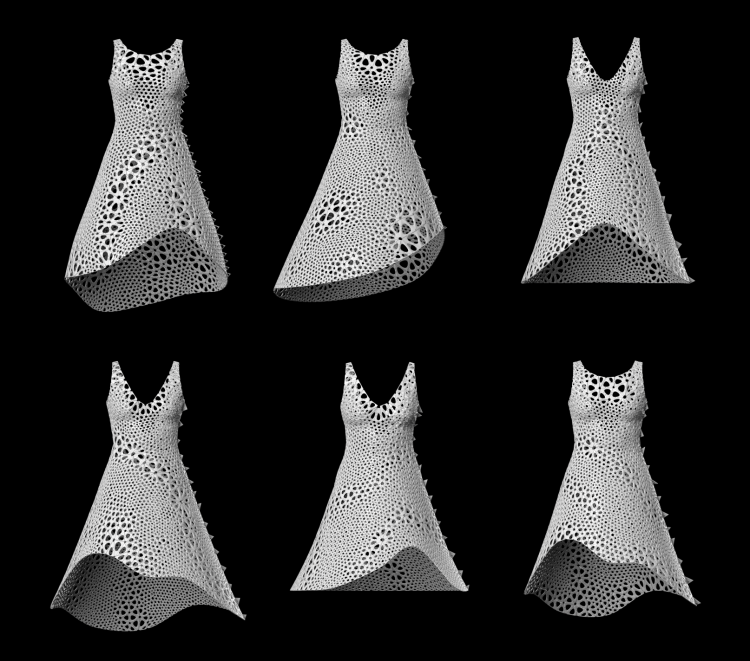 a red dress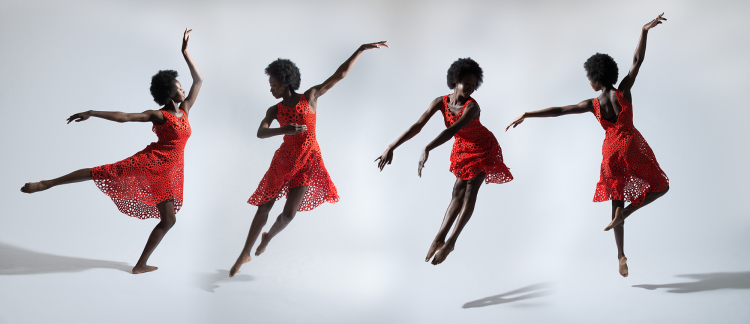 Kinematics Dress 6 is very special to us. It is the first one that we created for ourselves. It is the first one we actually own. To celebrate, we decided to try a little experiment with the color and dyed it a vibrant red. We worked with photographer Steve Marsel and model / dancer Fhi B-Ado to document the dress before sending it off to Atlanta for exhibition. The photographs below illustrate how the 3D-printed structure of our garments is a hybrid between hard and soft materials. Despite being 3D-printed from rigid plastic, the dress folds and flows in response to movement.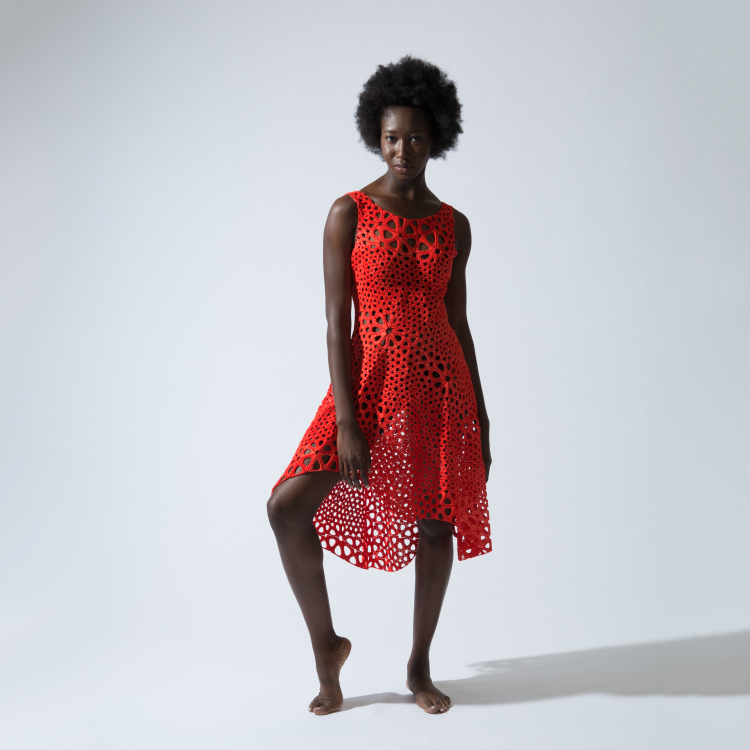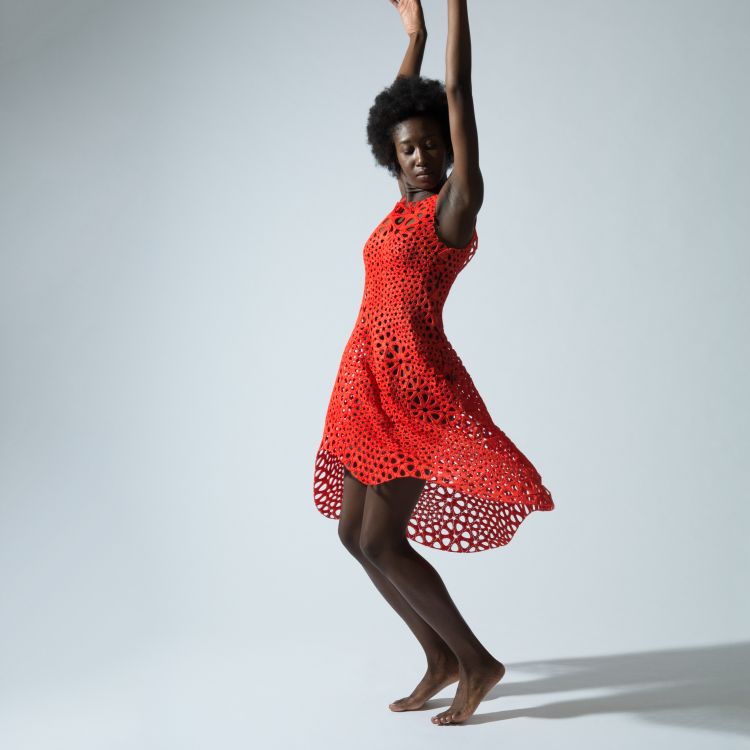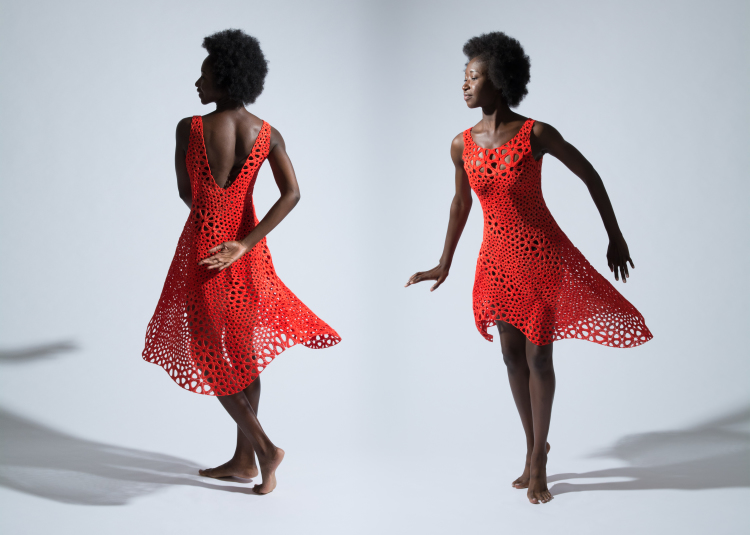 We continue to work on making Kinematics garments accessible to the general public, as each dress teaches us more about what works and what doesn't. With every iteration, we hope to get one step closer to making custom 3D-printed clothing more functional and affordable to everyone. In the coming year, we plan to make smaller garments like skirts and belts available for purchase on our app–so please stay tuned as our Kinematics Cloth project continues to unfold!