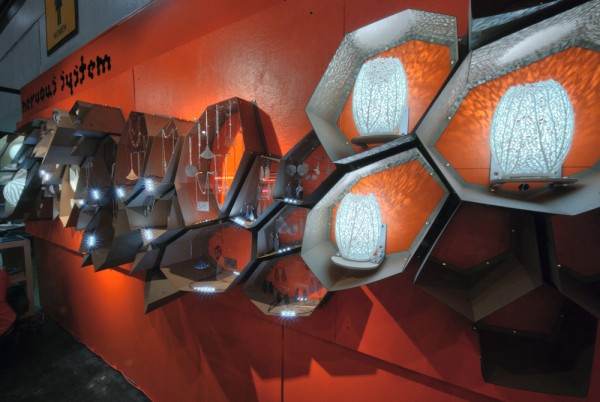 Every time we do a show, it is an opportunity to make something crazy and big. For this year's New York International Gift Fair, we made the Barnacle display wall, an array of cellular extrusions each housing a selection of designs lit by LED strips.
We wanted to address some of the problems we've encountered in past trade show displays. As with all trade show projects, we were working with very limited time and budget. Last year, we made crystalline, geode pedestals, which were awesome, but had a few issues. First, they were very difficult to assemble. They also lacked a certain amount of coherence. The pieces they were displaying did not have a place, and were placed on top arbitrarily. We spent a lot of time on the design of booth (most of which was not used) and had not done much thinking about construction and the pieces we would display.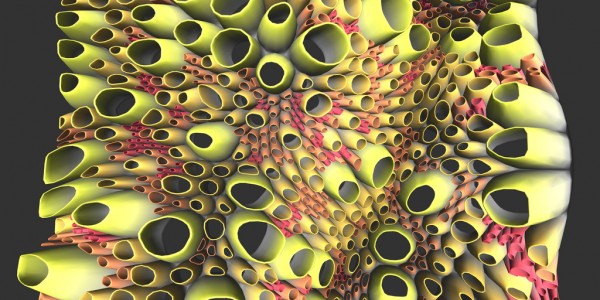 This year we wanted to minimize design time, and make sure we had a simple construction method that would display the pieces well. We quickly decided to use a modified version of our Written Images Barnacle sketch, which is in turn an extension of our Radiolaria project. This allowed us to start designing fast.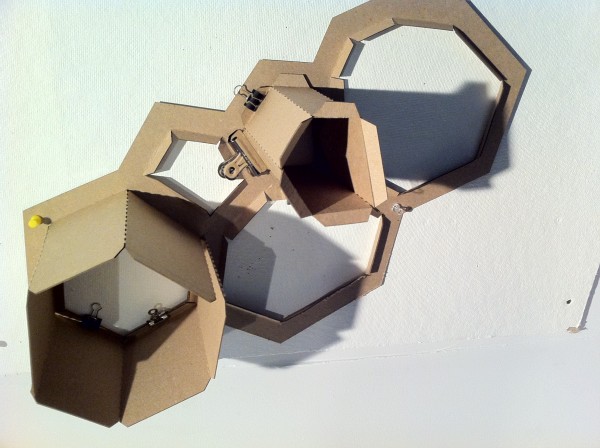 our first physical sketch…a bit lacking in finesse but serviceable
We went with the architecture student's tried and true construction materials: laser cutter + chip board. We wanted to it to be fast, inexpensive, and easy to transport. Each barnacle is unrolled to a flat, scored sheet that can be folded into its 3D form. It is attached to a flat back plate, which fixes the barnacle's shape and allows it to be mounted on the wall. Our first prototype used binder clips to attach the pieces. These were too large and difficult to attach to the intricate design. Instead, we switched to brass, round head fasteners, which are like the folded prongs you see on manila envelopes. They were easy to use, cheap, and had a great aesthetic.
a view of our processing sketch
The sketch was modified to generate laser cut files that would fit into our 18″x24″ laser cutter. The barnacles were also sliced at angles to create a more dramatic 3D presence and allow light into the barnacles. In the Written Images project, barnacle height was determined by barnacle area. Here, we added a tool to control the heights interactively, with a simple click and drop off radius sort of system.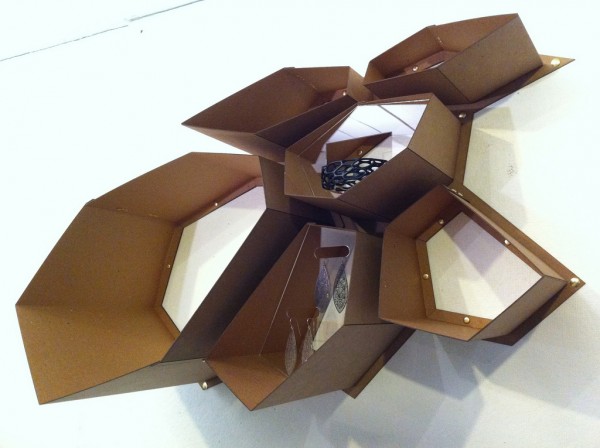 test chunk of the final design
The pieces were displayed on clear acrylic inserts that press-fit into the barnacles. This made it seem as if each piece was floating inside the barnacle. It also made sure each piece had a set place, so that if someone took one down to look at it, it went back to the right place.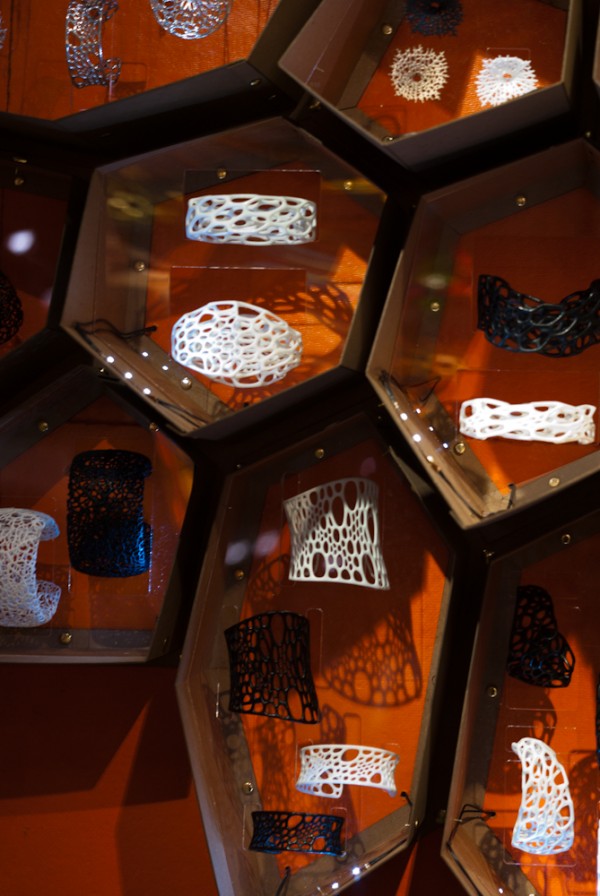 At the last minute, we decided to light each barnacle with an LED strip. We got 16.5′ of flexible, cuttable LEDs from Amazon for around $12, and soldered wires onto 40, 2″-4″ pieces. The strips were connected together in series on site with crimp connectors. This looked awesome in our dark studio, where the jewelry cast dramatic shadows, and the barnacles let off a mysterious glow. In the harsh light of the Javitz center, the effect was somewhat lost.
The barnacles are mounted on homasote sheets, which allows us to hide all the wiring and assemble the entire wall with only thumbtacks and brass fasteners.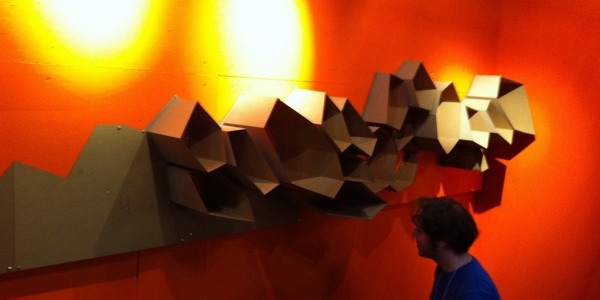 mounting the barnacles at the Javits center using our jig
We shipped everything flat and assembled it on site. We used a jig to make sure everything was level and properly positioned. It took one day from around 12pm-10pm with 4 people. This included unpacking, painting, wiring, assembling, and mounting. I was amazed and relieved when the LED all worked on the first try. It was definitely our most effective and satisfying display to date.
The total project time was roughly 2 days for design and prototyping, 1 day for fabrication, and 1 day for assembly.