Puzzles, Full Moons, Renegade, and More
We were overwhelmed by how quickly our first round of Generative Jigsaw Puzzles sold out. Since then, we've been working on puzzles non-stop in the studio, and we now have more of the Radial Series available for sale, and we still have a few of the MaCabism Series left. All puzzles are ready to ship in two weeks or less.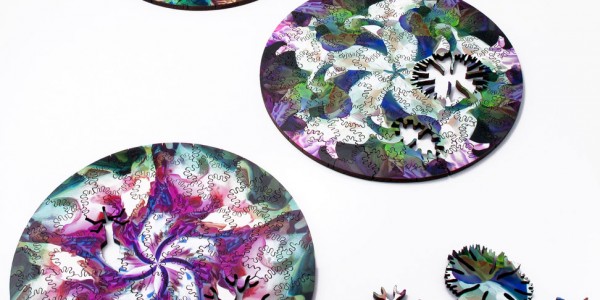 We've also taken new photographs of one of our most popular items, the Full Moon Series. We have a wide assortment of Steel Full Moons, and Gold Full Moons. Each piece is one of a kind — some are light and airy, others are dense and compact. More one of a kind pieces, like our Coral Series, will be available soon.
This weekend, we will be in Brooklyn for the Renegade Craft Fair, showcasing our best-sellers as well as pieces from our new collection. Stop by the booth and say hello!
We're still photographing our new lighting pieces from ICFF to prepare them for the website, but you can see some more images of the pieces we are working on below.