Now hiring: Studio Coordinator @ Nervous System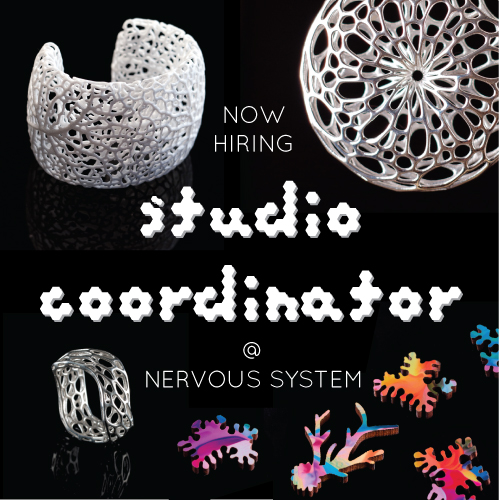 We are looking to hire a full-time studio coordinator at Nervous System. Job responsibilities include a mixture of administrative, creative and research tasks.
Administrative
invoicing
ordering supplies
checking inventory
acting as a liaison to vendors and wholesale accounts
office organization
paperwork
answering the office phone
Creative
creating promotional materials (including catalogs, packaging, newsletters, press releases, blog posts, video content, and photography)
writing product descriptions
replying to press requests
writing posts for our blog and other social media
Research
finding new manufacturers, materials and wholesale accounts
find opportunities that align with our work at Nervous System (exhibitions, installations, partnerships, grants)
DESIRED SKILLS
We seek candidates who are tech savvy and have a mixture of design, sales and writing experience. You must have experience with social media and ideally you know your way around the backend of a website. We are looking for candidates that have experience with Adobe Creative Suite or have writing experience. Please send us links to your portfolio, blog or similar.Someone smart, good at communicating, able to pick up various tech related skills, and capable of keep track of many things at once.
ABOUT NERVOUS SYSTEM
Nervous System is a generative design studio that works at the intersection of science, art, and technology. We create using a novel process that employs computer simulation to generate designs and digital fabrication to realize products. Drawing inspiration from natural phenomena, we write computer programs based on processes and patterns found in nature and use those programs to create unique and affordable art, jewelry, and housewares.We are located at 561 Windsor St in Somerville, MA in between Union Square, Somerville and Inman Square, Cambridge. Currently, we are a small studio of 6.
HOW TO APPLY
Applications will be accepted by email only, please no phone calls. Please email your letter of introduction, resume and links to your website or blog if you have one to jobs@n-e-r-v-o-u-s.com.  This is a salaried position.