Summer Updates!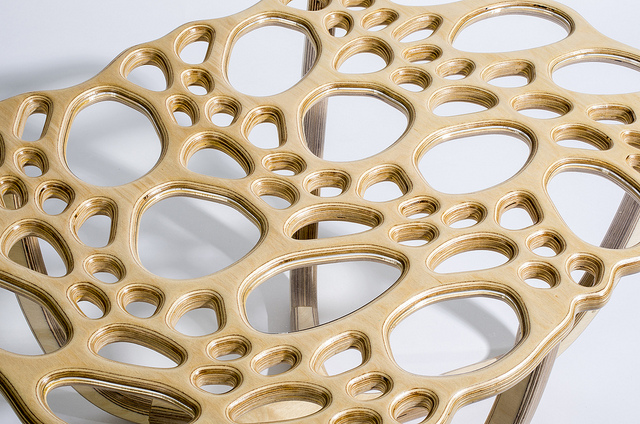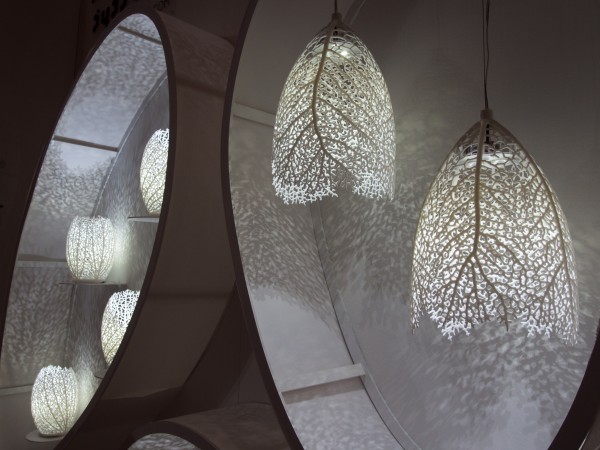 We've been working hard the past few months and are excited to share some details on a few of the projects and events that have been keeping us busy!
In May, we exhibited our latest lighting and furniture designs a the International Contemporary Furniture Fair. ICFF is a beautiful and inspiring exhibition and trade show that happens in conjunction with New York Design Week. We were also excited to be involved with a new project called DesignX that focuses on cutting-edge technologies. In the DesignX booth, Jesse and Jessica taught workshops on 3d-printing and online design customization to a group of excited 3d-printing and design enthusiasts.
At our booth, we showed our newest Hyphae lamp designs, including the recently added pendant (shown above) and wall sconce lamp designs. All of our one-of-a-kind lamp designs have been restocked on our retail webpage and several of these designs are available for immediate shipment. We also showed tables created in our soon-to-be-released Radiolaria custom furniture app (Keep reading for more details on our upcoming app release!)
Jesse and Jessica installing our booth display at ICFF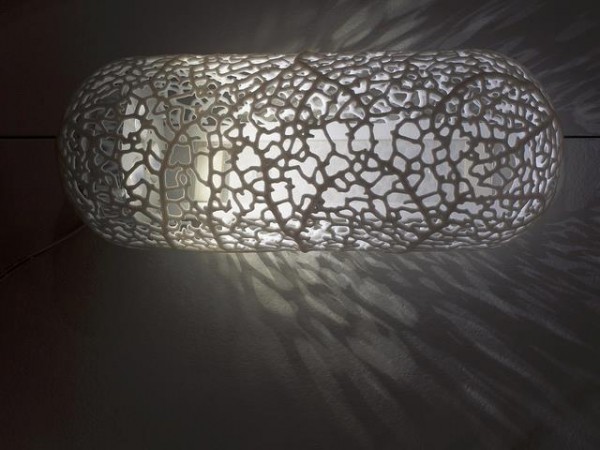 These are our new Hyphae wall sconces – available soon on our retail page!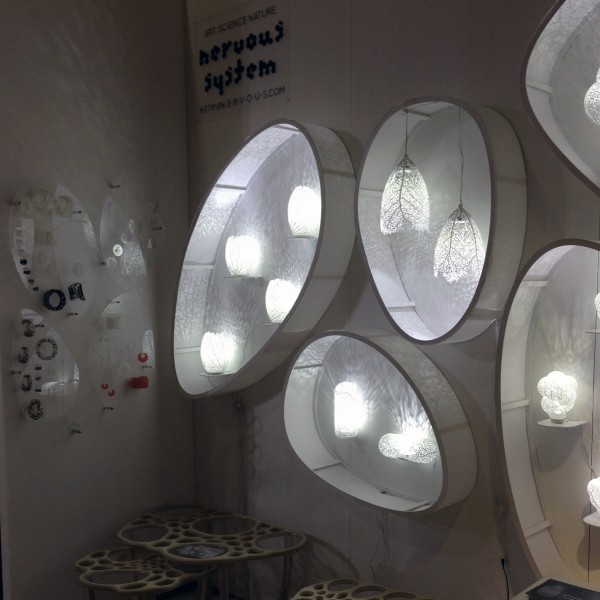 Our ICFF booth! We love how our display came together so I recently installed it in our showroom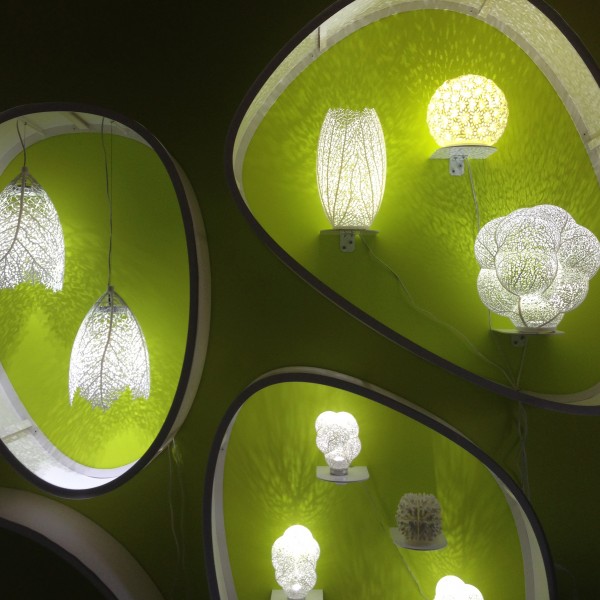 We love the way it looks against our awesome green wall!
Full moon necklaces
Our ever-popular full moon necklaces are back in stock in both stainless steel and 24k gold plated on our retail site. Each of these one-of-a-kind pendants is a pattern generated by aggregating tiny circles of varying sizes into a complex configuration within a circular boundary. The process we use mimics the growth of corals and other branching forms in nature. They make a really unique gift with an edition number etched onto one side of each one-of-a-kind necklace.

Sneak peek! Radiolaria table app
As promised, here is a little more about our soon-to-be-released custom table app!
At ICFF, we enjoyed letting people experiment with our Radiolaria web application for designing furniture. We also showed three prototype tables generated in the app and fabricated from baltic birch plywood using a CNC router. Using the app, you will be able to dynamically sculpt the table's patterned top and select cells to hold plexiglass inserts. You can also choose your table's height, number of legs and finish. We are still working on some finishing touches, so stay tuned for an update when the application goes live!