Nervous System's quest for the best laser-cutting plywood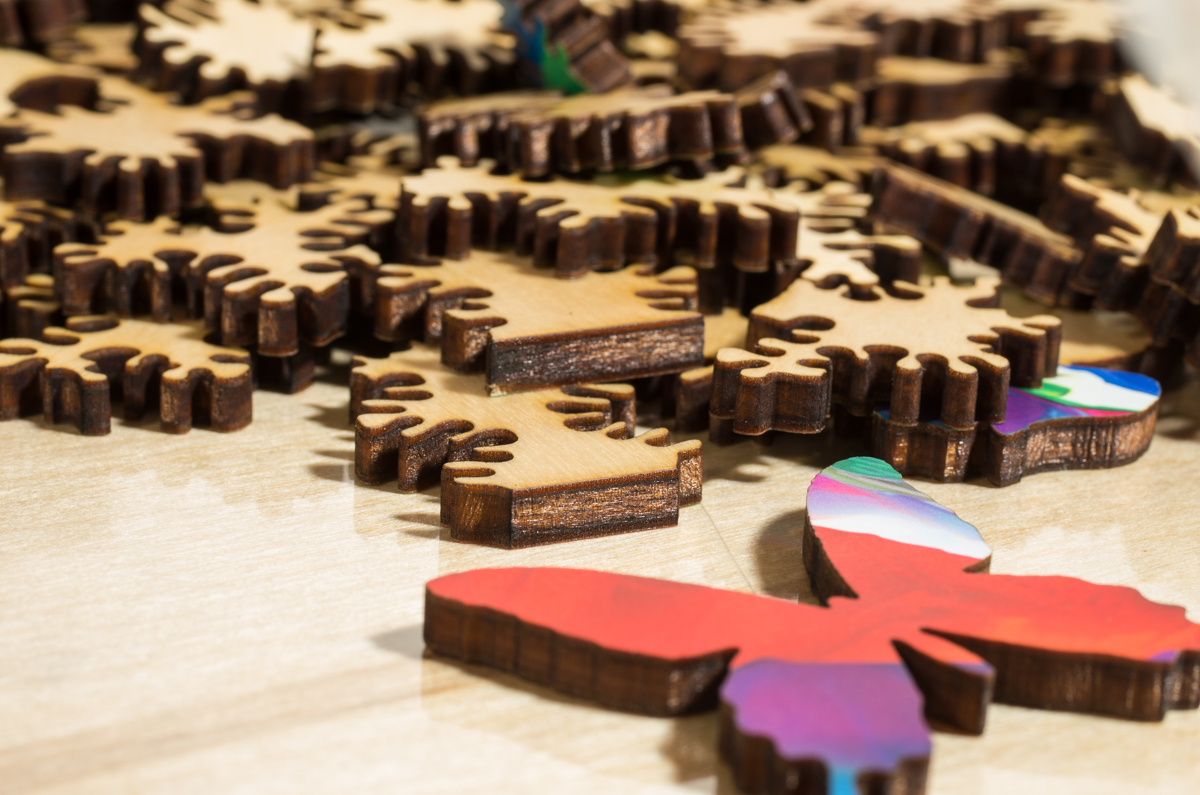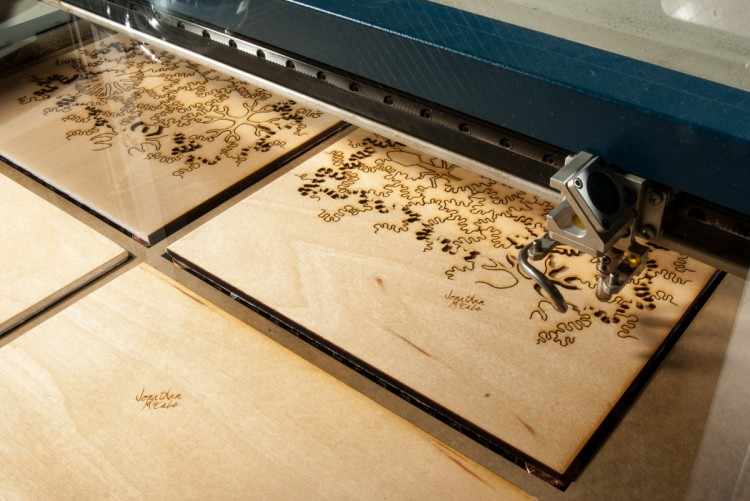 Four years ago, we began making laser-cut plywood jigsaw puzzles. In that time, we've gone through four different plywoods in search of a material that works well for laser cutting intricate parts. Along the way, we've learned a great deal about how plywood is produced and confronted a fundamental problem: There is no commercially available plywood made in the US designed specifically for laser-cutting. Ultimately, we've had to have our own custom plywood manufactured.
what makes a plywood good for laser cutting
Laser-cutting works best with uniform, consistent materials. Wood is a natural material and hence not at all consistent! It contains irregularities like knots and voids and differences in density due to its grain. When making an intricate puzzle, the demands on the laser are even more rigorous. The material is going to be cut everywhere, in dense patterns that cover the entire piece. Any irregularities in the wood can't be avoided or "cut around." Unlike a saw, a laser can only cut at one power. It can't speed up on a soft spot, or push harder when it hits a snag. If you encounter an area of material that is very different from the rest while laser-cutting, you have a big problem. Because of the puzzle image, any errors cannot be recut, so if you hit a bad spot, the entire piece is ruined.
Furthermore, while lasers can cut wood just fine, they have a much harder time cutting most types of glue. Since plywood is a sandwich of glue and wood this is problematic.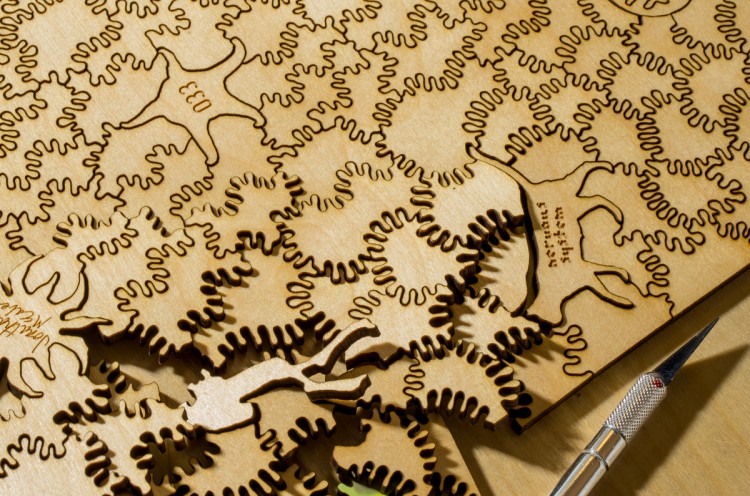 Industry issues: Grades, veneers, plys and glue
plywood grading
The plywood industry makes finding a good wood for laser cutting extraordinarily difficult. Most plywood is described and graded solely by its exterior veneers. But, for laser cutting the interior layers of wood or "core plys" are just as, if not more, important. Any inconsistencies inside the plywood will prevent the laser from cutting through. In addition to not having a grade to tell you about knots and voids, often wood distributors don't specify what the core is made of at all. Wood manufacturers will not even guarantee the cores will be made out of consistent species; they simply use whatever is available, which can change with each batch.
multi-ply quandary
Traditionally, if you're looking for the most stable and consistent plywood, you will be recommended a multi-ply wood. These are plywoods with thinner inner plys (so, for example, a 1/4″ material would have 5 plys instead of the usual 3). Multi-ply woods also usually have a specific type of core material — the most common being Baltic Birch. But extra plys are exactly the opposite of what we want for laser cutting intricate parts. In traditional woodwork, extra plys mean more redundancy and stability, so that if one area has a bad spot, the other layers will make up for it. But to the laser, more layers means that many more opportunities for a bad spot to exist, and a single one in any layer could ruin the cut. An insidious side effect of this situation is that regular core plywoods with fewer plys are typically of lower quality, since if people wanted higher quality wood, they'd buy one with more plys, right?
glue
Additionally, more layers means more glue and the glue portion of plywood is often harder to cut than the wood itself. Plywood can be made with several different types of glue. Plywood for use indoors is typically made with urea-based glue and plywood for use outdoors is made with phenolic-based glue. Extra-durable plywoods, like aircraft-grade woods were attractive to us for their rigorous specification for high-quality cores but these are always made with the phenolic-based glue. Phenolic glue takes at least 4 times as much power to cut by laser as urea glue. This results in puzzles that take longer to make and that are more singed at the end. But it gets even worse! After discovering tiny metal flakes in the glue of some of our plywood — metal flakes that reflect the laser, causing all sorts of havoc — we assumed that they must have worked their way into the layers accidentally…but we were shocked to learn that this metal "glitter" is intentionally embedded in the glue, to help manufacturers identify their wood!
Getting our wishes granted
So our wish-list for plywood seemed simple — very high quality plywood with void- and knot-free veneers and cores, and interior grade glue with no $@%! metal flakes — but for a long time, it proved nearly impossible to find.
We tried:
Various woods suggested by our local supplier, including birch and italian poplar

these had big areas of filler that didn't cut well on the laser, as well as many inconsistencies in general
we learned from this that people who know plywood and the plywood industry don't generally know about laser-cutting or its requirements

Hunted on the Internet and found a good two-sided birch plywood we liked: Because it was two-sided, both veneers were of high quality, and we were excited to see no core problems showing through on either side

but then the manufacturer switched cores shortly thereafter

We began ordering CANAM plywood from Columbia

as a major international distributor / supplier, this wood wasn't going to change…but about 50% of what we received was too low-quality for us to use
we had to painstakingly check each piece under a bright light to look for voids and knots before cutting
it had those awful metal flakes in the glue
…and eventually, the only local distributor of CANAM woods in our area stopped stocking the one we needed.

Being very frustrated.

Why couldn't we just buy a high quality plywood for laser-cutting??
Finally though, we decided to take a big step and, armed with our now-thorough knowledge of what we needed, strike out on our own.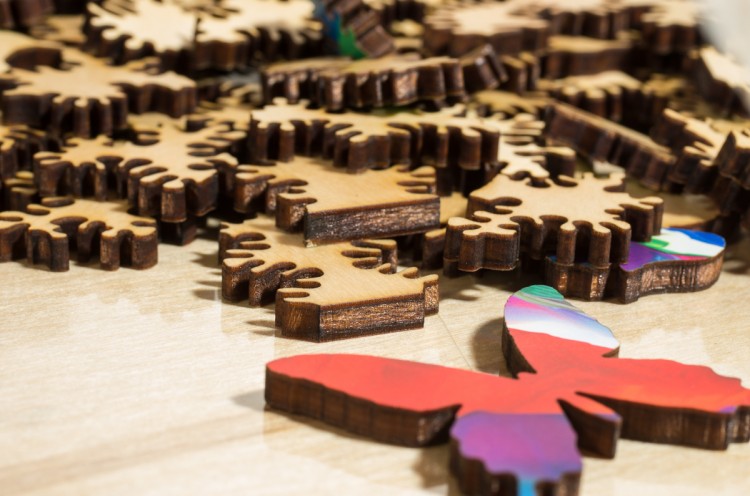 From the ground up: Custom manufacture
It sounded crazy to us at first, but once we'd run out of other options, we started making calls — specifically, we tracked down a small-scale manufacturer who specialized in aircraft-grade custom plywoods.
Fortunately, this story has a happy ending, because while having your own bespoke plywood manufactured seems a little extreme, it's actually not that difficult or unreasonable. The manufacturer we found was able to provide us with our plywood holy grail:
a 3-ply 5mm wood
basswood core with birch veneers, both very high quality
using a melamine-based glue instead of the usual phenolic
So far this wood has been amazing. No longer must we carefully inspect each piece of a 400 piece puzzle, dreading the possibility that we will find an irreparable damaged area. This is by far the best plywood we have ever laser cut, and after 4 years we've tried almost everything.