Baffling Bubbles is a brain bending wooden puzzle brought to you by Nervous System and artist Chris Yates. Each colorful bubble is a mini puzzle; they aggregate to form a larger puzzle, creating multiple levels of puzzling play. Every Babbling Bubbles Puzzle is one of a kind and features a unique computer generated cut pattern that combines Nervous System's squiggly pieces with Chris Yates' enigmatic connectors shaped like spirals, hammers, waves and more! There are five color schemes based on Chris Yates' spray paint textures. These are directly printed on wood creating vibrant all-wood puzzles (no paper involved!)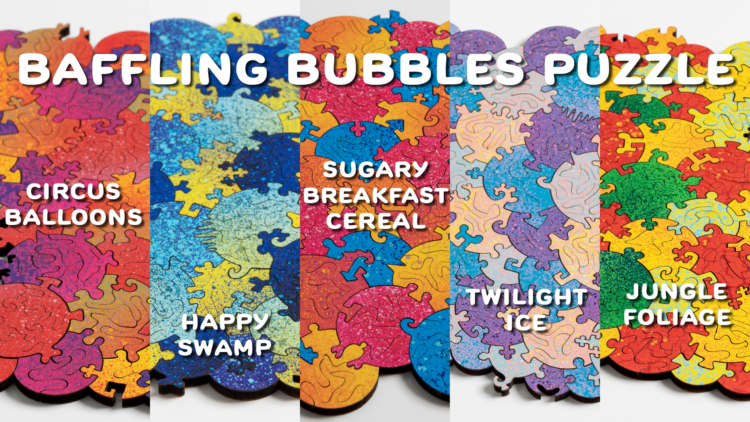 Generative - every one is unique. Pick a color scheme and we will send you a puzzle with the same colors but a unique cut
Contains approximately 212 pieces
Digitally painted on maple plywood
Laser cut in Palenville, NY
about Chris Yates
Chris Yates has been designing and cutting innovative wooden jigsaw puzzles since 2004. His Baffler style blends the traditions of puzzlemaking with a modern, colorful aesthetic resulting in truly unique art that you can play with.
made with math, science, + lasers
Our plywood puzzles combine the artistry of classic jigsaw puzzles with the possibilities of new technology. We use custom software inspired by natural patterns to grow the intertwining shapes of the puzzle pieces. The organic forms are cut from plywood by a laser, resulting in a uniquely challenging puzzle crafted from premium materials.