Up-Goer Five
A while ago there was a pretty great XKCD which gave semi-technical descriptions of the Saturn V rocket using only the 1,000 (or "ten hundred") most commonly written English words:
Up-Goer Five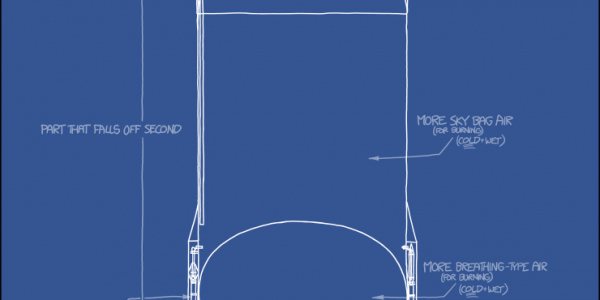 Jessica and Nathan challenged me to describe what we do at Nervous System using a similarly restricted vocabulary. I feel like I've had some practice lately trying to tell people what, exactly, we do here. They don't realize that asking me about my new job is a trap… twenty minutes later their eyes are glazing over as I keep trying to make them understand how exciting generative design is. So this was good for me. You know, keeping it simple:
The name of our business is "THE BODY PARTS THAT WORK TOGETHER TO LET YOU THINK AND CONTROL EVERYTHING ELSE IN YOUR BODY."
We use numbers and computers to make computer-world things that look like things you can find in the real world. We make things for your body, your house and your mind. Some of the things we make are quite small, and some are bigger than your head!
The things we make in the computer world would be very hard to draw or form with your hands — at the very least, it would take you a long time. But computers are faster than people, so we ask them to grow things for us. Our numbers tell them how to grow the things, and we make them grow within the lines we set.
Once the computer-world things are ready, we ask our business friends (and not-so-friends, sometimes) to turn the computer-world things into real-world things. We buy the real-world things from our business friends, and then other people buy them from us for more money. Some people buy our things in a real store, other people buy them at our computer-world store on the world-wide-computer-street. People from all over the world buy our fun things, so we keep making more.
If you want to make sure I didn't cheat, or if you maybe just want to write something of your own using only the "ten hundred most used words," here's a link to The Up-Goer Five Text Editor by Theo Sanderson.