a custom diamond engagement ring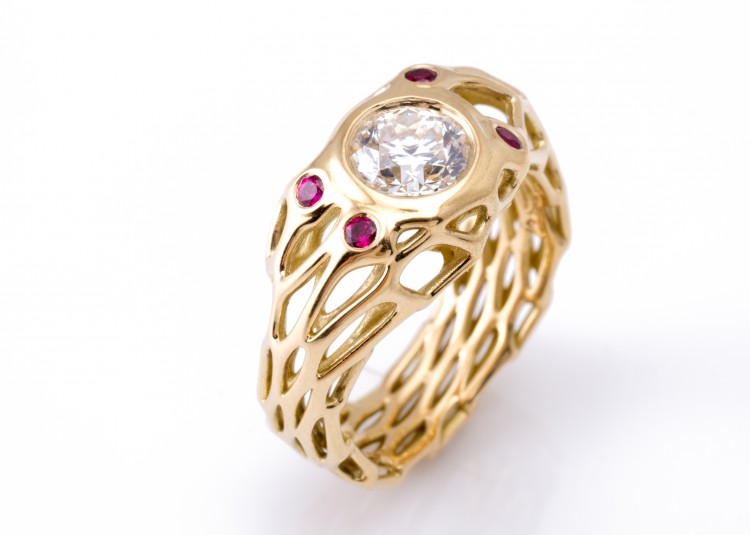 Introducing the first ever Nervous System diamond engagement ring! The design was co-created by a customer using our Cell Cycle app.  This is the first time we have incorporated stones into our designs, and it came out wonderfully. The ring was produced in 18 karat yellow gold with a central diamond surrounded by four small rubies.
To go along with this very special ring, we created a special presentation box in solid cherry wood with a gold-plated steel lid.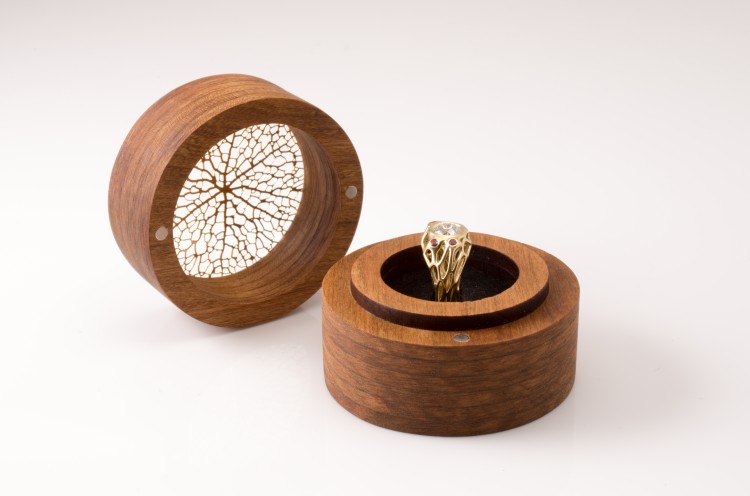 new cell cycle features
When we initially decided to take on this project, we did not realize we would need to make significant changes to the Cell Cycle app to make the project successful. One issue was that gemstones come in regular shapes. How do we incorporate a perfect circle (or several as it turned out) into an organic pattern of shifting cells? We ended up creating a new merging feature that allows small cells to be combined to make space for large stones. We also added the ability to constrain certain cells in the structure to a circular configuration.
We also needed to allow for the depth of the stone. Round diamonds are about as tall as they are wide; we needed to add the ability to have variable layer separation within the structure to enclose the stone. The space in between the layers is larger on top of the ring to allow for the large diamond. But on the sides of the ring, the layers are close together to make the ring comfortable.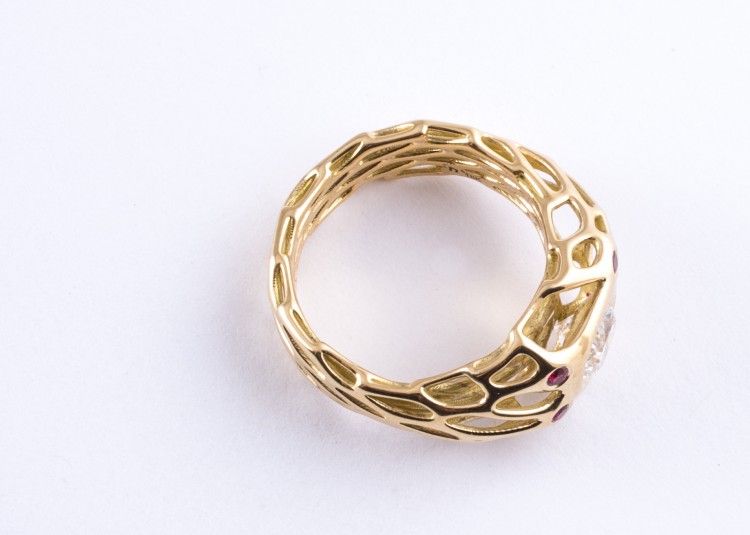 more to come
We really enjoyed working with one of our customers to create his perfect engagement ring.  And now that Cell Cycle is updated to support the level of customization this project required, we're happy to offer this service to others, too:  Contact us at hello@n-e-r-v-o-u-s.com to enquire about pricing and turnaround times (and let us know if you've already made a Cell Cycle design that you'd like to use).