co-creating with nervous system–july 2014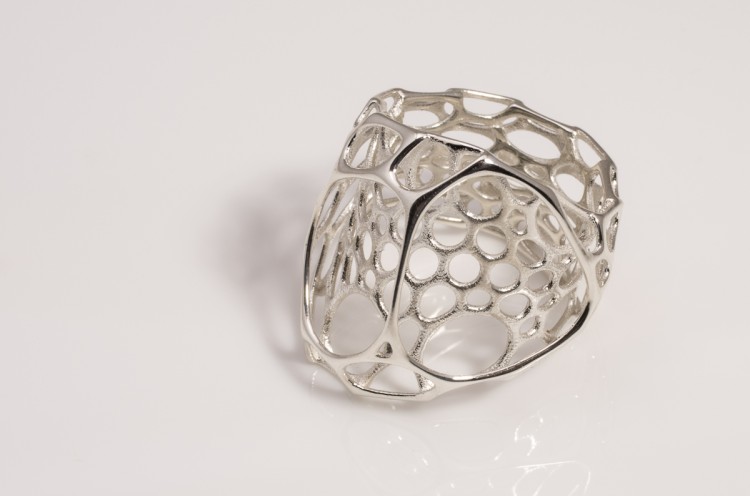 We're starting a new feature here on the Nervous System blog, to showcase some of the things our customers are making with our generative design apps every day. Each month, we'll highlight a different custom piece that's come through our studio and bring you some background and insights straight from the designer. We hope you'll enjoy getting a look at the endless creativity that our Nervous System co-creators are bringing to life, and maybe find a little inspiration in the process.
Designer: Will Walker
App used: Cell Cycle
Nervous System: Was this piece made for yourself or for someone else?
Will Walker: It was a birthday gift for Catherine—I initially made a plastic version during the Formlabs / Nervous Systems workshop at Solid earlier this year. She liked the plastic ring so much that she wore it out! So I decided something a bit more permanent was in order.
NS: Did you feel you were you able to achieve your vision using the app?
WW: [The] flexibility of the design app actually impressed me. My initial thought was to try to create a wireframe approximating the shape and feel of a large stone, and to play up the dramatic differences between the smallest and largest cell sizes available. The ability to use the largest cell size as a window into the ring's interior was a feature that spoke to me.
NS: Do you have any previous experience with design or 3D modeling?
WW: I work with Formlabs using high definition printers and teach 3D design, so I'm familiar with lots of CAD tools—but the visual language of the Nervous System app is a lot of fun, since you still have a lot of decision making available – and modeling these shapes by hand would be time consuming and would require a lot of testing to get right.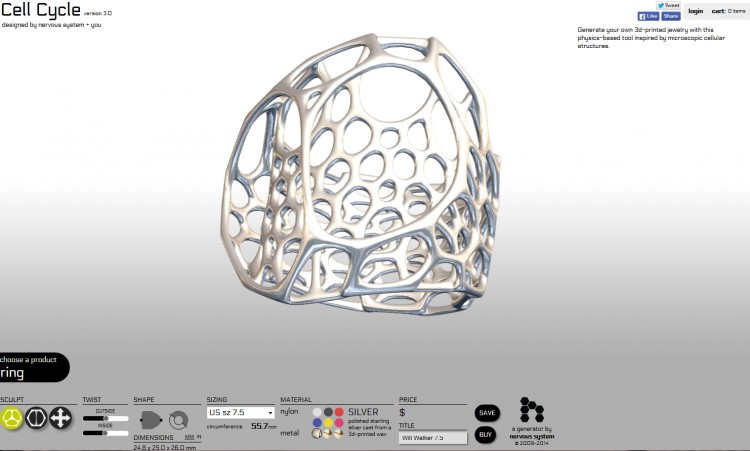 NS: Was creating your custom design with the app easier or more difficult than you'd anticipated?
WW: It took 15 minutes and was essentially effortless.
NS: What was your favorite part of the process?
WW: Ordering 3D printed metal and having it arrive at my door in perfect shape. :-)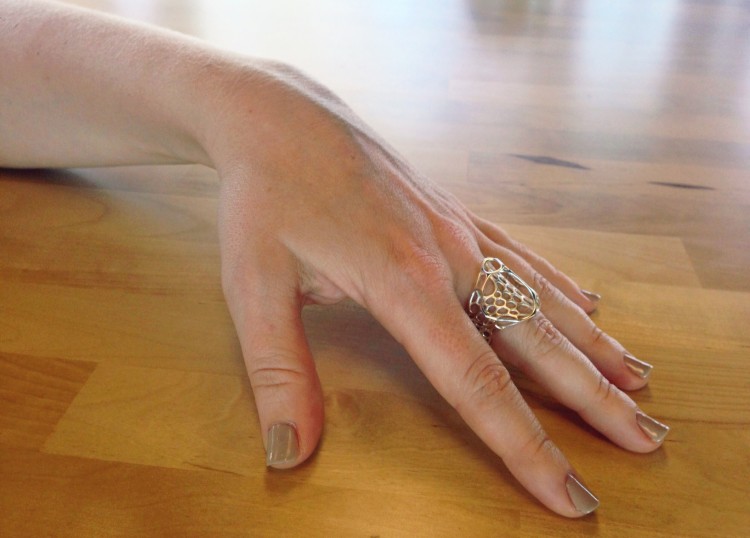 NS: Did the finished product turn out as you'd expected?
WW: Yes, it's even more ethereal and beautiful when it's in your hand!
Thanks again to Will Walker for taking the time to share with us!
Feeling inspired? Check out our custom design tools here.