New from our lab: Calyx and Bromeliad Lamps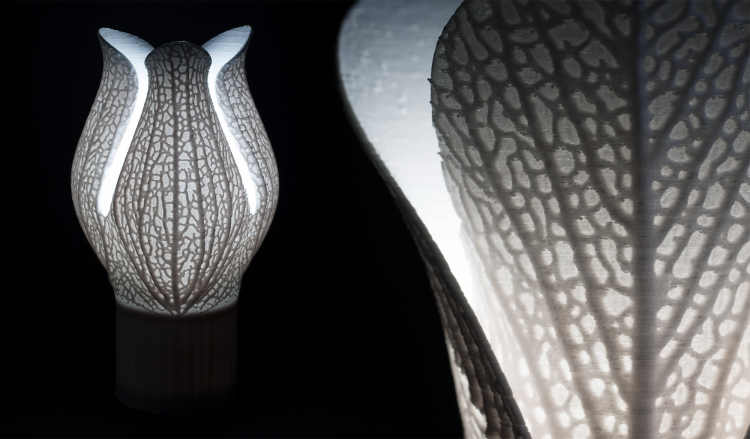 We are launching two new limited edition lamps, the Calyx and Bromeliad. These flower and leaf-inspired lights are the first Hyphae lamps we have designed for desktop 3D printers. They are available as a digital download for home 3D-printing ($5) or as a finished product ($75) made in-house at Nervous System from biodegradable corn-based plastic. These lamps are a limited edition and will only be sold for the next 4 weeks as part of a new section of our website, Nervous Labs.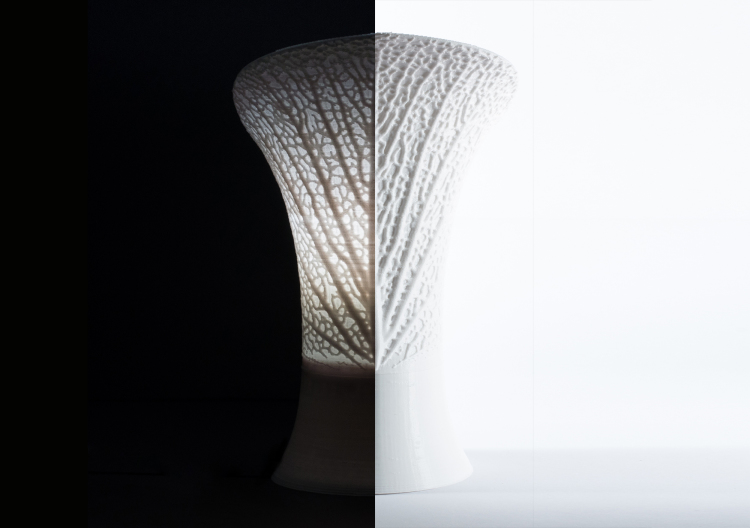 Nervous Labs
Nervous Labs is the new hub of our website, a work/shop where you can use our apps to create your own designs and a platform where we can release our latest ideas and experiments as limited edition products. Each product release will be for sale exclusively for one month, and each month will bring a new release. Through these designs, we can introduce and evaluate new algorithms, materials, interfaces, and fabrication techniques. We have some very exciting product experiments planned for the next few months of releases!
Print at home
The Calyx and Bromeliad lamps are our first foray into making products intended to be 3D-printed at home. Desktop 3D printers are increasingly available in people's offices, libraries and homes—but have they finally spread far enough that it makes sense for us to design for home printing? Now's our chance to find out! These designs are our first that you can purchase ($5) to print yourself.
Each lamp consists of two parts to print: a shade and a base. The shade takes around 8 hours to print and the base around 2 hours. They are designed to fit a standard candelabra fixture. The print-at-home files include advice on print settings and where to source the light fixture.
Print in studio
Don't have access to a printer? No problem. You can order a finished lamp ($75), and we will print it from bio-degradable PLA plastic at our studio in Somerville, MA. These are our first ever 3D-printed designs that we will manufacture in-house. For years we've been designing 3D-printed lamps and jewelry for industrial Selective Laser Sintering (SLS) printers. SLS machines are considerably more powerful than desktop printers in their ability to materialize complex geometries, but they are also far too expensive to own. That means all our printing is outsourced. Meanwhile, we have four desktop machines in our studio (Makerbot Replicator 1, Ultimaker 2, and two Dremel machines) that are currently underutilized. We created these designs to take advantage of our own manufacturing capacity.
Another benefit of 3D-printing these lamps in-house is that we're able to make them more affordable and eco-friendly than our previous Hyphae Lamps. These new designs have a price range of <$100 and are made of PLA (a biodegradable plastic) instead of nylon. Calyx and Bromeliad are now available for purchase.