Kinematic Petals Dress debuts at MFA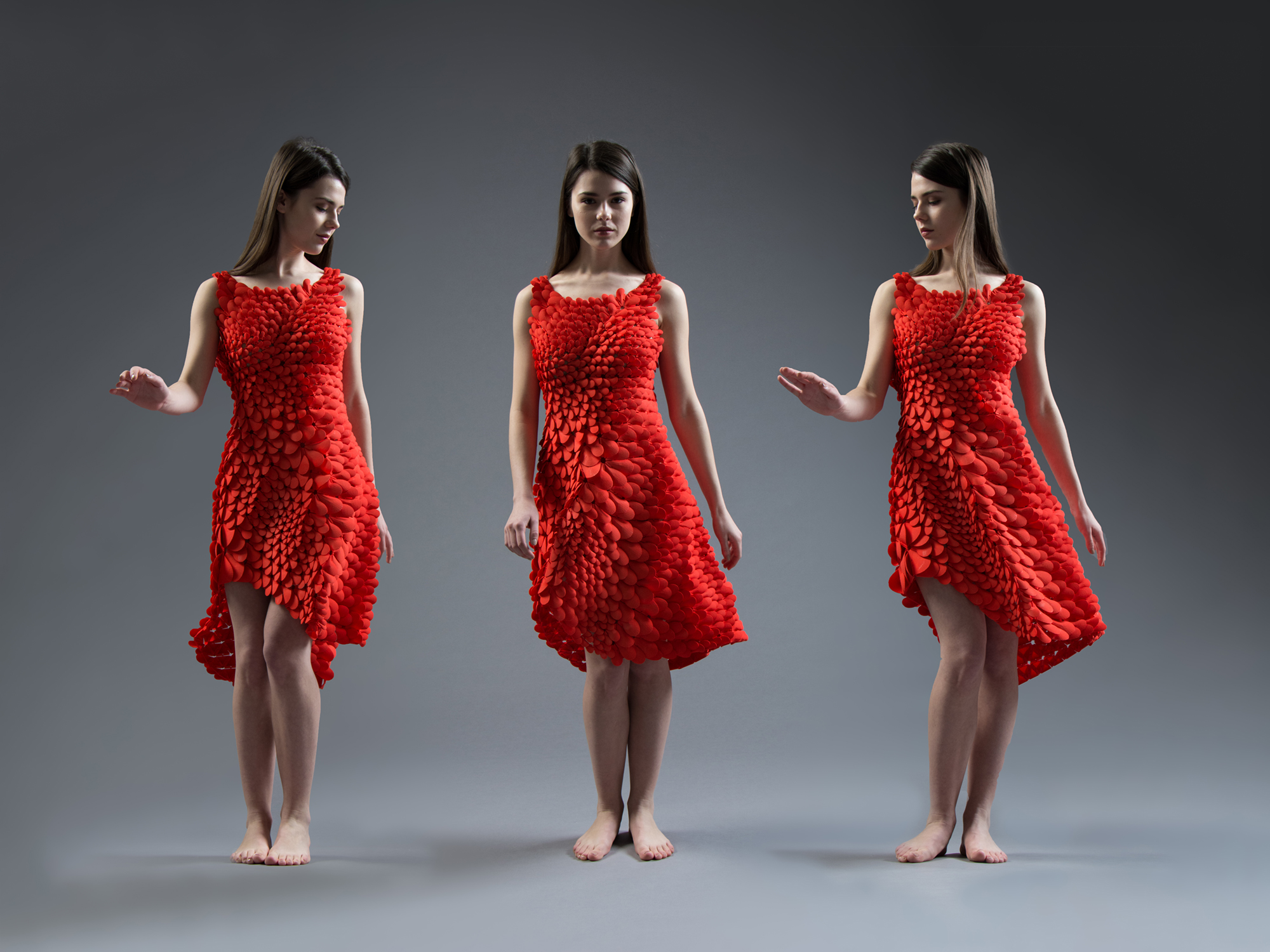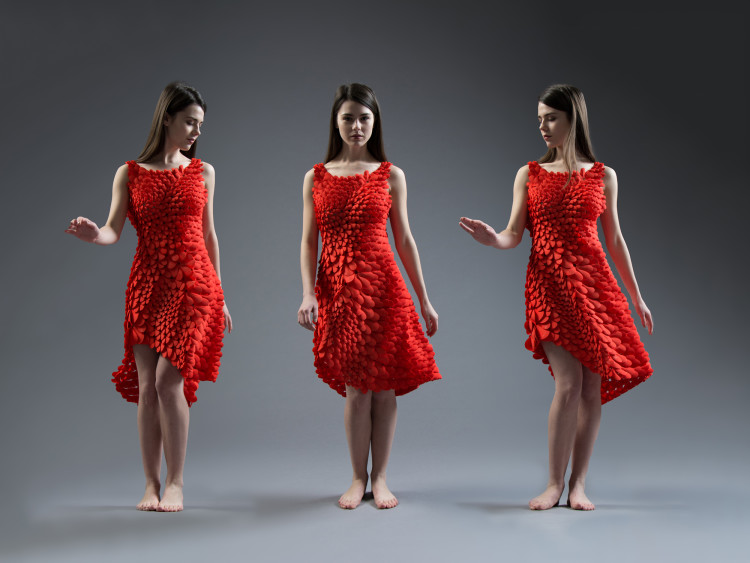 The Museum of Fine Arts, Boston (MFA) commissioned Nervous System to create a new dress for the exhibition #techstyle, which runs from March 6 through July 10, 2016. The exhibition explores the synergy between fashion and technology and how it is not only changing the way designers design, but also the way people interact with their clothing.
Inspired by petals, feathers, and scales, we developed a new textile language for Kinematics where the interconnected elements are articulated as imbricating shells. Like our previous garments, this dress can be customized to the wearer's body through a 3D scan, and additionally, each element is now individually customizable: varying in direction, length, and shape.
Petals protrude from the underlying framework of tessellated triangular panels, sheathing the body in a directional landscape of overlapping plumes. Each interlocking component of the dress is rigid, but in aggregate, they behave as a continuous textile. The dress is 3D-printed in durable nylon plastic by Selective Laser Sintering. While the design is composed of more than 1600 unique pieces interconnected by more than 2600 hinges, it emerges from the 3D printer fully assembled and ready to wear. We employ a smart folding strategy to compress Kinematics garments into a smaller form for efficient fabrication. By folding the garments prior to printing them, we can make complex structures larger than a 3D printer, that unfold into their intended shape.
To make this dress possible, we developed new design software and simulation tools. The overlapping petals necessitated a new strategy for compressing the garment for efficient 3D printing. You can read about the new developments below and also see them documented in the video above. For more background on our Kinematics system, please refer to the project page.
photos by
Steve Marsel Studio
new jewelry collection
We've also designed a new jewelry collection, Kinematic Petals, which is now available in our shop and will be for sale in the MFA's Bookstore and Shop while the exhibition is on view. The collection includes necklaces, earrings, and bracelets covered in a directional landscape of overlapping, petal-like forms. While each element of the jewelry is rigid, in aggregate they behave as a continuous fabric which molds to the body's contours.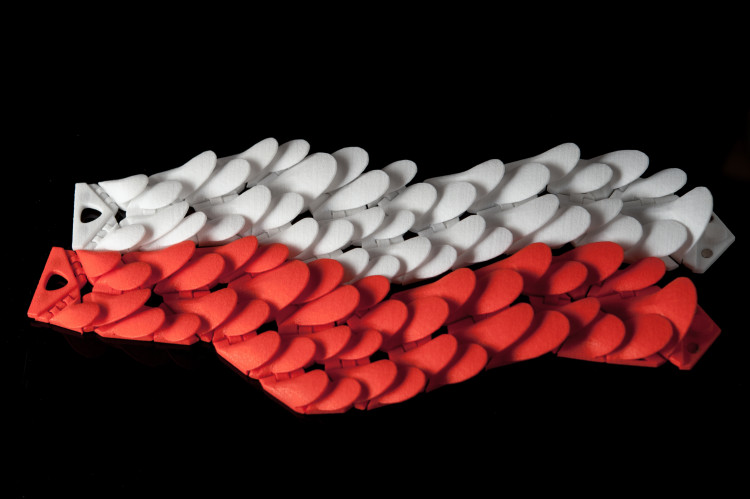 prototyping
We started working on the dress in July. So far, we've created eight kinematics dresses. While each one is unique, they all have a similar aesthetic. We want to extend Kinematics to allow for more variable creations. Our initial idea was to create shell structures that would extend over each triangular piece that makes up a kinematics garment. We developed our ideas through renderings and physical models produced on our Form 2 3D printer.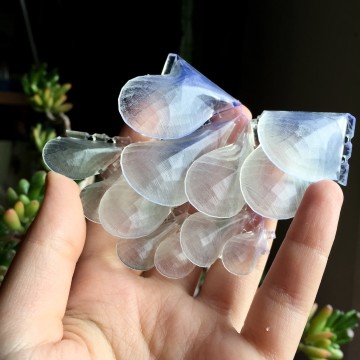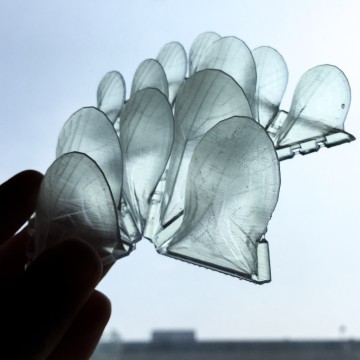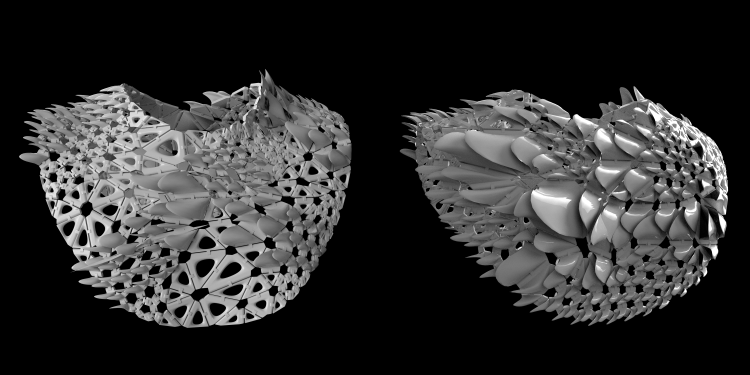 At the same time, we worked on incorporating an intuitive way to design and interact with this kind of structure in the Kinematics Cloth design app. We wanted to control the length, width, height, and direction of every shell on the dress independently.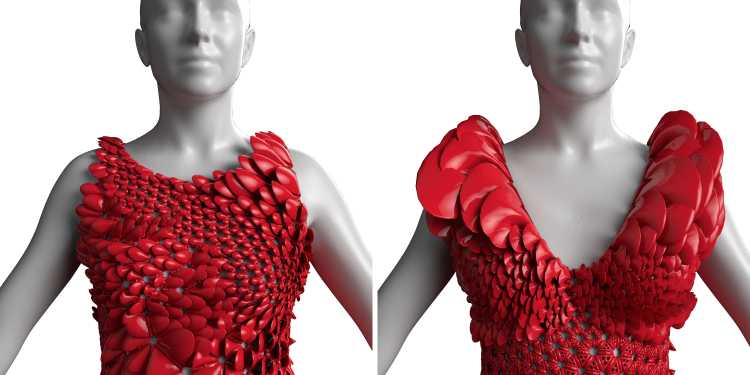 While we were sketching and prototyping in house, we also sent out for nylon SLS prototypes from Shapeways. Since the final dress would be printed by them it was important to be testing structures via that print process from the beginning to understand how the pieces would move. Below you can see a dress design we generated and a similar necklace we printed to test and understand its properties.
(You can see a video of how that first SLS test moves on instagram)
challenges and opportunities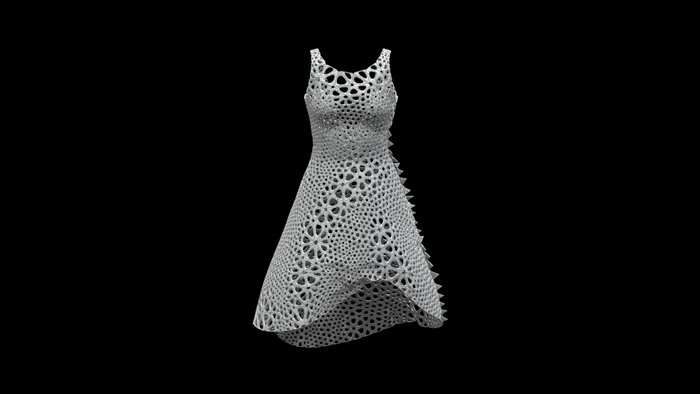 Producing dresses with overlapping scales gave us new challenges and opportunities. Our previous garments had been printed folded to make them efficient to print. But, the overlapping scales don't fold efficiently. They can really only bend in one direction which prevents us from employing our previous compression strategy.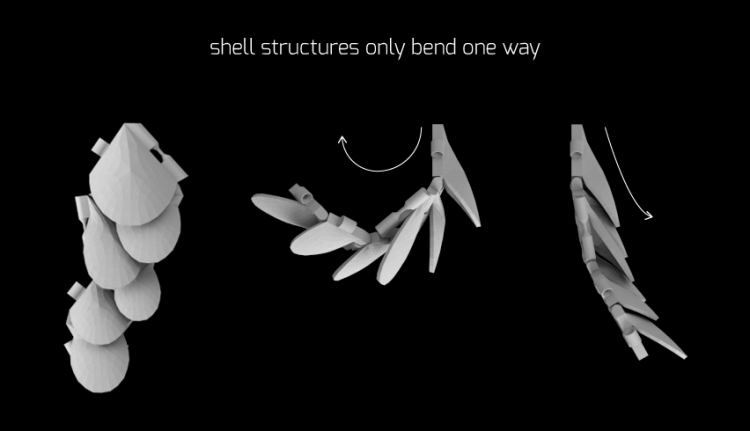 On the other hand, the overlapping nature of the shells makes it possible to have hidden snap-together connections.  This allows for the creation of reconfigurable garments. In the case of our dress, we created a 3-in-1: your dress can be a top, a skirt, or a dress.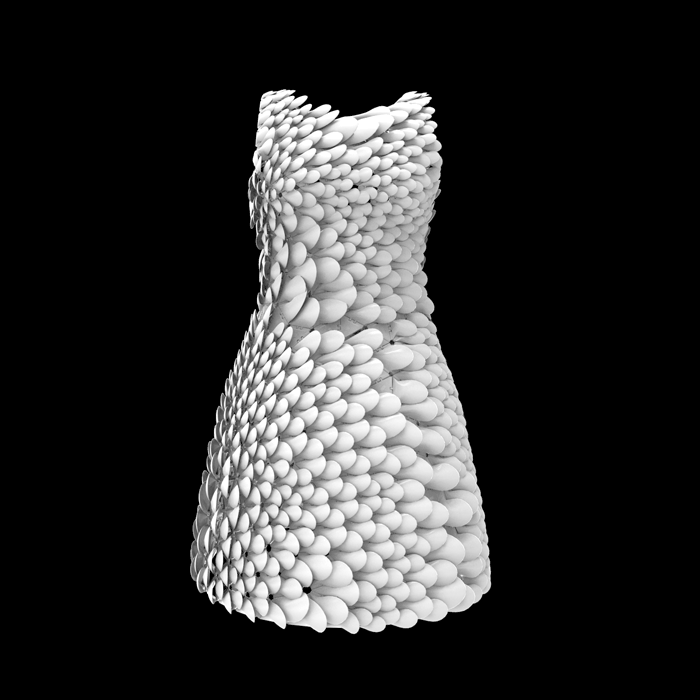 If the garments are made up of multiple pieces, they could be dyed different colors to produce interesting effects.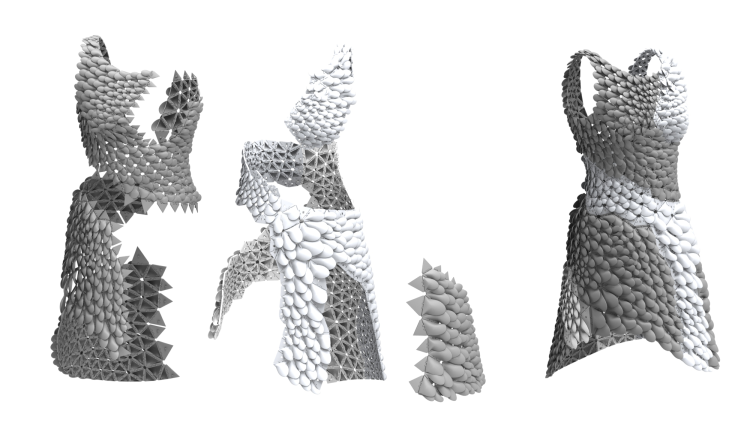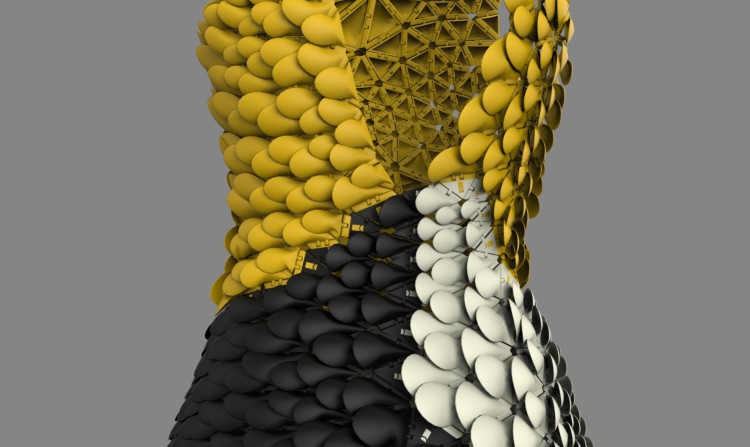 simulation
Initially, we were stumped about how to reduce the size of these petal-covered garments for printing. Simulating the kinematics shell structure appeared intractable! But we eventually came up with an idea that seemed promising. Overlapping scales don't fold well, but what if we could roll them up like a carpet? When we roll the garment, we only bend it in one direction. We can roll the skirt portion of the dress into a very tight spiral where the garment only has to ever fold in the way that is easy for it.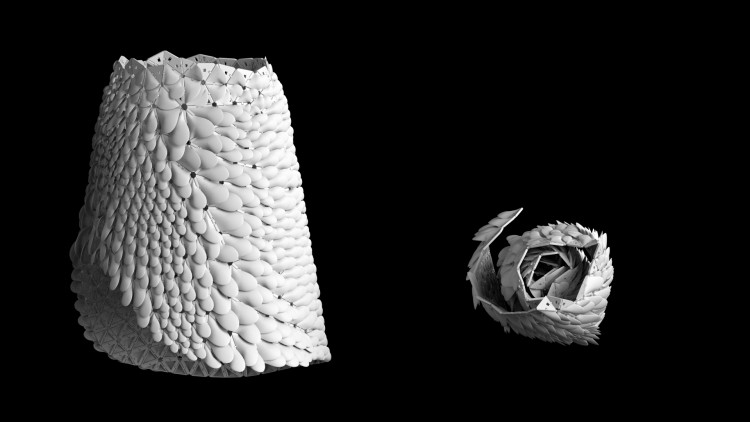 Before we can implement our idea, there are other issues to deal with. We need to incorporate the petal shapes into our simulation so they can collide with the other geometry. However, only convex shapes, without undercuts, can be collided efficiently. The new shell shapes are non-convex everywhere. Our solution is to decompose each triangle of a shell's mesh into a wedge-shaped collision body. We then create a spiraling force, causing the structure to orbit around its edge and roll up into a tight form that can be efficiently 3D-printed.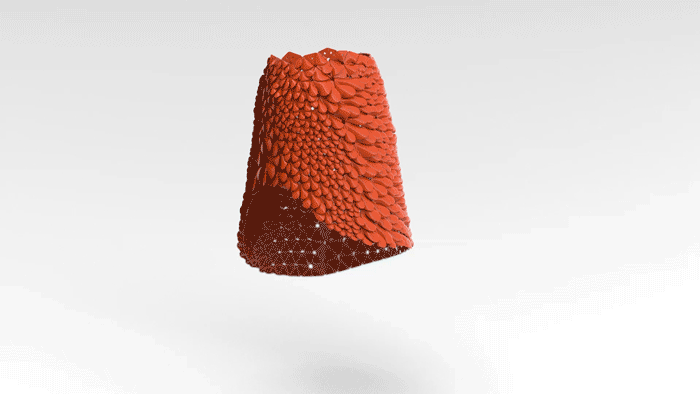 design app
For the design app, we needed to incorporate controls for the shape and direction of the shells. At first, we did this with a bunch of clunky sliders, but in the final design, we control width, height, and length through a single graphic interface where a shell can be shaped visually. The shell's direction is oriented by your motion as you paint upon the dress. This creates a fun, real time interface through which you can shape and direct the flow of thousands of scales.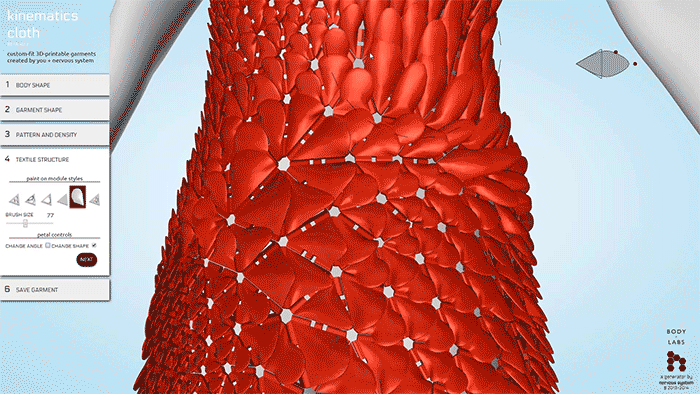 play with the new features yourself: Kinematics Cloth App
fabrication
The dress was 3D-printed by Selective Laser Sintering (SLS) at Shapeways factory in New York City in white nylon. SLS uses a laser to melt together thin layers of nylon powder. In the end, the dress is excavated from a block of nylon dust, and the un-melted material can be reused.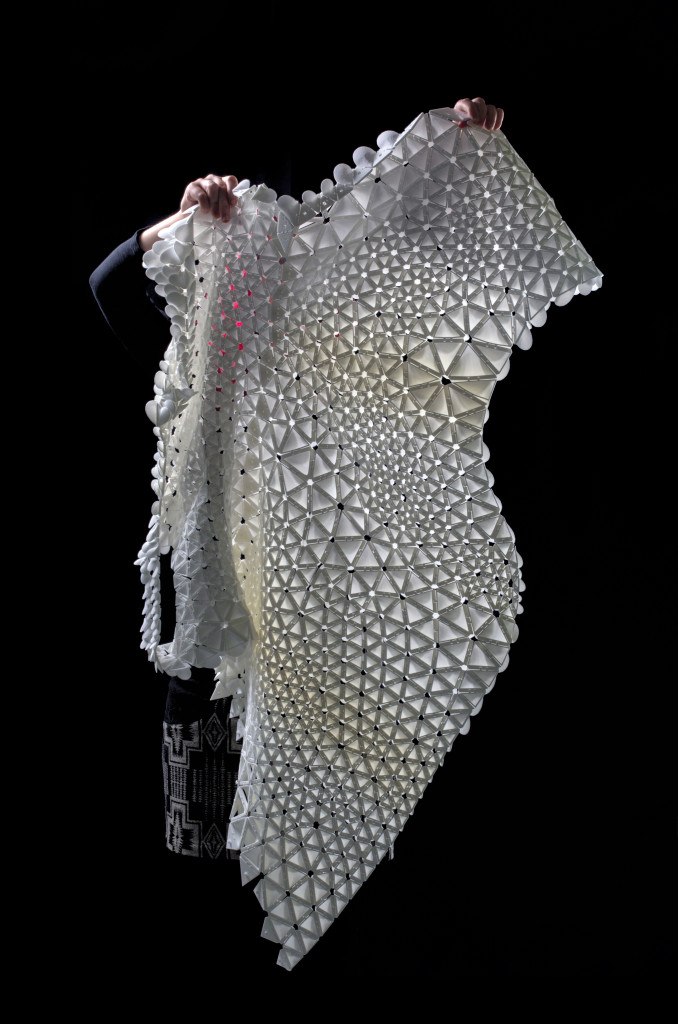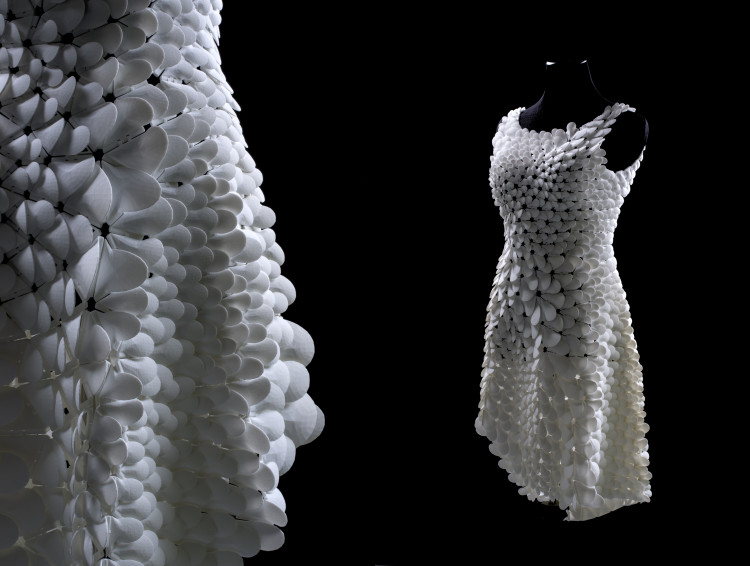 Nylon 3D prints can be dyed in the same manner as synthetic fabric. We heated the dress in a giant bath of dye to give it a vibrant red color.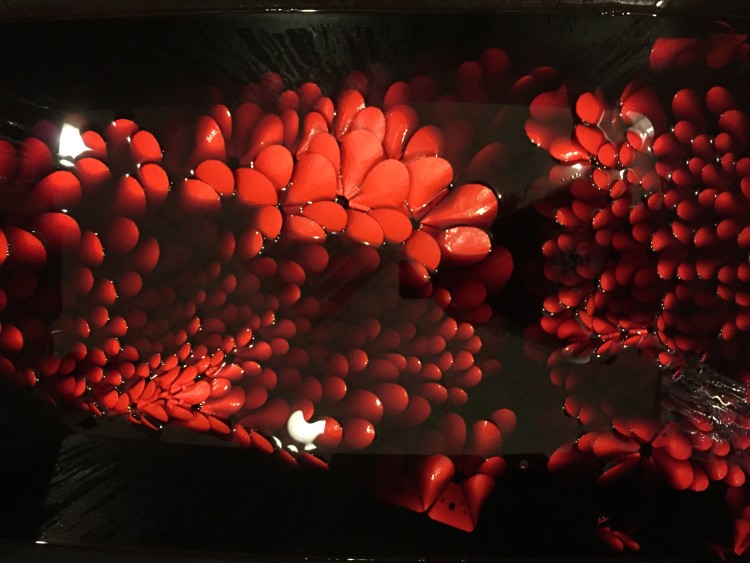 You can see the dress in person in the exhibition #techstyle at the Museum of Fine Arts, Boston from March 6 through July 10, 2016.
Special thanks to Steve Marsel Studio, Bodylabs, Pamela Parmal at the MFA, Dan Ko at Shapeways, and Mary Malloy.