New from our lab: Kinematics Ties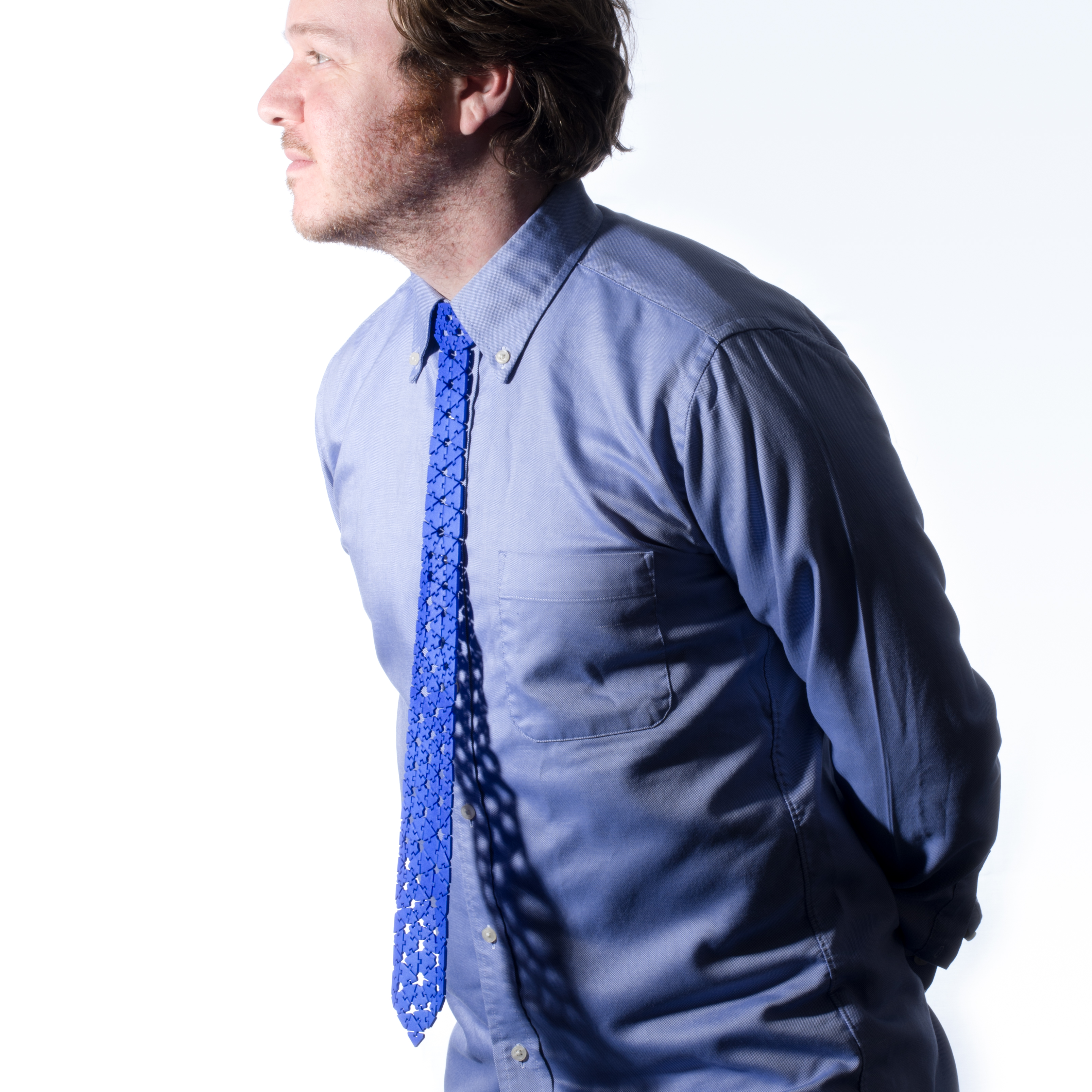 Ever since we introduced our Kinematics project, people have been asking us to make a Kinematics necktie. Well, the day has finally arrived. For our second edition of Nervous Labs, we have created a 3D-printed tie. The ties are available from January 5, 2016 til February 6, 2016 in black, blue, white and red. Each tie is composed of hundreds of interlocking triangular pieces 3D-printed in nylon and features an adjustable fabric neckband.
Learn more about the tie at Nervous Labs or head right to the shop to pre-order one now. If the Kinematics Ties prove popular, we will add a customizable version to the app.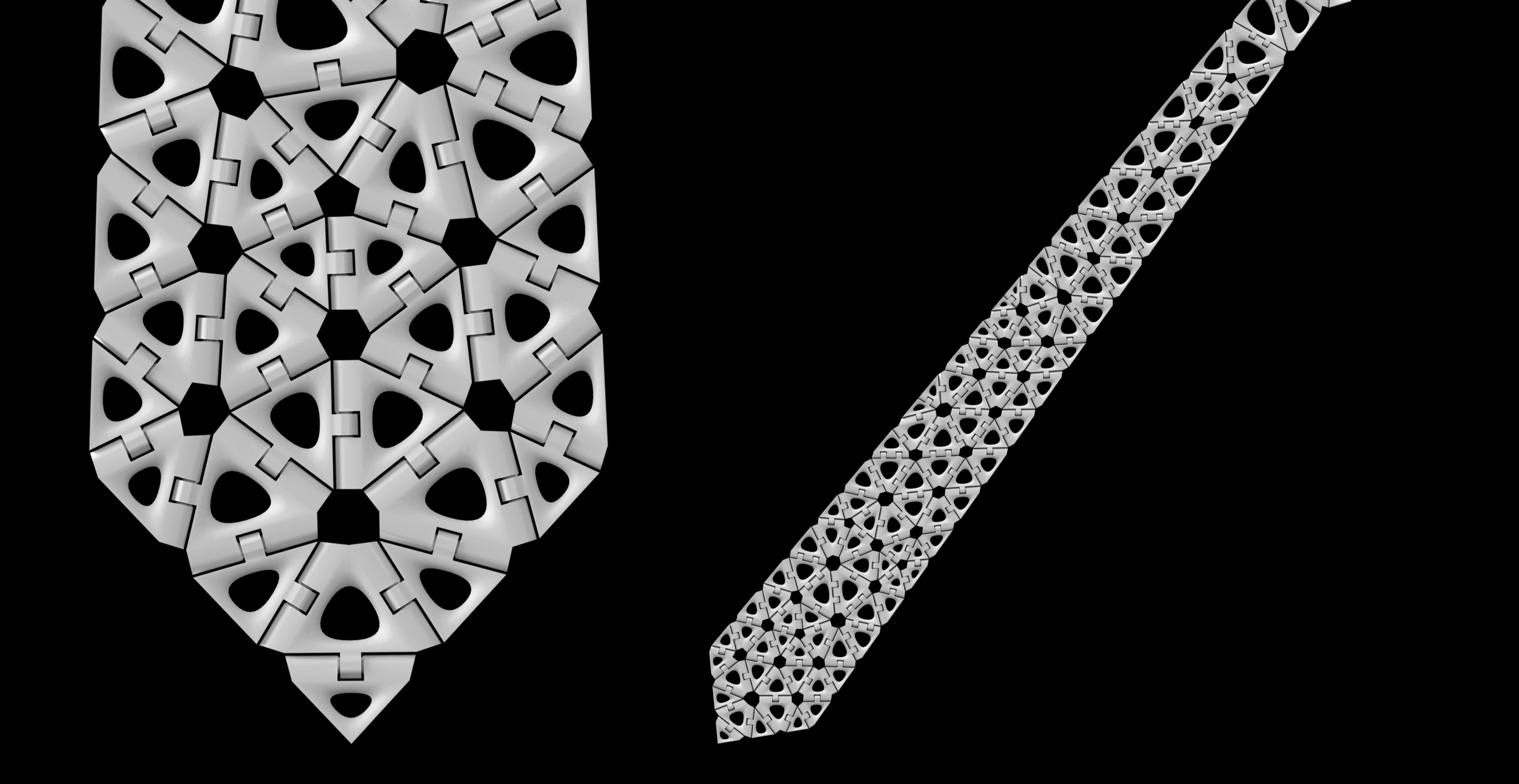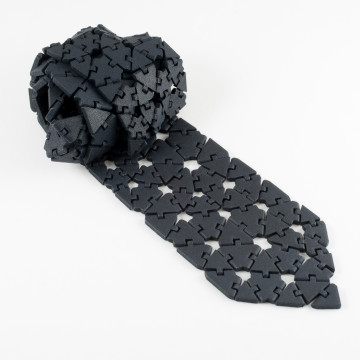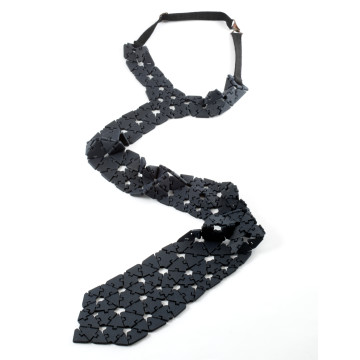 Initial Tie Experiments
While working on the tie idea, we tried out several prototypes that dealt with how you wear or "tie" the tie in different ways. The first one we created was a clip-on tie that fastened onto a shirt collar. We found this prototype to be somewhat unsatisfactory; it was difficult to secure and did not feel like a serious tie. Next we created one in the shape of a normal tie, that had to be knotted around a neck. While the design proved strong enough to withstand tying, it was very difficult to tighten. The full tie design is also twice as expensive as the clip-on, since it contains about twice as much material. Lastly, we hit upon a compromise inspired by adjustable bowties, we created a Kinematics Tie design that goes partly around the neck and has a adjustable fabric band with a metal hook and eye in the back. This design is easy to adjust and wraps securely around the neck. (below Jesse wears the clip-on and Margaret wears the full tie)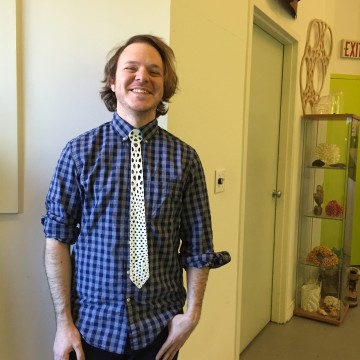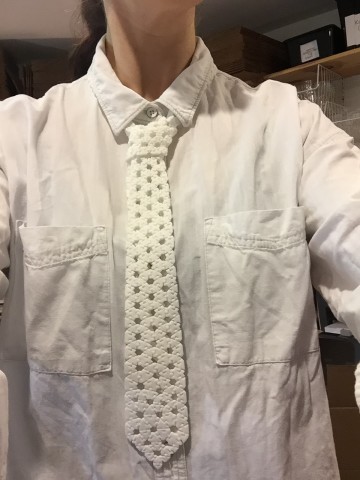 Nervous Labs
Nervous Labs is the new hub of our website, a work/shop where you can use our apps to create your own designs and a platform where we can release our latest ideas and experiments as limited edition products. Each product release will be for sale exclusively for one month, and each month will bring a new release. Through these designs, we can introduce and evaluate new algorithms, materials, interfaces, and fabrication techniques. We have some very exciting product experiments planned for the next few months of releases!
Click here to view our previous Nervous Labs projects.