Herding Cats – the purr-fect jigsaw puzzle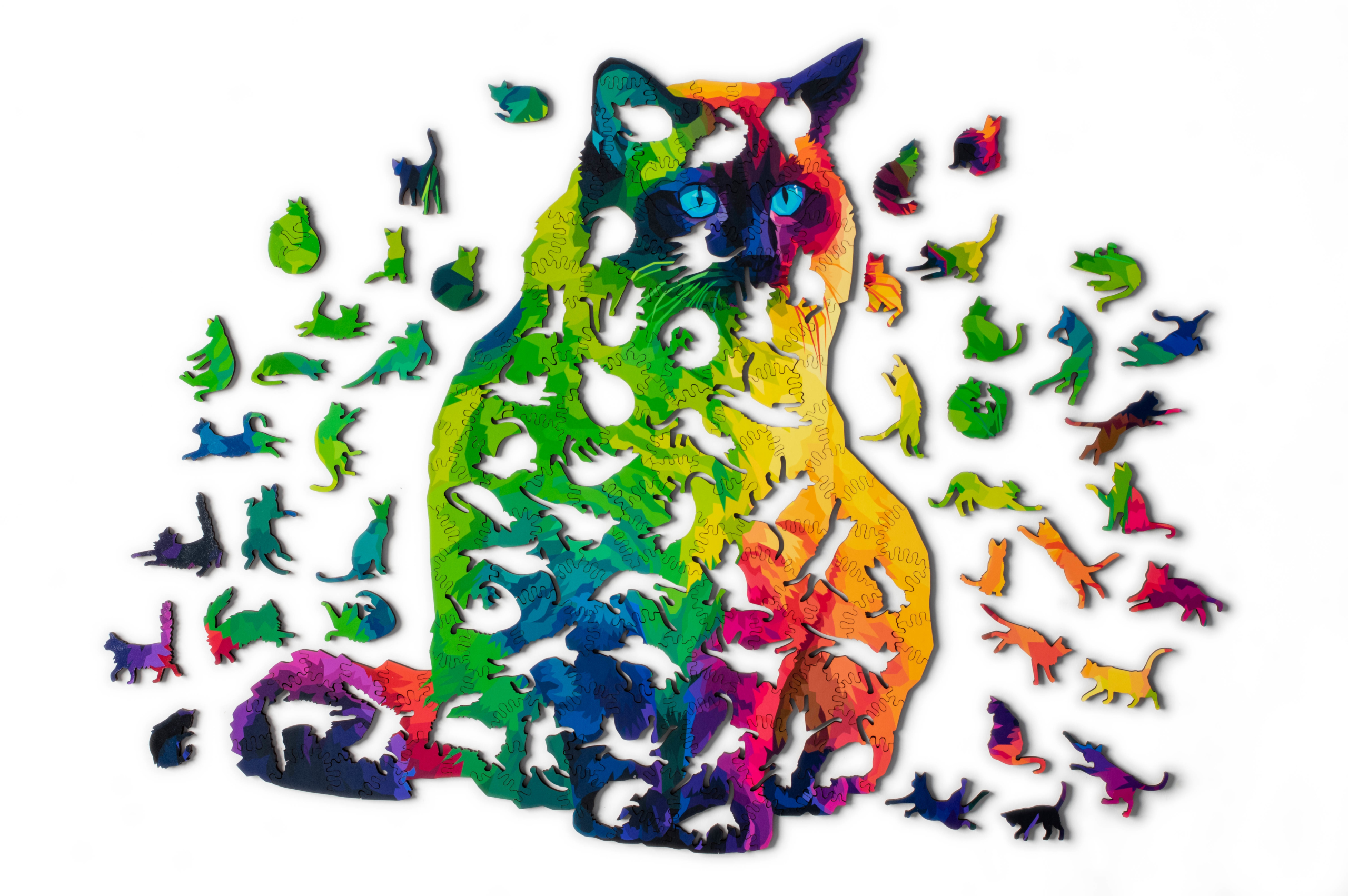 We've combined all of our prowess in computation and fabrication to bring you the ultimate cat jigsaw puzzle! Herding Cats is a technicolor cat puzzle with dozens of cats hiding among the pieces. Over forty whimsical felines are lurking within this 224 piece wooden puzzle. It's also available in a large piece version (114 big pieces with 23 huge cats).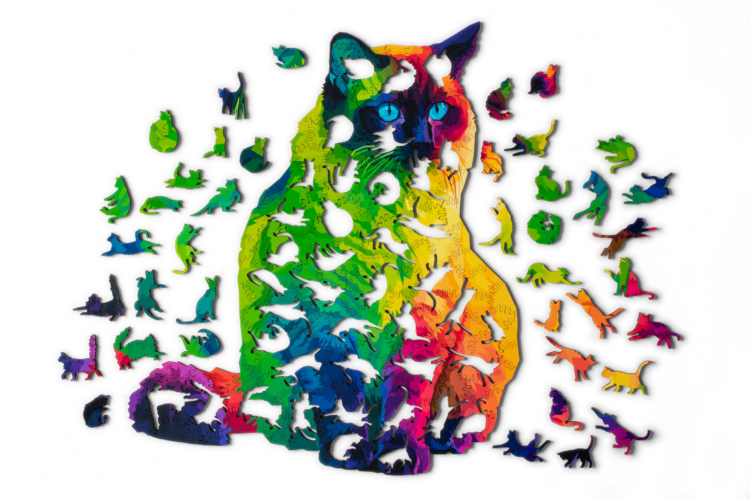 Herding cats was previously impossible but now it's a wooden jigsaw puzzle you can complete at home. We've got small cats & big cats; fluffy cats & furless ones; a cat in box; snuggling cats; cats that are strutting, sleeping, leaping, bathing and generally being cute. Over forty whimsical felines are lurking within this 224 piece wooden puzzle. It's a cat shaped puzzle with 43 cats in it. Just get it already! nervous system shop, $75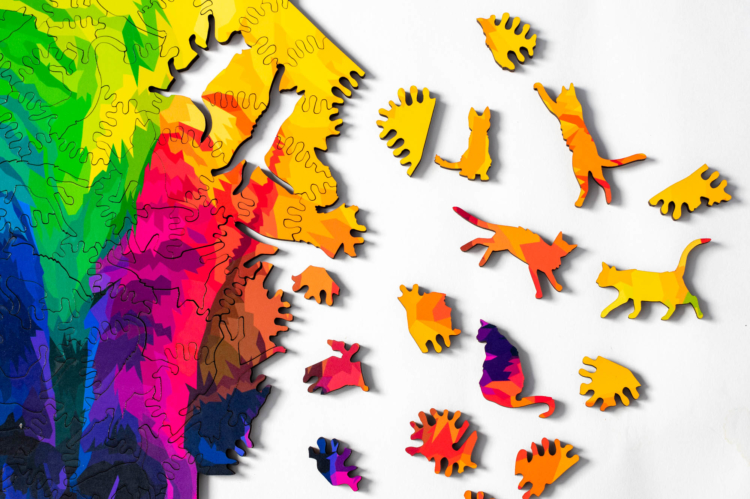 Do the cats remind you of someone you know? That's because they are based on photos of real cats sent to us by people on Twitter. See the identification guide below.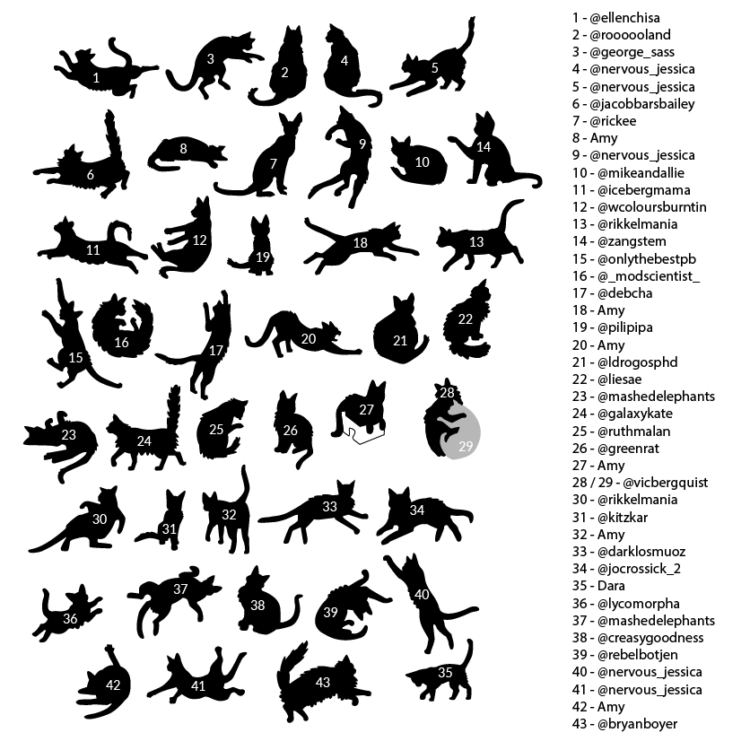 technical details
Whimsies are special puzzle pieces shaped like recognizable figures. Usually we only include 3 to 5 whimsy pieces in a puzzle. However, this puzzle began with the challenge of fitting as many whimsy pieces as possible. We pack our cats into the puzzle boundary shape leaving only small gaps between. Then we algorithmically grow puzzle pieces between them. Each cat ends up being encompassed by interlocking pieces.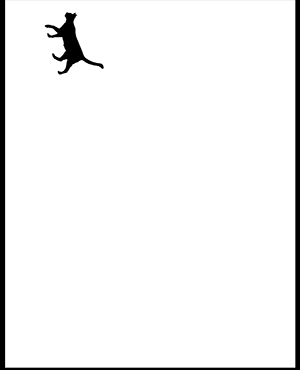 Our first prototypes were made using a physics simulation by dropping in cats one at a time. While very cute and fun to watch, this wasn't the most effective for the final irregular shape of the puzzle. The cat packing in the cat shaped puzzle was done using an open source tool called Deepnest (sorry, it doesn't come with a cool animation). We did some manual tweaking at the end to aid in cat piece adhesion.
large piece version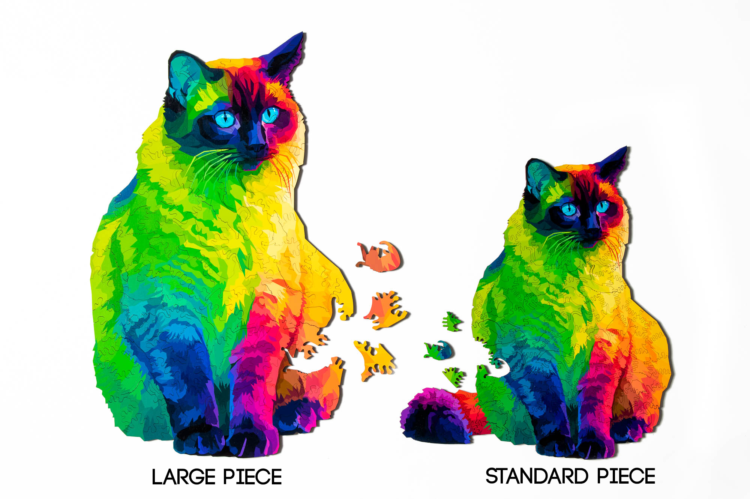 With the cat puzzle, we are also introducing a new large piece style. Many people have asked for puzzles they can give to younger kids or are simply intimidated by our normal pieces, so we've been working on friendlier pieces in our signature Dendrite style. The pieces are about 1.8x our normal puzzles. The first puzzle available in this style is a large cat puzzle with 114 pieces. Look forward to this style being available in our custom puzzle generator soon!
about the artist
The cat artwork for our puzzle was specially created for us by Anne Sullivan, an assistant professor in Digital Media at Georgia Tech. Her WPAP-inspired Technicolor Menagerie series is drawn in Illustrator using only the pen tool, and depicts a range of animals in saturated, rainbow colors.
credits
art by Anne Sullivan
puzzle design and fabrication by Nervous System
cat whimsy design by Amy Dyer
video music by Budo Kiba Collective