mini mushroom, rainbow and magic shape custom puzzles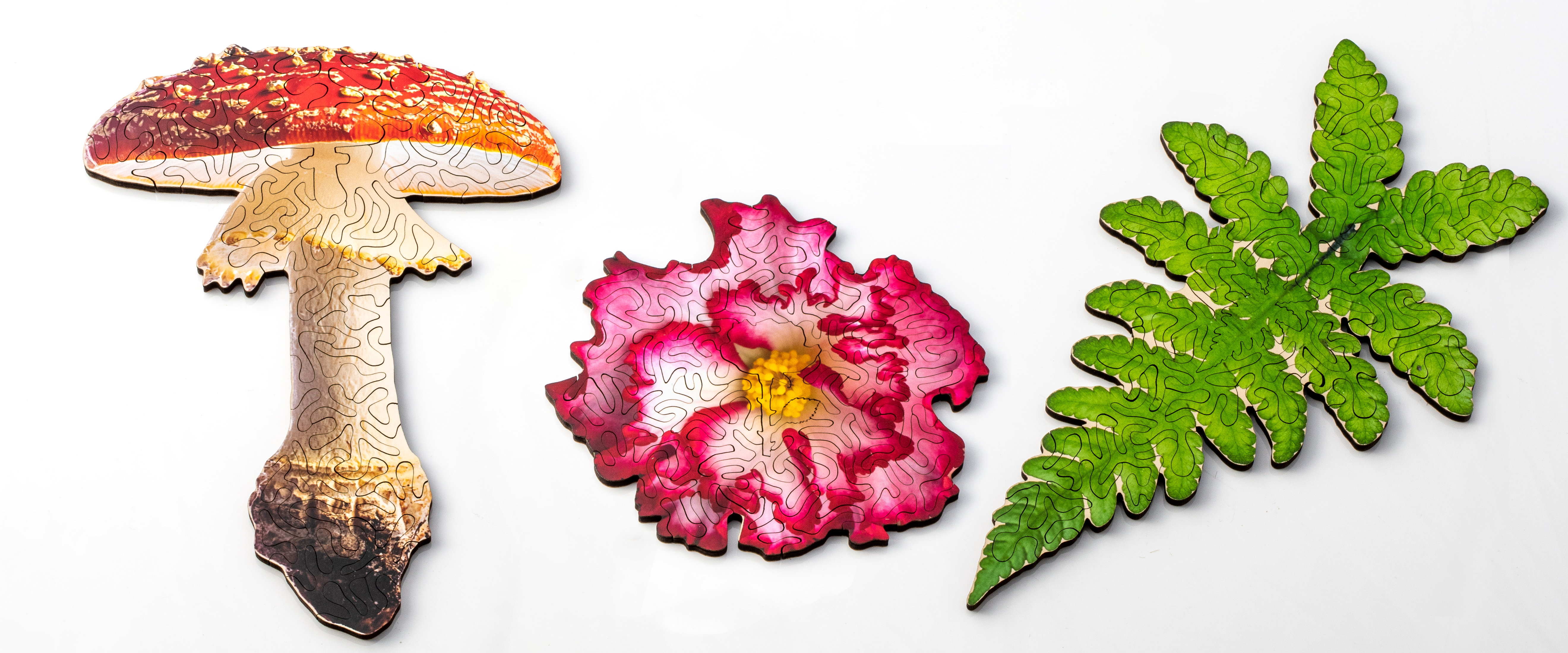 Our latest puzzle update is all about unique shapes. For the holidays Nervous System is releasing new wood jigsaw puzzles including: giftable mini puzzles, a large colorful rainbow puzzle, and Magic Shape custom puzzles a new tool to help you make shaped jigsaw puzzles from your photographs.
Mini puzzles: mushroom, fern and begonia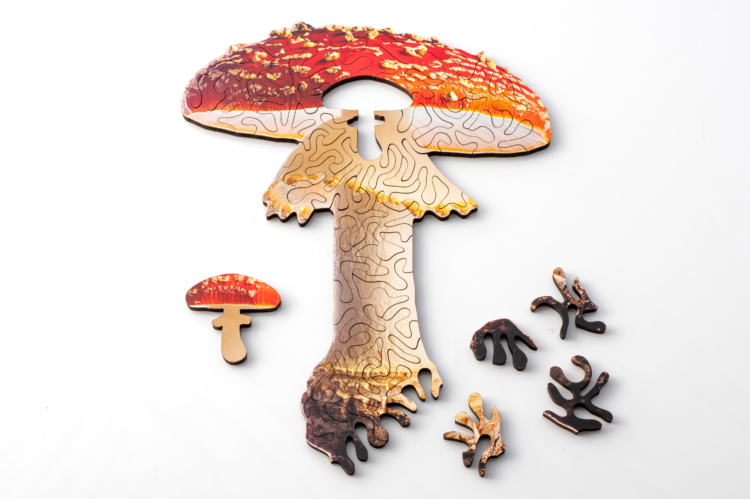 Small but challenging, our mini wood puzzles ($20, nervous shop) are shaped like nature's wonders: a mushroom, a begonia flower and a fern. Each has approximately 50 wooden pieces and comes assembled in a wooden border. The included border piece makes it easy to display or frame your puzzle. These small puzzles feature our challenging maze-style puzzle pieces and each contain one themed-whimsy piece. We plan to release new mini puzzles multiple times a year.
Mushroom puzzle
Fly Agaric – Amanita Muscaria
45 pieces, 7 x 5.25″
mushroom shaped whimsy piece
Begonia puzzle
Begonia 'Crispa Marginata White'
51 pieces, 5 x 4.75″
flower shaped whimsy piece
Fern puzzle
Long Beech Fern – Phegopteris connectilis
48 pieces, 7.8 x 4.75″
fern shaped whimsy piece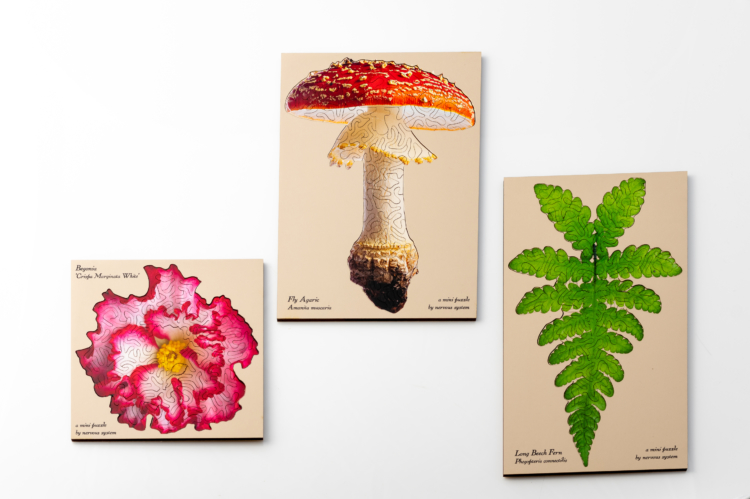 the Rainbow Puzzle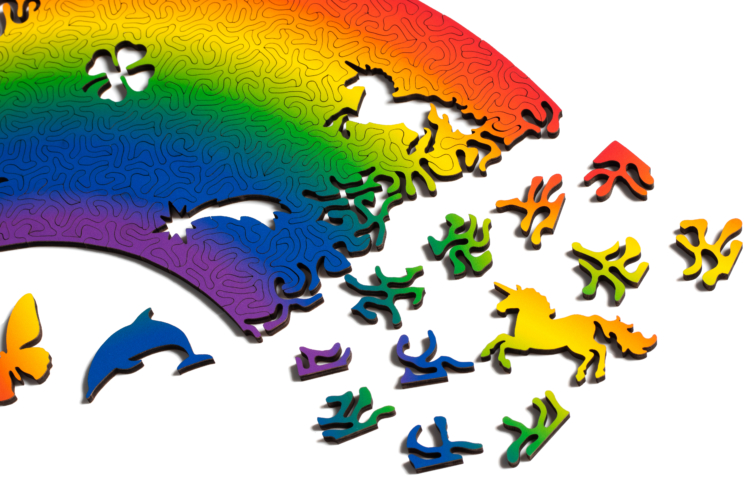 Looking for a bigger challenge? This vibrant rainbow puzzle ($95, nervous shop) has 380 intertwining maze-style puzzle pieces with 11 whimsical figures embedded among them: unicorn, shooting star, four leaf clover, cat, snail, butterfly, seahorse, tree frog, dolphin, octopus, and snake. It's one of our larger puzzles measuring 18.3 x 9.3 inches. We originally created this puzzle as an example for our Custom Puzzle app but many people have requested it so we making it available for the 2020 holiday season.
"Magic shape" puzzles
You don't need to be a graphic designer to make a puzzle unique to you. Our Custom Puzzle maker now makes custom-shaped wood puzzles from any photograph with the click of a button.
The magic shape button automatically generates a shape for your puzzle based on your image. We want to encourage people to make the most unique puzzles possible, not just putting an image on a generic cut, but being able to make it their own size and shape (not to mention placing thematic whimsy pieces). To make this as easy as possible, we added a button to suggest a custom shape for your puzzle, so you don't have to be a graphic designer to make a puzzle unique to you. The shape is computed using a neural network trained to do background subtraction. Now, if we were more interested in marketing than jigsaw puzzles, we might tell you about how we're using the world first "Artificial Intelligence" to design jigsaw puzzles. But really, we're just using an existing technique to solve a specific problem: given an image, compute a shape for what's in it.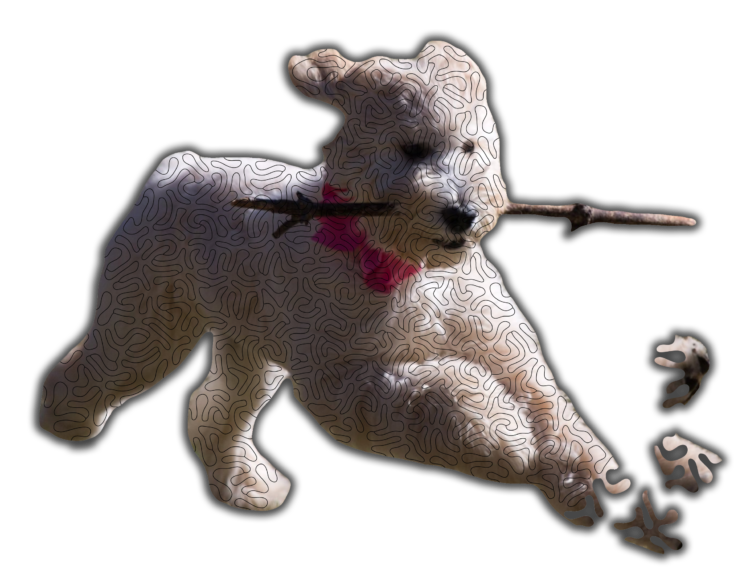 We use a library by Daniel Gatis based on a paper titled "U 2 -Net: Going Deeper with Nested U-Structure for Salient Object Detection https://arxiv.org/pdf/2005.09007.pdf".