the secret to clean laser cutting: Designing a better laser nozzle using 3D-printing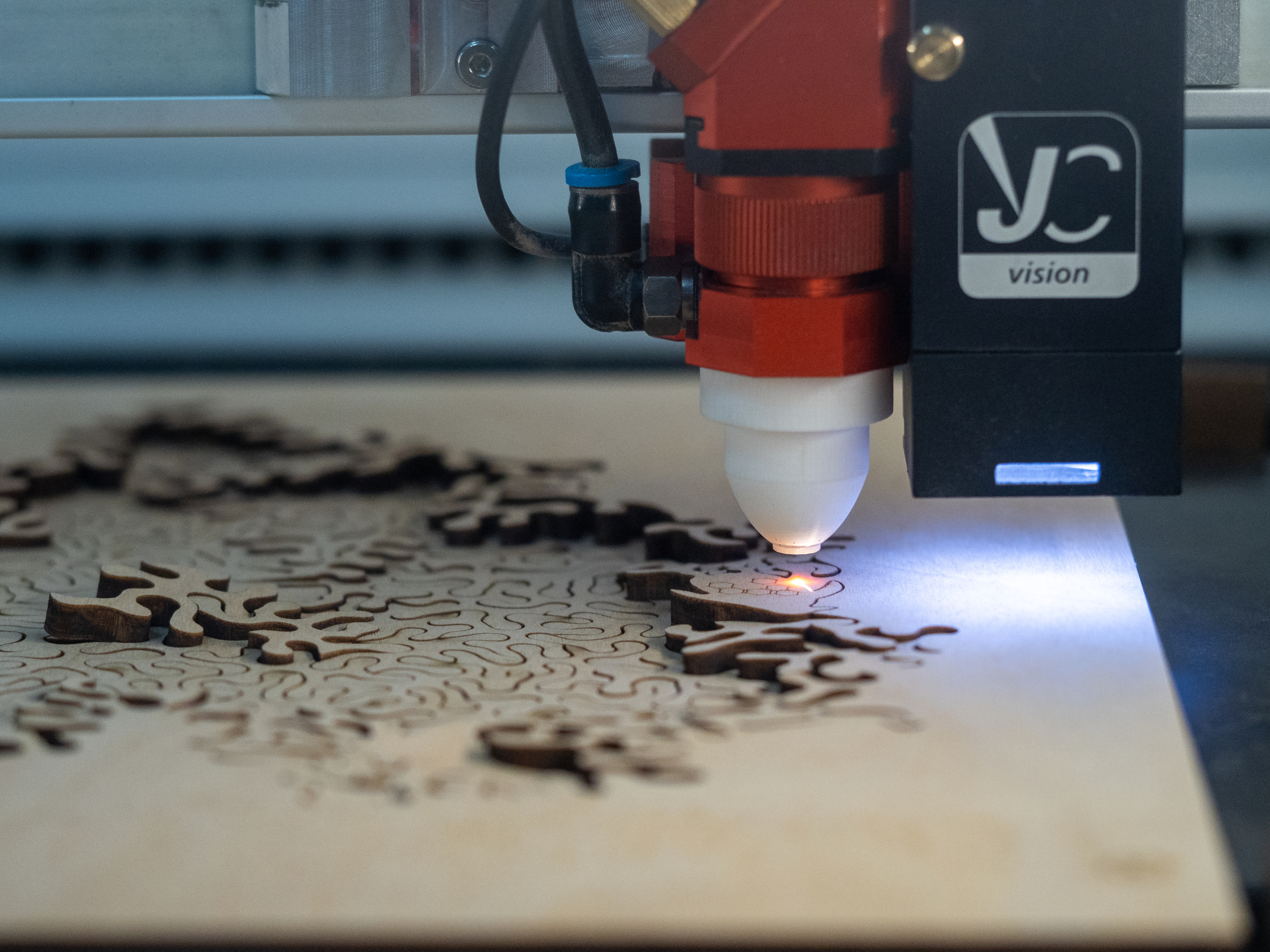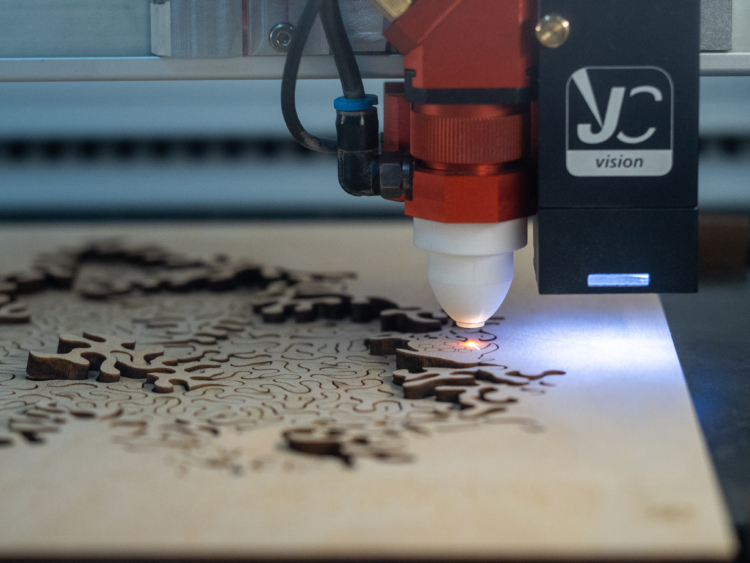 People often ask us for tips on how to make lasercut jigsaw puzzles. In fact, our most popular blog post is on our quest for the perfect plywood for lasercutting. We're also often asked how do we get our cuts so clean? There are a lot of elements to that but an important one is air.
Laser cutters use a stream of compressed air called an "air assist" to blow away smoke and debris as they cut. This keeps the lens clean and quickly moves the hot and dirty smoke away from the work piece. An important thing for a good laser cutter to have is a coaxial air assist, meaning the laser beam and the air stream point in the same direction, rather than having the air blow from the side. However that's not all; it turns out the quality of your air can vary greatly. It's not about how hard you blow, but how smooth the air is. You want the air to be very efficient otherwise it can be like blowing on a fire. Rather than removing smoke, you end up stoking the burn making cuts worse rather than better. This quality is called laminar flow (as opposed to turbulent flow).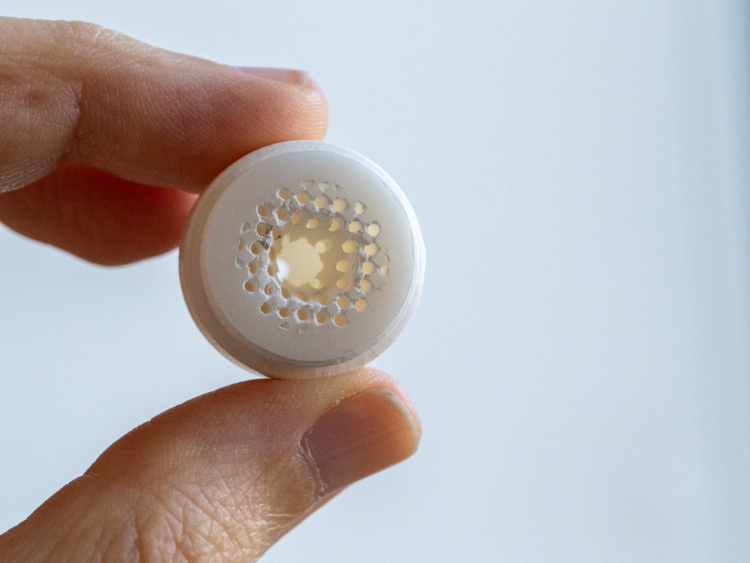 To improve our air assist, we have developed a custom 3D printed nozzle for our lasercutter. There isn't much information out there for designing air nozzles, except for spray guns which have a very different application. However, there are a lot of resources for designing DIY laminar flow nozzles for water, and that's for one reason: super soakers. I found a great resource with lots of patents for nozzles called Super Soaker Central. There were 2 main takeaways I got from this: you want the exit of the nozzle to be very sharp and you can use thin channels in the nozzle to columnate the air and remove turbulence.
There a number of limitations for a laser nozzle that you don't have for a water nozzle. Most notably, you cannot block the path of the laser. Water can go around obstacles; lasers cannot. For flow, you ideally block off the center and let the columnated air come together at the end, but that's not possible. Also, your space is very limited. A laser lens has a specific height when it's in focus, so your nozzle can only occupy that limited area between the lens and the work piece.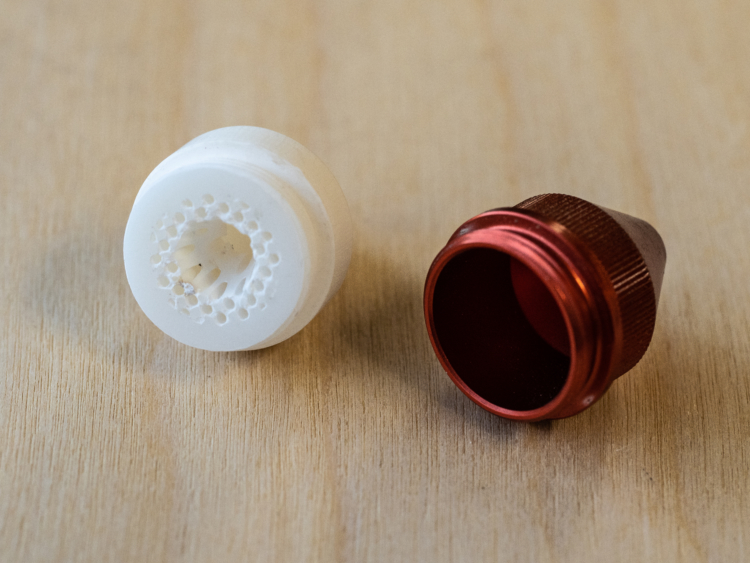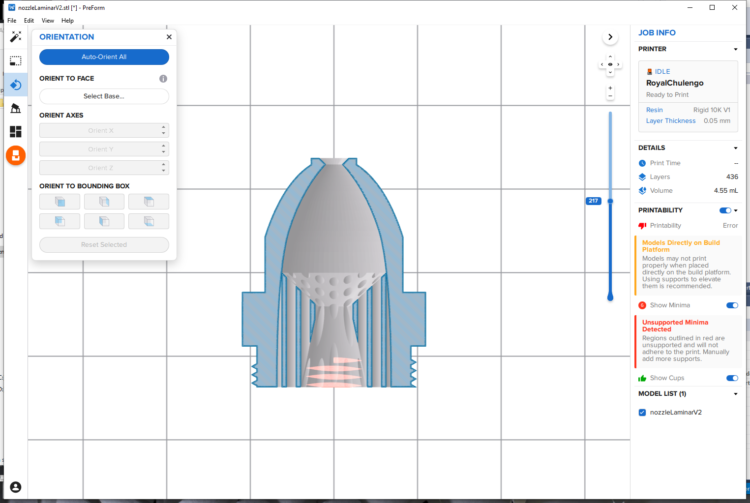 I put together this nozzle design for our Trotec machines. I am not an aerodynamics engineer so it could probably be a lot better, but the difference in the feel of the air is dramatic. The improvement in cut quality is subtle but makes a big difference in production when you're cutting 100 puzzles a day.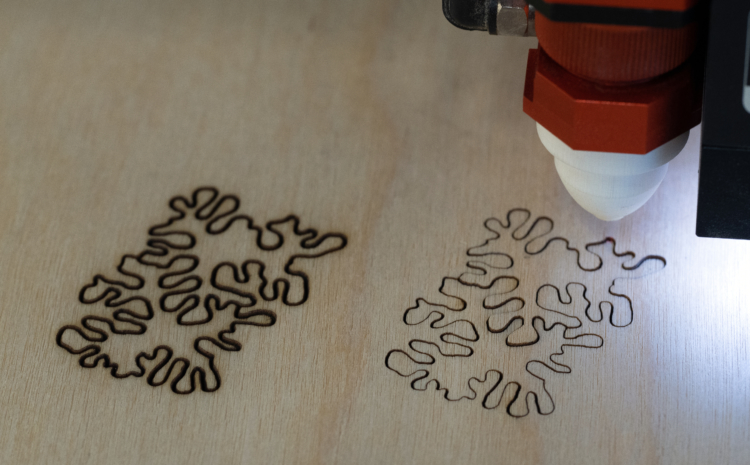 These nozzles were printed on our Formlabs Form 2 3D printer using their new Rigid 10K resin. The high performance resin helps keep the edge of the nozzle opening sharp and round while high-pressure, hot air is constantly blowing out.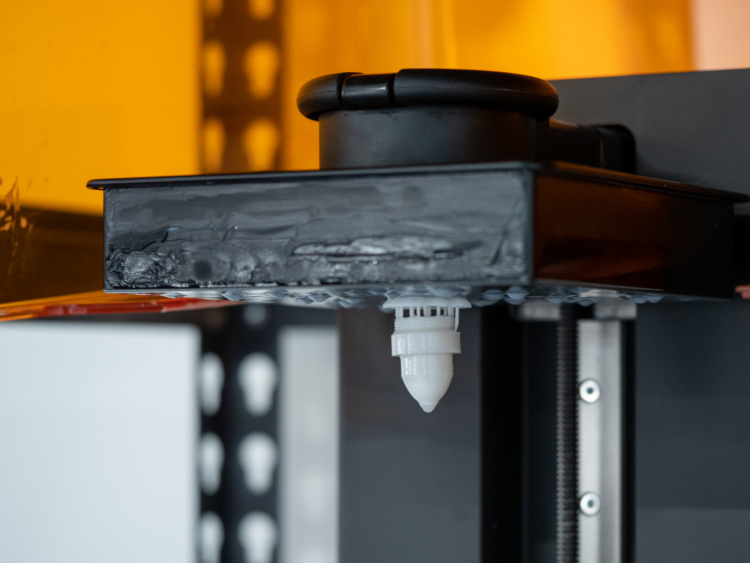 where can I get the nozzle?
Hello everyone! Since posting this yesterday we have gotten a ton of emails, tweets, and blog comments all asking about how to get the nozzle. The project is now live on Hackaday.io under a non-commercial license. If you would like to purchase a commerical license or just support the project you can do that here.