we bought a laser cutter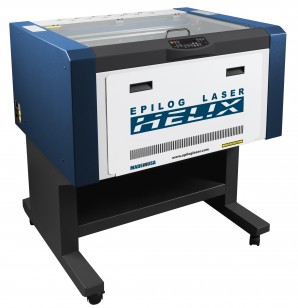 Our business started by accident back in 2007 when people mistook scraps from a laser cut architectural model I was building for bracelets.  Intrigued and in need of cash to help cover my burdensome Harvard tuition, I listed some of them on Etsy and to my surprise, they sold…. they sold fast.  Since then, we've found better manufacturing techniques for most of our work, like photochemical etching, waterjet cutting and 3d-printing.  But we've never forgotten how easy and fun it was to be able to come up with an idea and prototype it immediately.  No waiting weeks for parts to arrive, no excuses to not try something out as soon as it pops into your head.  So ever since we stopped being students, we wanted a laser cutter of our own to play and tinker (and to produce some products in house as well!).
original accidental jewelry design, laser cut in the basement of the Harvard Design School
I'm happy to announce that we finally made the jump and purchased one.  After we did our taxes, we spent about a month debating which model to get, from what company and what wattage laser.  We decided on an Epilog Helix 60 watt machine  with an 18″ x 24″ inch bed size.  We spent about $20,000 on the machine and some more to build an exhaust system which goes out a window in our studio.  We also considered the Mercury II (has a slide through bed!) from GCC Laserpro but in the end we decided on the Epilog because the 2 year warranty covers the optics in addition and the machine would be ready in half the time since they are a USA based company.
With 60 watts we can cut through thick plywood, plastics, rubber, paper, fabric, cork, etc.  And it can etch coated metals like anodized aluminum.  It also has a lot of useful features that the laser cutters I used in school didn't have, like auto-focus and a vacuum table for holding down thin materials.  We have switched production of our few laser cut products to be completely in house.  That means when you order a Radial necklace or an Orchid necklace; we cut it in our studio on demand.  We are also looking forward to launching some new applets later in the year that will allow you to customize several laser cut housewares and jewelry products.  Unlike our other applets which have a turn around of 2-3 weeks for customized designs, we will be able to ship these products in the same time frame as our off the shelf items, 2-3 days!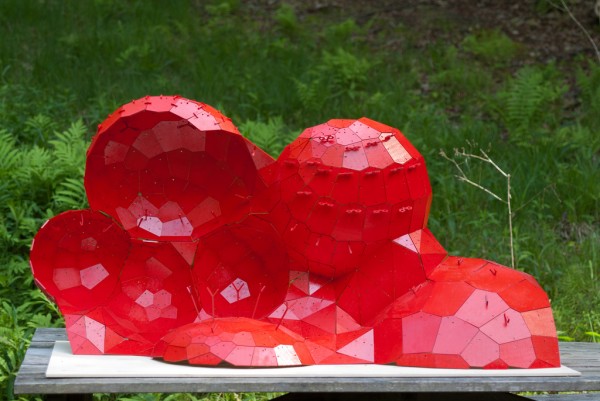 To celebrate our new laser cutter, we decided at the last minute to create a new display to show our jewelry at ICFF.  We spent one day designing it.  The next day laser cutting it.  And the last day assembling it.  Despite our careful numbering, assembling it was VERY hard. Luckily, our friend Alec was there to help.  Thanks Alec!
The design was a riff on our unimplemented designs for the New York Gift Fair from earlier in the year (read about that here).  It is sort of a bunch of ellipsoids stitched together into a set of "caves" for hanging necklaces and convex regions for holding earrings and bracelets.  But the part we really spent time designing was how each piece would fit together and how each shell would be discretized into panels.  The panels are created using a tangent planes method to develop a non-triangular surface discretization. We worked to create a pattern spiraling six-sided panels with a somewhat elongated plant cell type shape.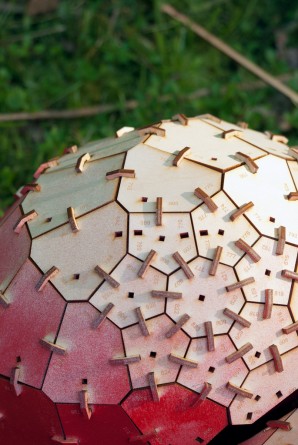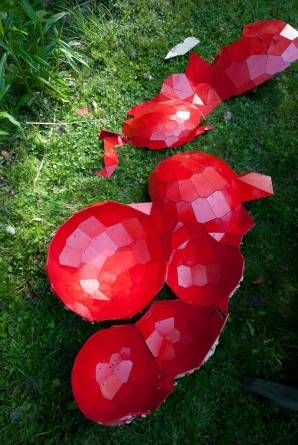 Jesse wrote a Processing program to create all the connectors, place the holes in the panels and label all the pieces for "easy" construction.  The connectors and panels were laser cut from baltic birch plywood and snap together for a tight fit.  To cut down on assembly time we only used one connector per edge, but some of the larger panels could have definitely used a second connector.