making a bent plywood wall
We made a new display wall to show our jewelry at ICFF this year out of bent plywood.  After making some sketches in Rhino, Jesse built a more rigorous model in CATIA.  The idea was to use the bend of the plywood to create both wall-like and shelf-like elements.  The 3-dimensional nature of the new Cell Cycle line meant that we needed flat surfaces to display pieces on, in addition to our usual hanging space.  Using CATIA allowed us very close control over how the surfaces curves were created so we could ensure the shelves were perfectly flat and sized for the pieces.
We used a CNC router to cut six 4'x4′ pieces of MDF into molds.  We decided to only make every other layer needed for the full thickness of the plywood which saved quite a bit of materials and machine time, but meant we spent hours screwing spacers on to the pieces.  The display is made up of 10 bent plywood strips, which means there were 10 molds, each with a male and female side.  We cut down 4'x8′ sheets of 1/40″ cherry veneer into strips of an appropriate size.  Then we layered six strips with epoxy resin glue using a foam roller.  The stack was then carefully put in between the two halves of the mold and 2-4 clamps were used to apply pressure over a 24 hour period.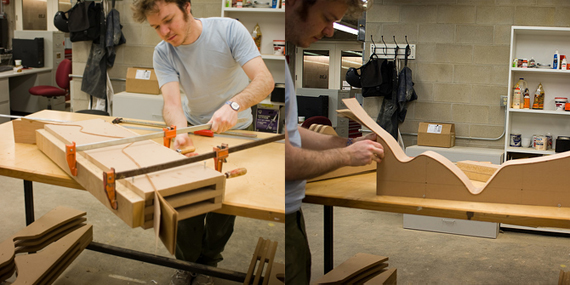 The next day, we removed the pieces from the molds, trimmed the top and bottom edge, and sanded everything.  For our first attempt at bent plywood, I think it came out very well!