new packaging
I'm excited to show off our new packaging. Recycled kraft boxes emblazoned with our logo and a pattern from the corresponding line. The rubber jewelry comes in sleak frosted plastic envelopes with tuck flaps.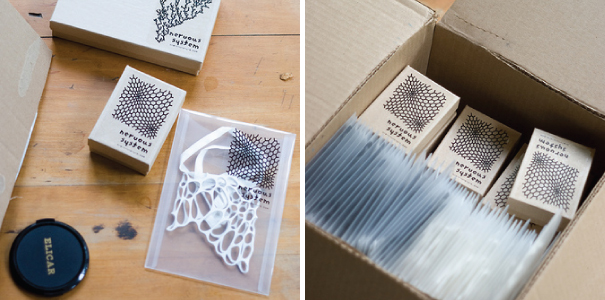 Coming up with custom packaging for jewelry is tricky. Many companies offer hotstamping when you order several thousand boxes of one size. In addition to the inconvenience of having to order a thousand boxes of every size you ever use, there is also the issue that you have little control over the placement of your graphic. And the turn around time for that is 6-8 weeks! This means it definitely wouldn't work for last minute people like us. Luckily there are some great sticker companies out there with very quick turn around times and a huge array of stock options. Why is the box making industry so outmoded?
In preparation for ICFF, I've also laced what feels like 10 million bracelets with silk ribbon. Here you can see them sitting next to approximately one 1/2 million radiolaria pendants.