Coral-inspired installation for Summit At Sea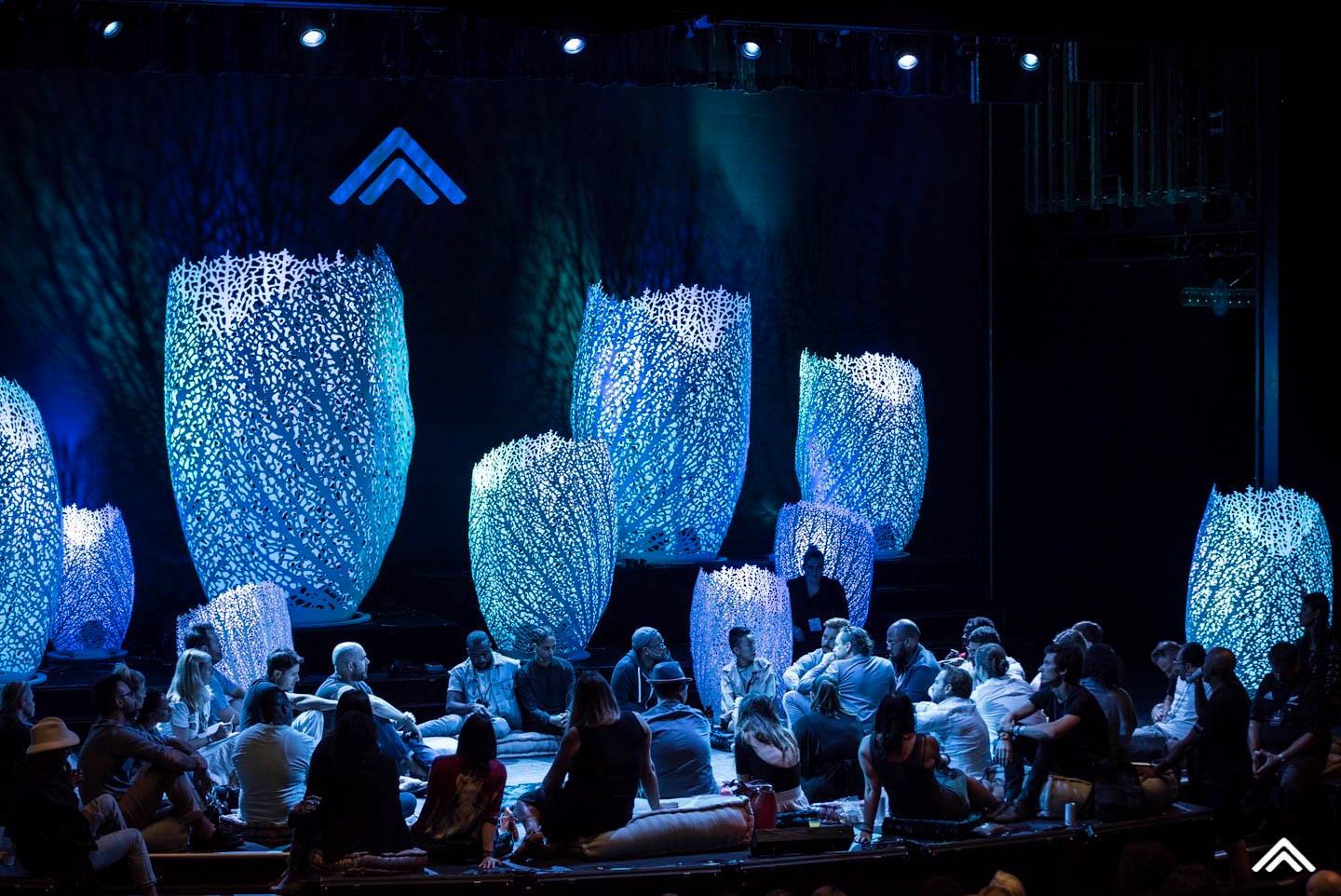 We created a large-scale art installation inspired by local coral reefs for Summit at Sea last year. Summit at Sea was an event that brought together 3,000 artists, activists, and entrepreneurs on a 3-day cruise from Miami to the Bahamas. We created a series of eleven sculptures ranging in height from 4 to 10 feet, transforming the stage into an abstract undersea environment. The sea fan-like structures called attention to the ecosystem beneath the ship while also providing a dynamic, color-changing backdrop for Summit's speakers and performances. During the event, we got to see many inspiring (and surreal) conversations happen amidst our sculptures with people like Kendrick Lamar, Quentin Tarantino, Dolores Huerta, Sonia Sanchez, Erin Brockovich, and Tony Hawk.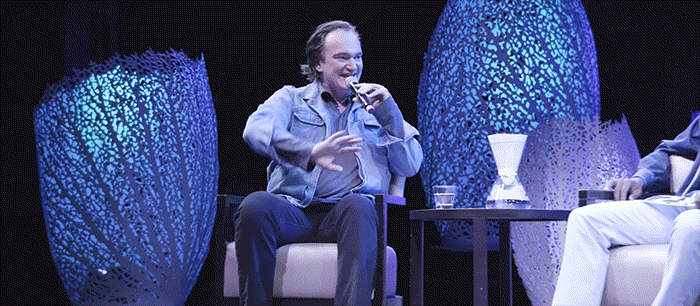 project genesis
Marshall Birnbaum, who heads Summit's artist in residence program, initially contacted us about designing an art installation for Summit at Sea. The site could be anywhere on the boat, a giant cruise ship called the Norwegian Escape. We wanted to do something that would relate to the coral reefs that the ship would be voyaging through and initially proposed a collaboration with Miami-based design duo Coral Morphologic. Our idea was to use their incredible video footage of local reef inhabitants and projection-map it onto a coral-inspired sculpture that we would generate. It was supposed to be a small installation somewhere on the boat where people could relax and contemplate. There was just one problem: the organizers liked the idea so much, they invited us instead to design the main stage of the entire event!
We had to quickly come up with a new idea that would work as a backdrop to speakers and performances. Our original projection-mapping concept was too busy to adapt as a stage backdrop, so we started thinking about how we could create something similar to our Hyphae Lamps that could populate this much larger space.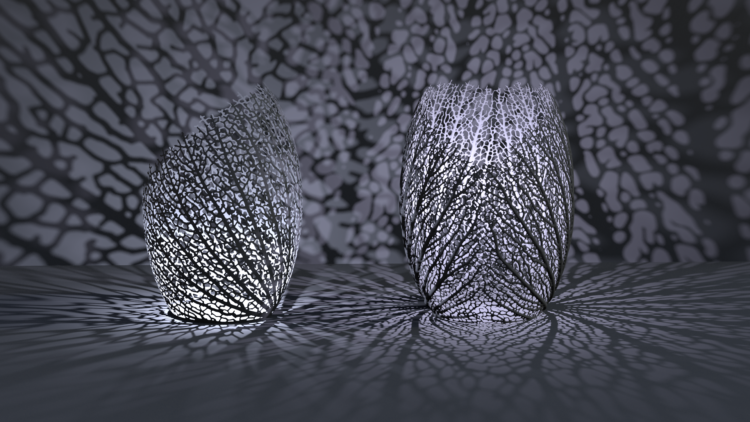 Prototyping
The main technical challenge was figuring out how to translate our small 3D-printed lamps  into structures that could be made at a substantially larger scale. Our Hyphae Lamps are each only about 8 inches high. For this project, we wanted to create dramatic, space-filling sculptures that would be up to 12 feet high. There isn't a practical 3D printing method for making large objects yet–and even if there were, transporting large objects is costly and difficult. We wanted to come up with a way to make the lamps from flat materials that could be inexpensively fabricated, shipped, and brought onto the cruise ship. So, we started working on a way to make a Hyphae Lamp-like design from multiple flat panels that bend into a curved form when attached to each other.
We prototyped the idea on our laser cutter out of chipboard sheets at roughly ¼ scale. Our test structures were about 2 feet tall.
Fabrication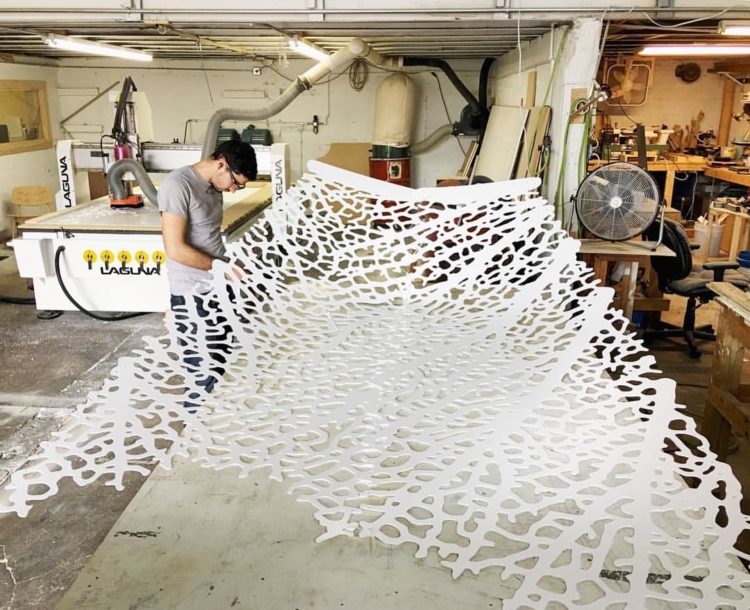 Each of the final, full scale sculptures was composed of 8 flat pieces which would bend into shape when assembled together. Fabrication was done locally by Price Street Projects in Miami. They used a CNC router to machine the parts from giant sheets of Sintra.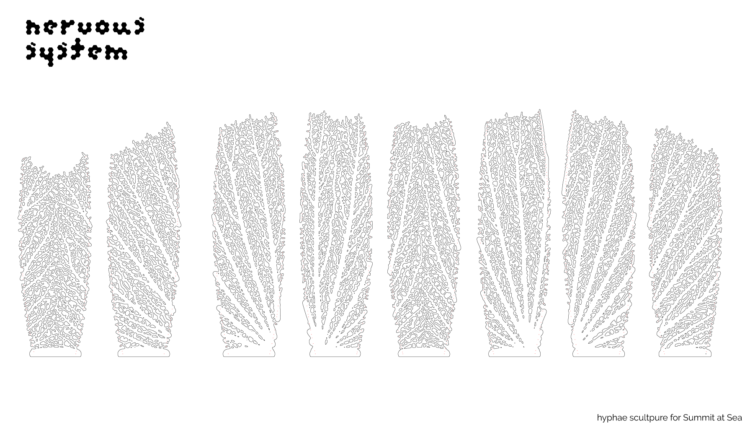 Assembly
Assembly and installation took place on the Norwegian Escape cruise ship on one (long, crazy) day before the opening of the event. The pieces were attached to each other with zip ties allowing for rapid assembly and disassembly after the event was over. Lights inside each of the sculptures were programmed to create a variety of environments to complement each talk and performance.
Project Credits
client: Summit
event: Summit at Sea, November 9-12,2016
design: Nervous System
fabrication: Price Street Projects
special thanks to Marshall Birnbaum, Colin Foord