lamps designed by students in MIT 4.031 design objects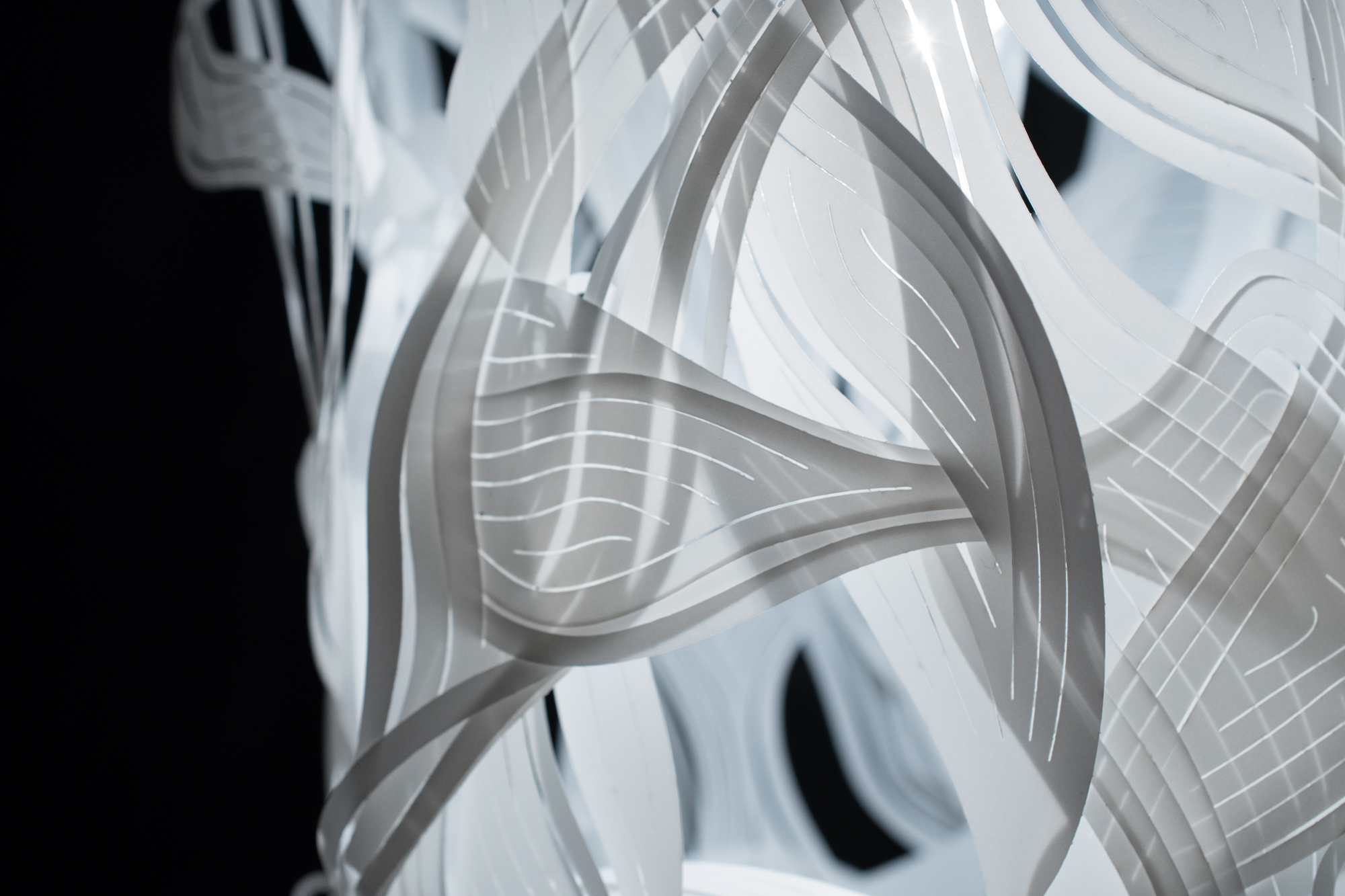 This blog post is cross-posted from the Design Objects blog. Since Spring 2016, I've been teaching at MIT as part of the architecture department's new design minor. This semester I'm co-teaching Design Objects + Interactions with Marcelo Coelho. Our students are MIT undergrads who are minoring in design (and most likely majoring in mechanical engineering or computer science). For many, this is their first design studio. Throughout the semester they design and fabricate three functional objects. I'm super proud of our students' work on the second assignment, so I wanted to share some of the projects!
—–
The second project in Design Objects + Interactions this year asked students to design and fabricate a lamp from flat materials using the laser cutter. In class, we focused on methods for transforming from 2D to 3D, computational design with Rhino + Grasshopper, and working with light+shadow.
Create a lamp from plywood and/or polypropylene using the laser cutter. Your digitally fabricated lampshade is a vehicle for exploring geometry, fabrication, and computational design. With this project you will be transforming 2D materials into 3D structures. The lampshade should be an aggregation of lasercut units that come together to surround a light source. While your lampshade will be constructed from wood and plastic, the real substance of the design is light itself. How does your lamp give form to light?
Here are a few of the projects students created!
Glow Fish by Josh Graves
Josh's lamp was inspired by schooling fish and features an abstract swarm of wood and plastic droplets which flow around the light.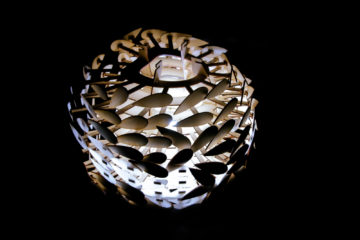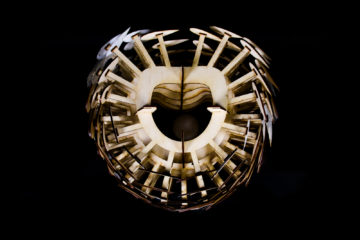 Braid by Heather Nelson
Heather's lamp is an aggregation of lasercut polypropylene pieces which connect by weaving through one another. The resulting lampshade has a complex pattern of translucency where pieces criss cross to produces areas of opacity.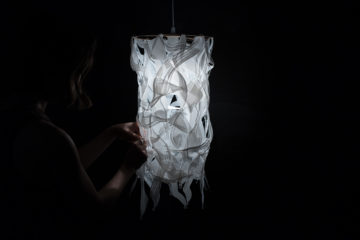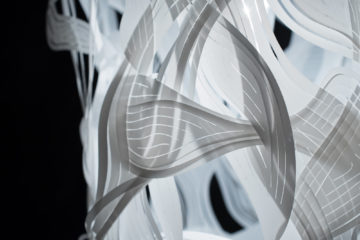 Through the Cracks by Erika Anderson
Erika took inspiration from broken glass to create a lamp where light appears to glow from cracks in a wood surface. The lamp is flat at the edge but rises into spikes towards the center, giving the impression that the table underneath has become distorted. The flexibility of the polypropylene was used to create lamp structure which is folded from several strips.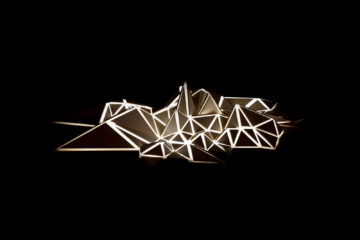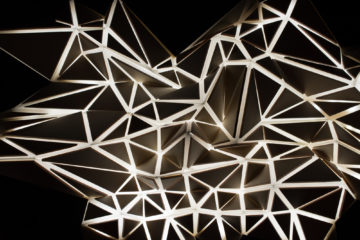 Living Hinge Lamp by Elysa Kohrs
Elysa developed a variable living hinge pattern using grasshopper in order to create a bent wood lamp that casts shadows on the walls.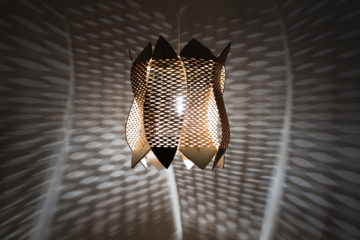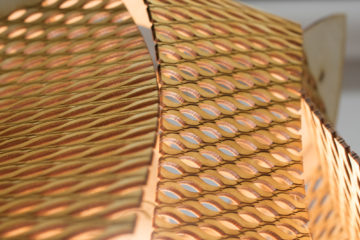 That's a Moire by Olivia Yao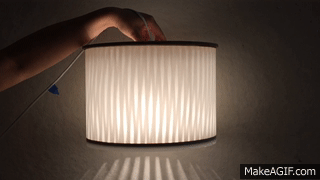 Olivia's lamp was built upon the idea of moire patterns. When turned off, the lamp appears to be a solid white surface. But when illuminated, moire patterns are projected onto its outer surface through two layers of lasercut pattern hidden within. Slight movements from air currents are magnified into the moire patterns as the layers within shift.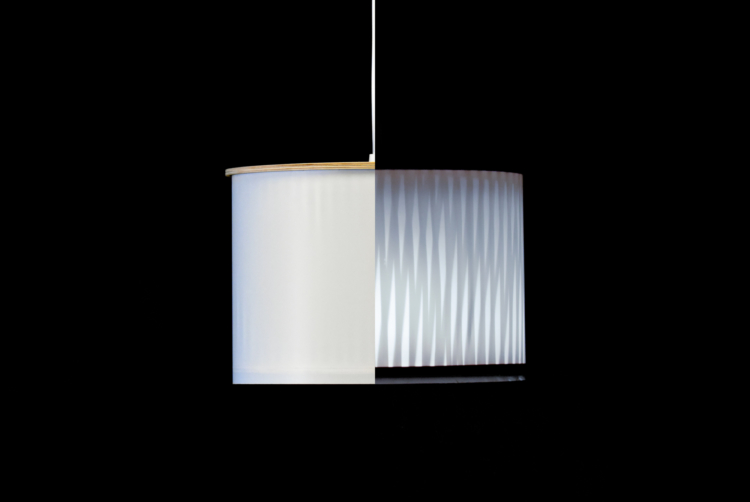 On the Fringe by Daniela Carrasco
Daniela's lamp consists of concentric layers of parametric fringe. By lasercutting the polypropylene into very thin strips she created a delicate lamp that moves with air currents and invites touch.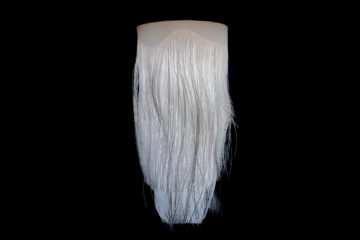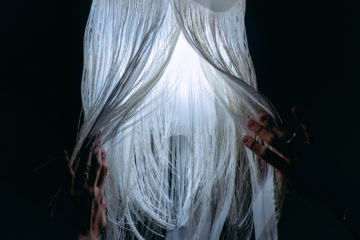 Plateau by Anya Quenon
Anya's lamp was inspired by landscape forms and features layers of plywood with translucent polypropylene between. The light source embedded in the center of the land mass results in a soft topography of light.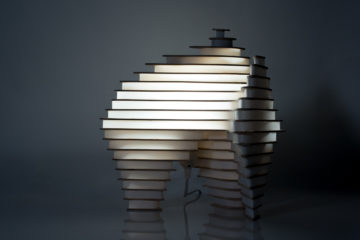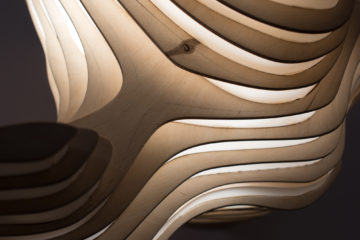 Hiram's lamp was inspired by wind and surrounds the light bulb with spiralling cloud of polypropylene strips that snap into a plywood substructure.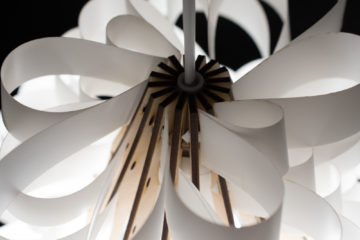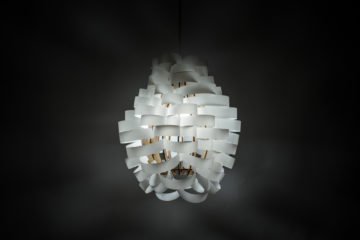 All photos are courtesy of the students.
About 4.031
4.031 Design Objects + Interactions is an introductory design studio for MIT undergraduates minoring in design co-taught by Marcelo Coelho and Jessica Rosenkrantz.