making an awesome tradeshow booth – attempt #2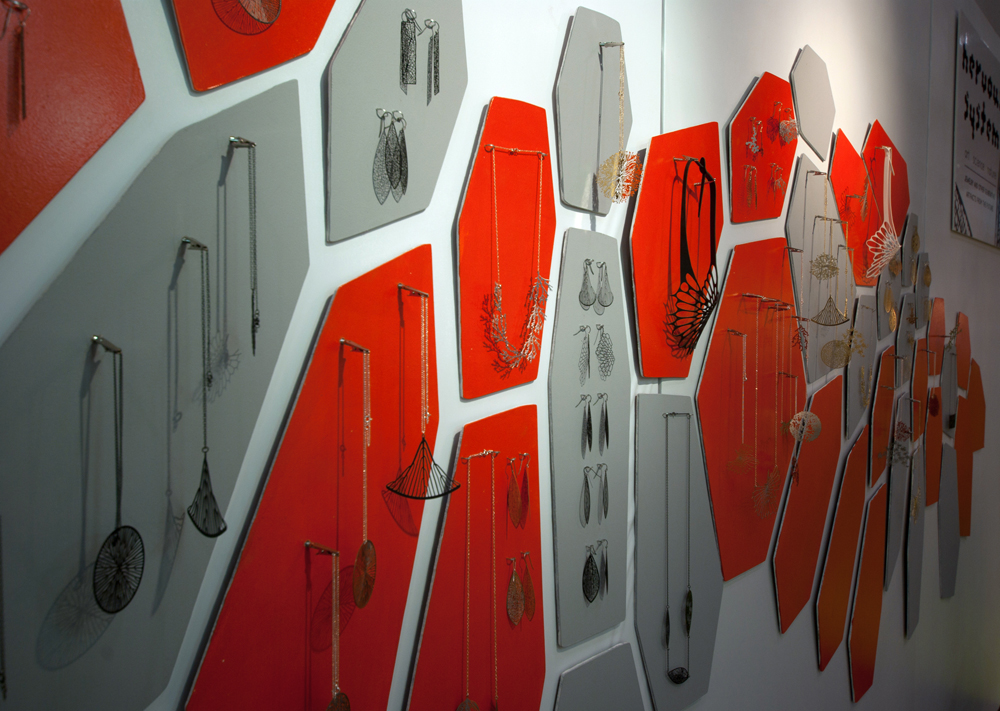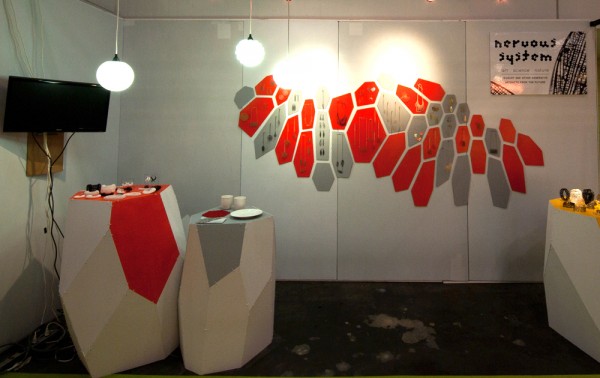 We're back from NYC where we exhibited our products at the New York International Gift Fair for the second time! We had booth #4000 which is a small spot (15'x4′) at the front of the 'Accent on Design' section. We wanted to create a booth that would allow us to show all of our products, from flat jewelry to lamps and our new porcelain cups and plates without feeling crowded.
design constraints
inexpensive
only take a few hours to setup (Javits center was open from 8am to 5pm)
only take a few days to fabricate
be completely fabricate-able using tools in our garage workshop
pack flat so it could fit in our car
be flashy and grab the attention of show-goers
be awesome
We fabricated the booth entirely out of hardboard, cable ties, velcro and paint and I think it came out pretty great.   Of course some things didn't work out quite right…   The booth consisted of three faceted pedestals and a design of flat panels that hung on the wall.  We also had a wall mounted LCD screen which played animations of our design processes and a big sign with our logo.
assembling a simple test pedestal at home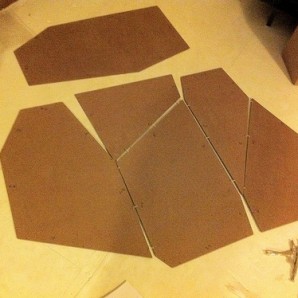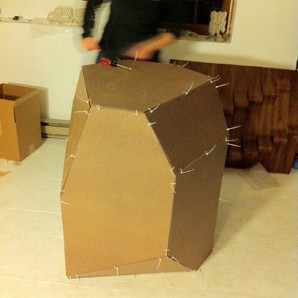 At the start of our brainstorming, we decided we should test our construction method idea for feasibility, so we built this simple pedestal.  On the left, you can see we've matched up the edges and connected them with cable ties.  On the right, we rolled the pieces up into a 3d form and started tightening with pliers.  Hey! It seems to work.
designing the booth
The next step was to design pedestals that we actually like with nice faceting.  We decided to design the pedestals in Rhinoceros by creating distorted ellipsoids and then discretizing them using a script we wrote.  Naturally, we wanted strange shape panels, not quads or triangles so we decided to take a tangent planes approach which works as follows:
place points on surface
create planes tangent to original surface at those points
intersect and trim each plane with its neighbors
It's simple conceptually but has some tricky issues in practice…..such as where do you place your points? how do you determine your neighbors?  The main limitation is that it doesn't work on surfaces with much negative curvature.
testing our tangent planes script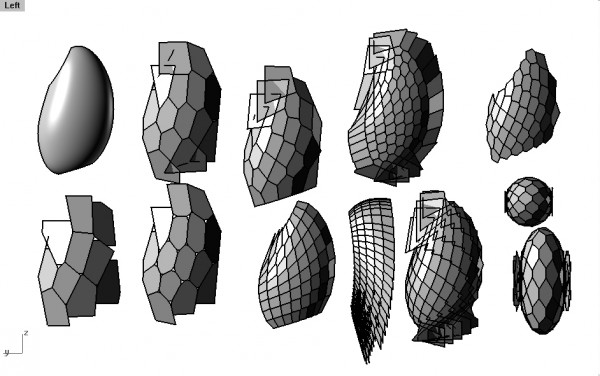 We played around with the script for a while and made many designs with 50+ panels but then realized we didn't have time to fabricate or assemble anything that complex.  (Unfortunately, we didn't realize this until we had already fabricated and test assembled a 4'x4′ wall display that is sort of like a panelized half sphere, we loving call that design scheme 'bug eyes')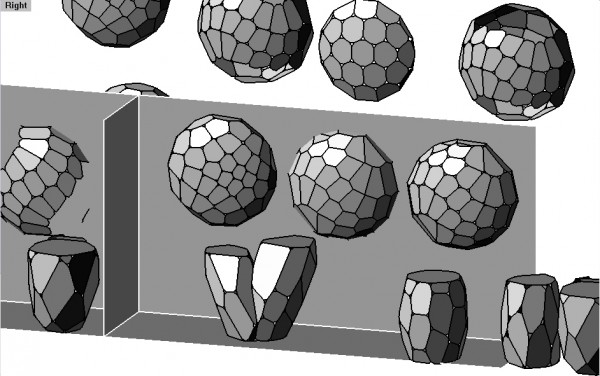 fabrication and assembly
Once we had determined our final faceted forms, we laid them out in sheets such that each edge was labeled and 2-3 points for drill holes were added along each edge for cable ties.  Then we cut them out on our homemade CNC router from 4'x4′ sheets of hardboard.  We also used an angled bit on the router to miter the edges of the material.  After mitering the pieces, we painted them with two coats of primer and two coats of color (the colors I chose had cute names like red hot, sun ray, timber wolf, and igloo).  The pieces packed flat into 3 cardboard boxes.
Once we arrived at the Javits Center, we simply had to lay pieces out on the ground and start matching edges.  When we found a matching edge we used the cable ties to connect them loosely.  Once a pedestal was loosely together we started slowly tightening all the ties until the pedestal was tight and sturdy, the tails of the cable ties were snipped off for tidiness.
For the back wall, we used a 2D design that was created in our Radiolaria applet.  We used our CNC router to cut out the pieces from hardboard, sanded and painted them.  To mount the pieces on the wall, we used sticky-back velcro which was quick and allowed for easy repositioning.  We mounted gator clips to hold the jewelry.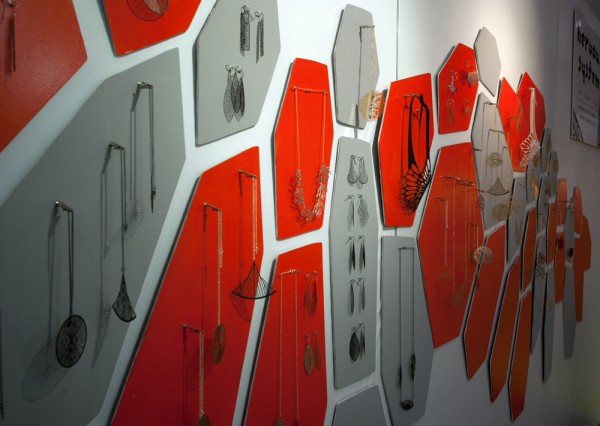 Overall, a fun couple of days.