Baffling Bubbles Puzzles: Nervous System X Chris Yates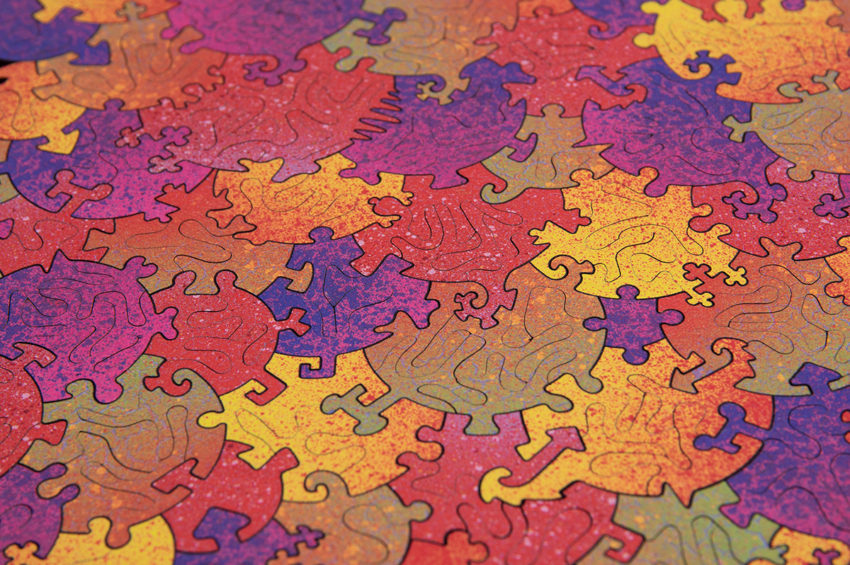 Baffling Bubbles is a brain bending wooden puzzle brought to you by Nervous System and artist Chris Yates. Each colorful bubble is a mini puzzle; they aggregate to form a larger puzzle, creating multiple levels of puzzling play. Every Babbling Bubbles Puzzle is one of a kind and features a unique computer generated cut pattern that combines Nervous System's squiggly pieces with Chris Yates' enigmatic connectors shaped like spirals, hammers, waves and more! There are five color schemes based on Chris Yates' spray paint textures. These are directly printed on wood creating vibrant all-wood puzzles (no paper involved!). Baffling Bubbles Puzzles (~212 pieces, $60) are now available in our shop.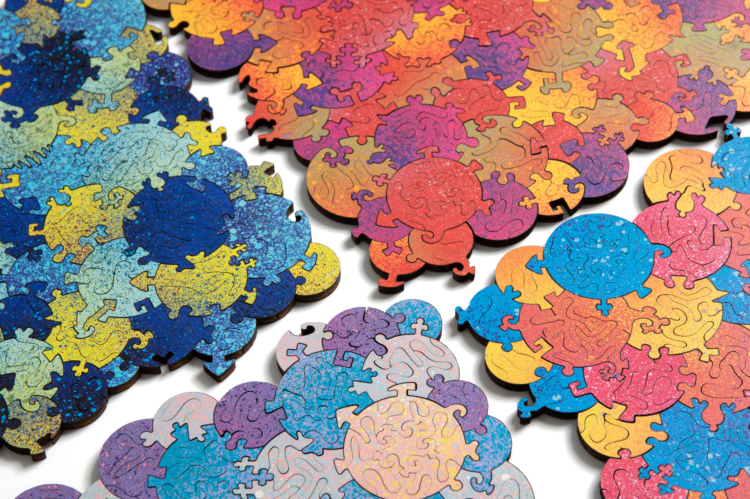 Chris Yates Bafflers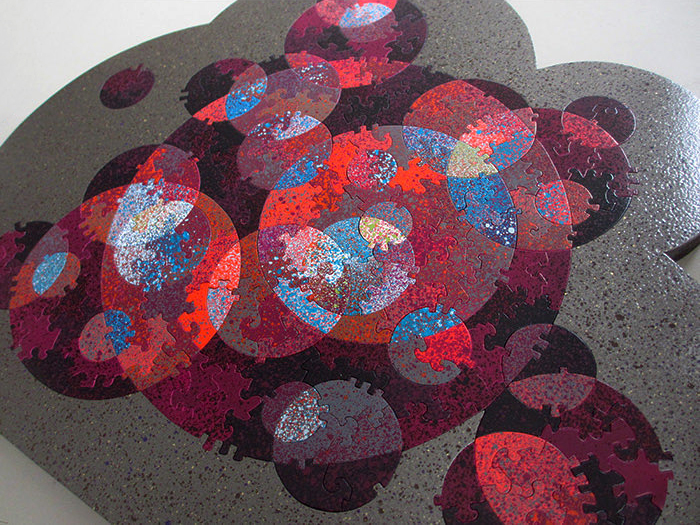 Chris Yates has been designing and cutting innovative wooden jigsaw puzzles since 2004. His Baffler style blends the traditions of puzzlemaking with a modern, colorful aesthetic resulting in truly unique art that you can play with. His puzzles are hand cut and each piece is individually hand painted, using the piece shapes themselves to make playful and geometric imagery. We have adapted his signature spray painting style and whimsical joinery to our algorithmic puzzle generation. Just like his Bafflers are painted instead of printed on paper, our Baffling Bubbles are printed directly on wood.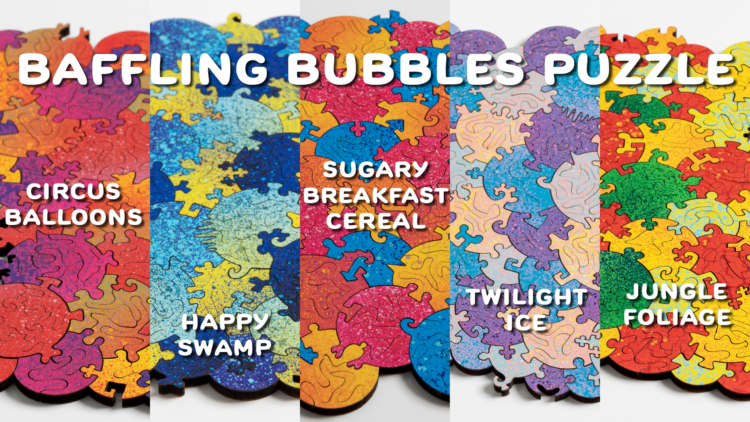 We first met Chris 11 years ago at the Puzzle Parley in Salem, MA. Since then we've been big fans of his puzzles and we've excited to be collaborating with him on this new series of puzzles. You can purchase his hand-cut puzzles from his shop at https://chrisyates.net/puzzles.
Digitally painted directly on wood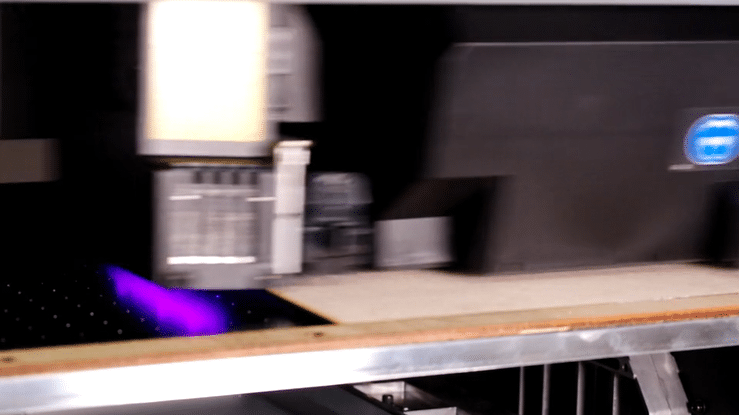 The Baffling Bubbles use a new technology to print the image directly onto wood with no paper. We recently added a Mimaki flatbed printer to our arsenal of manufacturing machines. This machine uses an ink that cures under UV light to print onto almost anything: from wood to fabric to glass. The result is a painted or dyed look where the pigment soaks straight into the wood. We love the natural aesthetic where you can still see and feel the wood grain. However, there are practical benefits as well. No more paper. Paper is one of the weakest links in the manufacturing and durability of jigsaw puzzles. Paper is easily damaged by clumsy fingers or wayward drinks. It also saves us a bunch of manufacturing steps: printing, coating, and mounting images all happen on one machine in a single process. The final product is both beautiful and tougher than before.
We are still learning the best way to use this new process, so for now the Baffling Bubbles are the only direct printed puzzles we make, and our other puzzles will continue to be made with paper. One trade off is that while we think the wood grain look is great for some of our more abstract puzzle art, it might not look the best on a custom puzzle of your cat for instance. We are looking into ways to get a smoother finish on the direct wood prints before converting more of our production to this new machine.
Algorithms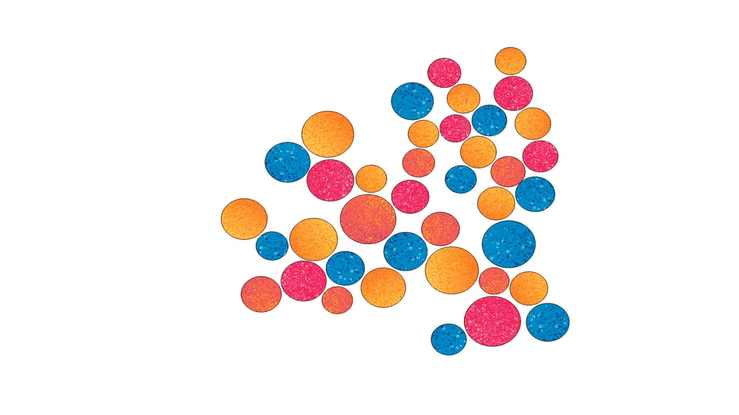 The Baffling Bubbles puzzles are one of a kind. We generate a new image and cut for each puzzle using several algorithms: circle packing, 4-coloring, and maze puzzle generation. Each Baffling Bubble is generated from a circle packing. These packings need to be optimized so that all circles overlap and there are no gaps, and no circle is too small to be a puzzle piece. Additionally, each circle requires at least two edges that are large enough to be joined with their neighbor (a piece that connects to only one other piece is no fun). After placing all the circles, connectors are added between circles from a catalog of knobs designed by Chris Yates. The knobs are fitted to the arc of the circle and morphed so that no two are identical.
The image is created by computing a 4-coloring of the graph of the pieces. This means that no two adjacent pieces have the same color. To do this, we use Knuth's Algorithm X, which is quite possibly the coolest named algorithm of all time. The colors are rendered in hi-res scans of actual spray paint texture made by Chris Yates in 5 different families.
Finally, the circular pieces are subdivided using our maze cut. In this way each Baffler style piece becomes its own mini puzzle adding a new layer of challenge to Yates' classic style. We plan to use this same system of adding pieces into other cuts in the future to make more "color cut" style puzzles, including adding it as an option to introduce color cut lines in custom puzzles.
Purchase from the Nervous System shop
Currently the only place to purchase a Baffling Bubbles puzzle is through our website. During the last year, a rash of scammers have appeared that are selling counterfeit Nervous System puzzles through Facebook ads and Google shopping links. Purchase directly from our website to get an authentic Nervous System puzzle that supports us and Chris Yates. Our authentic puzzles contain two hidden signatures. Hidden among the puzzle connectors you will find Chris' signature (as a connector!) and the Nervous System logo appears on a spiral piece.