Puzzle Cell Lamp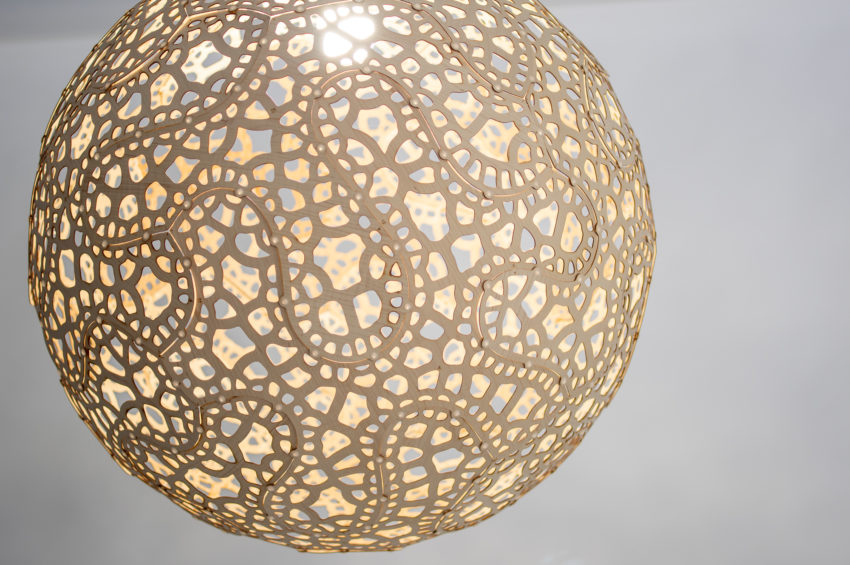 Finally! A new product from Nervous System that is not a jigsaw puzzle. Or is it? This otherworldly wood pendant lamp arrives at your door as a set of 18 flat pieces. By snapping the sinuous shapes together, you will create a spherical lamp shade that is 2 feet diameter. The panels are reminiscent of the interlocking "puzzle cells" of leaves, and their cellular perforations cast dramatic shadows. The unique design of the lamp is the result of two algorithmic processes which compute the panel shapes and their cellular cutouts. Though seemingly organic, an optimization process generates the panel shapes and allows us to approximate any surface from flat pieces. The cellular cutouts respond to the shape of the panels, shrinking and stretching near the edge. The Puzzle Cell Lamp can be preordered until March 22, 2022 ($550 preorder, $650 retail) in the Nervous System Shop.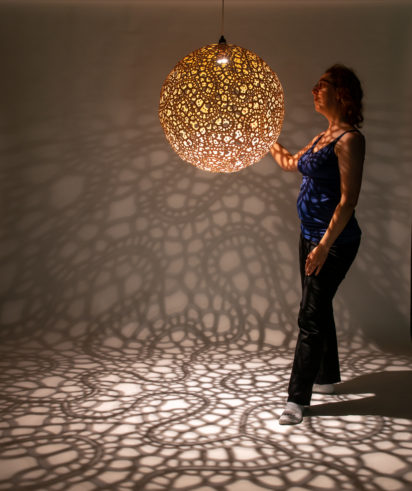 Flat pack puzzle lamp
The lamp comes as 18 unique flat panels that you assemble yourself to create a complex lamp shade. Though the shapes look like puzzle pieces, don't worry, they come with straightforward instructions. The panels connect with small, hand pushed rivets, no tools required. The 3D form is encoded in the shape of the flat panels, so all you need to know is what connects to what. With each new panel you add, the lampshade progressively takes shape.
We estimate it will take you 1 to 2 hours to assemble the lamp. The panels are connected by 290 rivets. Simply connect panels in their numbered order and your lamp will be complete.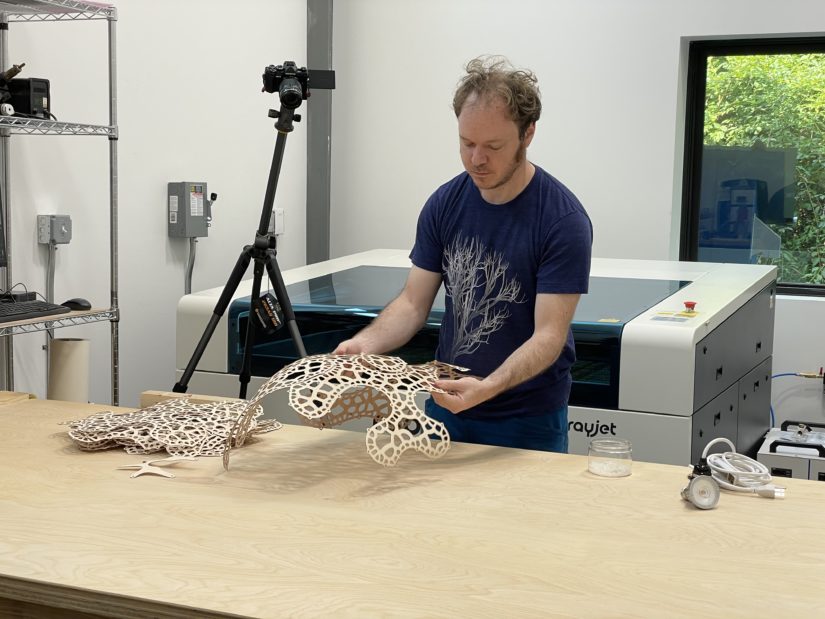 Computational design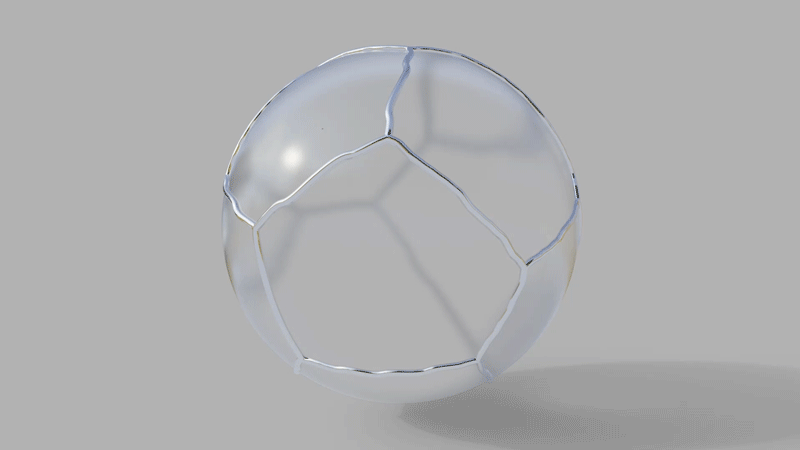 The Puzzle Cell Lamp's unique panels are generated through a novel optimization process which minimizes the distortion of making curved surfaces from flat panels. The technique, called variation surface cutting, was developed by Nick Sharp and Keenan Crane at CMU. We start with generic panels and then evolve them to reduce how distorted they become when you flatten them. Once we reach a certain error threshold based on our material and construction method, we generate our structure. You can read more about the cutting method here.
The lamp's perforated pattern performs several roles. It lets out light, casts dramatic shadows, and adds needed flexibility for assembly. We generated the cellular pattern using our Corollaria software. Inspired by biological systems, Corollaria plays with adaptive patterns that respond to environmental conditions. Multi-scale structures suggest the organization of cells into tissues, and cells change in size and direction as they respond to boundaries.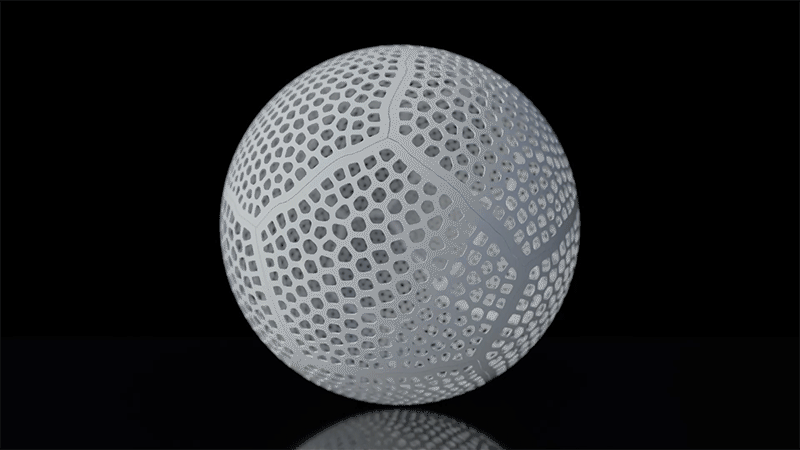 Fabrication
The lamps are made from maple wood veneer at our solar powered workshop in the Catskill Mountains of New York. We recently installed a large format laser cutter to make bigger parts (like these lamp panels). The laser is a 100W Rayjet R500 with a 52"x35" cutting bed. One day maybe we can get a full 4×8' laser, but that would require busting down a wall. Buy enough lamps, and we might have to.
Inspiration and background
This project started at a residency in the Autodesk Build Space in Boston all the way back in 2019. We were exploring unusual panelization techniques when Keenan Crane showed us some preprint work of his student with a unique method for this exact problem. The panels are both beautiful and functional and reminded us of the puzzle cells of leaves. Perhaps there is a connection between the robustness required of thin leaves and the squiggly shapes ability to approximate complex surfaces.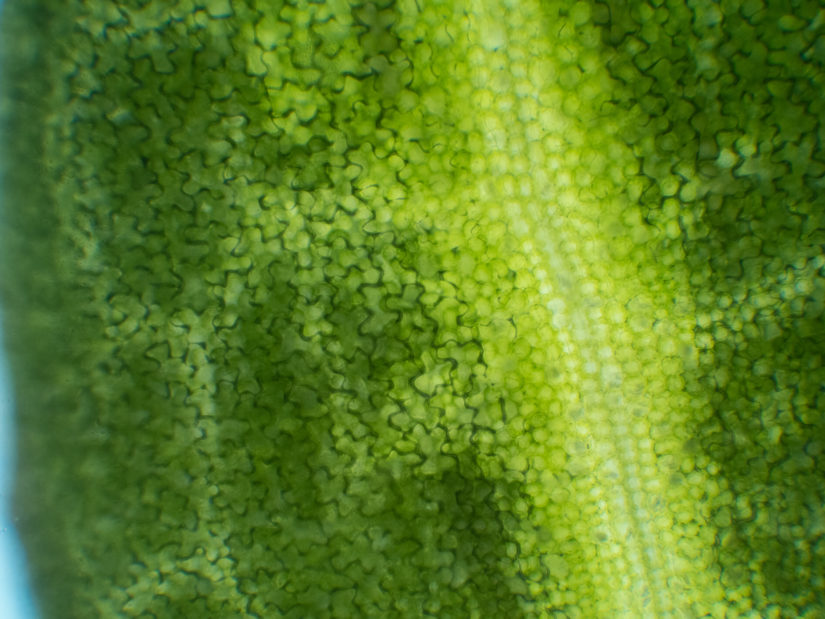 When we moved to the Catskills in 2019, we had an open studio event and wanted to engage visitors through the construction of a large sculpture. We combined the panelization technique with wood veneer to create a sphere that visitors could help snap together. Over the course of the day the sculpture emerged as we cut more panels. The next year, we used this same technique to make a sculpture at Rice University for the Construct3D conference which conference attendees built along with us. With this lamp we've made a version you can create at home.
Now we're working on a new sculpture with a variation of this method using bilayer panel construction. We plan to build a 14' sculpture combining our Floraform growth system with this new panelization technique outside our studio. Purchasing a lamp will help us realize this project.
Lamp preorders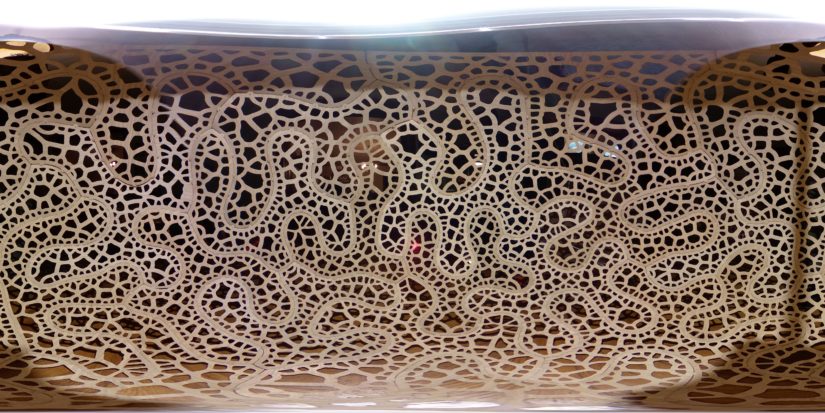 Lamp preorders are open now through March 22, 2022. We are offering a $100 discount off the list price during this time period. Pre orders will allow us to order materials in bulk and give us time to work out any production kinks that may arise as we shift from prototyping to manufacturing. You can order the lamp with either a hardwired canopy kit or a plug in lamp cord (with switch). Both options have a matte black finish. Email us if you have specified lighting requirements and we may be able to accommodate you.